Bills training camp: Sammy Watkins a star; will he make EJ Manuel better?
Rookie receiver Sammy Watkins has been impressive in camp, but the Bills need marked improvement from QB EJ Manuel to make the next leap.
• 11 min read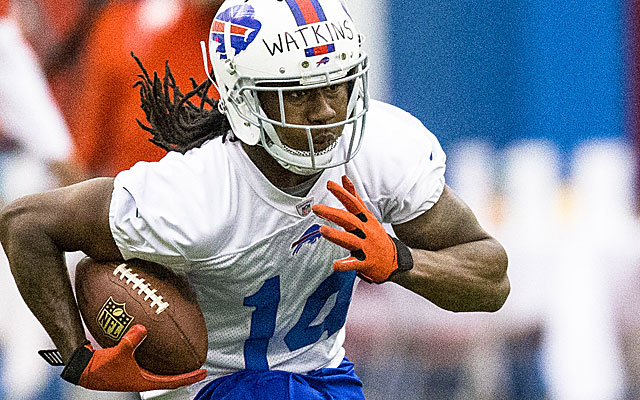 More NFL: Photos |   Videos & GIFs |  Stories | Training Camps |  Manziel watch 
ROCHESTER, N.Y. -- The legend of Sammy Watkins is growing by the day. Out in western New York, where the Bills have languished in mediocrity (at best) for so long, he has already become a cause celebre less than a week into his first NFL training camp.
The rookie wide receiver has wowed the overflow crowds at St. John Fisher College for night practices here with an array of explosive moves and one-handed circus catches. He is the embodiment of a hope this fan base so badly wants to project on a team that annually ends up finishing somewhere right around 6-10 (they've won six games in each of the last three seasons and four of the last five).
Yes, it's very early in the young man's career, but Watkins has been everything the Bills could have hoped for and more, thus far. That is of no small magnitude considering the organization gave up a ransom to move up in the first round to select the Clemson product, essentially doubling down on the surprise drafting of quarterback EJ Manuel a year ago and raising the ante that Buffalo will return to the postseason for the first time since 1999.
"Sammy is as advertised, and actually even better than advertised because of everything he does off field," said second-year general manager Doug Whaley, who has defied convention that most young general managers make conservative moves by going bold in two straight drafts. "His preparation, his want to be the best, his professionalism. He is wise beyond his years."
No one is going to get too overjoyed about a string of July practices, of course -- the Bills were the first NFL team on the field as they are participating in the Hall of Fame game next weekend -- and, no matter how great Watkins may be, there is also a major caveat involved in that Manuel must be markedly better than his rookie season (and better than he has shown in some rough practice sessions).
Watkins and Manuel will be lumped together, their fates intertwined, at least in the short term. For a team on which offense has remained a cause of concern for quite some time the futures of Whaley and coach Doug Marrone will be judged in no small degree on whether this duo of youngsters can actually lead the Bills to winning seasons. Add in the specter of uncertainty with the team currently for sale, and you don't have to spend much time up here to realize the future better be the present.
Whaley believed that despite such a long playoff drought, he could afford to trade future picks and target specific skill position players high in the draft, given that his predecessor, Buddy Nix, focused significant energy rebuilding the team from the inside out, as is the norm, addressing offensive and defensive line. Basically, the Bills are gambling that they are closer than many think (admittedly, you can count me in that group as I remain a skeptic on Manuel), and that the quarterback and the wide receiver will put them over the top. "I can see why people don't believe -- it's been 14 years of futility," Whaley said. "I absolutely get that. But we feel like we have a chance."
Watkins plays a dependent position, and sure, his catching radius and acrobatic skills can allow him to haul in a fair share of wayward passes, but that alone won't solve accuracy issues from the QB. For all of Watkins' immense gifts, tremendous height is not one of them. There are limitations to what he can do. But surely the presence of a game-changing receiver would be a massive boost, and if Watkins can continue to deliver these kinds of results on the field and in the meeting rooms and in the weight room, then Whaley's belief that he was the best player in this draft might be realized.
"What we thought about him, and what he would do for EJ, has become evident on the field at practice," Whaley said. "He gives confidence to EJ and gives confidence to our offensive coordinator and in the big picture also affects how we think defensive coordinators are going to try to attack us."
Throughout the offseason, as they researched Watkins, the Bills' coaches and scouts heard Clemson coaches gush about just about everything the kid did. Seemed almost too good to be true, and NFL folks know understand that the more a program can get kids drafted high, the better it is for those college coaches. So, you still want to see it for yourself, and when Watkins was the first person at the practice facility for the opening of rookie camp this spring, running routes and trying to master concepts on his own in the field house at 6:45 a.m., "that's all you really need to see," Whaley said.
For Watkins, that was no anomaly. He knows that the offense he ran at Clemson was more rudimentary in many respects than what is required at this level, and mastering route concepts and the playbook would be imperative. He has made that a big part of daily routine, which continued in the time between the end of OTAs and the start of camp.
"I still get up at 6 o'clock now," Watkins said. "Get up early, stretch my body, get my body going, eat breakfast, enjoy some down time, sit and chill and then get ready for practice."
Said Marrone: "He's probably the first player up every morning, and then you also see him working on the field after practice. He's really humble, and he's a hard worker. He's earned it. He's been everything you hope for."
Watkins said he feels much more at ease in this offense now from when it was first being presented to him and installed in the spring, and with each electrifying display at practice, his comfort level is clearly growing.
"I feel pretty good," he said. "My confidence is up where I need to be at. It's feeling more like college now in that I feel like I can take ownership of my job. I'm starting to be more relaxed on the field now."
For his part, Manuel told reporters after a rough finish to Friday's session that he is "very comfortable" in this offense, and that, in terms of areas to improve, it comes down to "just building better rapport with my receivers."
Marrone seems pleased with Manuel's progress.
"I think he's a lot better than he was a year ago," he said.
Consistency has still eluded him at the start of this camp, and there will be no shortage of pressure to produce right away, especially now with the Bills loaded in the backfield and having several promising young pass catchers (expect Robert Woods to build off a strong rookie campaign, and if burner Marquise Goodwin can stay healthy he can stretch the field for others).
While the rest of the roster might be playoff-ready, if the quarterback is not then the organization's growth will be stunted. Manuel failed to complete over 56 percent of his passes in six of his 10 starts as a rookie (while on average asked to throw a modest 30 times a game), tossing 11 touchdown passes to nine interceptions. Injuries robbed him of invaluable learning time, and while there were no shortage of rough patches, Manuel did display guts and an ability to rally the team late at times to pull off comebacks, a trait that usually only comes with age.
Time will tell if Watkins is the cog to hasten the overall offensive maturation of this unit. If he puts up a rookie-of-the-year season, it would hardly come as a shock. But if it comes during yet another six-win season, might that come at a price?
A future in Buffalo?
Nothing that happens on the field this season will be nearly as significant as what happens in a meeting room in October when, in all likelihood, NFL owners will be voting a new group of Bills owners into the league. The long-term future of the club had long been in question with Ralph Wilson advanced in age, and his passing this offseason has led to what could be a relatively streamlined sale of the team.
Based on conversations with several people with knowledge of the process, it would come as no surprise at all if the finalists end up being the group led by Terry Pegula (who owns the Sabres) and the Bon Jovi/Maple Leaf Sports and Entertainment/Rogers Communications group (which I said was mobilized to buy the team back in November). If someone other than those two reach the auction stage, it would come as a surprise, though of course there is time left in the process.
According to sources, by next week all approved parties seeking to purchase the team must submit a letter of intent (the number of approved parties is roughly 16, sources say). That letter of intent would include some approximate numbers involved in a potential purchase price, but not a formal bid. The Wilson trust will then narrow that list, and the parties remaining in the process, through the first few weeks of August, will be granted access to much more detailed financial information about the team as they prepare to submit their hard offers for purchase, which on the current timeline would be due at the end of August.
Then the family will decide on two or three finalists, where an auction of sorts could take place to come up with the top bid and new owner. That process would be wrapped up in early September so that the trust could present the winning bidder to the NFL finance committee ahead of its Sept. 11 meeting, which would set the stage for the ultimate approval vote of the other owners at the October league meeting.
At this point there is no reason to believe the sale process won't proceed in that manner. The NFL is comfortable with that time frame, I'm told, and the Wilson trust very much wants to sell the team in 2014 for tax purposes.
Many in the Bills organization are hopeful the Pegula bid wins, sources said. In that scenario it is much more likely many of the football operations and business-side management would remain, and that group is viewed by many as being much more vigilant about keeping the Bills in Buffalo -- and out of Toronto -- for the long haul. Should the Bon Jovi/MLSE/Rogers group get the team, they could move the team conceivably after the current lease expires, though they are currently forbidden from expressing any desire to ever do so until 2019. Still, the big corporations behind that bid are Toronto-based, and, as already sports, media and entertainment moguls, they would more likely bring with them abundant staff.
Ultimately, the civic bond the Pegulas share with Buffalo, and their massive wealth, could lead to them out-bidding all others and perhaps even over-paying in the process to keep the team in Erie County. They would have to divest themselves of the sports-agent business they currently own, but that's not a major issue and could be done quickly (the agency represents current the Bills' Marcell Dareus, among others). But with the shocking price the LA Clippers fetched, and with the NFL's finances more robust than ever, there is no shortage of other groups trying to land the team as well.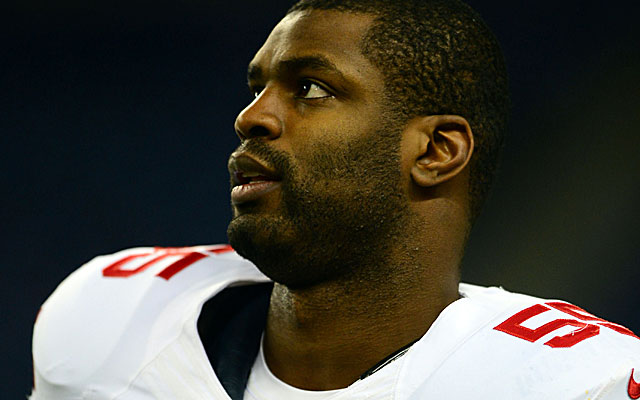 Bills camp notes
• Whaley said the Bills do not plan to explore any outside players to try to fill the considerable void left by the season-long injury to linebacker Kiko Alonso, a star as a rookie. He likes the depth at the position and thus far rookie third-round pick Preston Brown looks like he can contribute, and the team is comfortable with veteran Keith Rivers, a free-agent signing.
• Dareus' off-field issues continue to be a big topic of conversation around here, but he has passed his conditioning test and the team is hopeful he will be a steady contributor to the defensive line -- a stout group that will bear heavy responsibility to generate a pass rush in new coordinator Jim Schwartz's scheme. I'd be shocked, however, if given Dareus' offseason issues the Bills initiate extension talks at this point, though that was the plan previously. They already picked up his fifth-year option.
• I'd expect the Bills to field calls for running backs if contending teams continue to lose them (Vick Ballard and Kendall Hunter already out for the year). Buffalo has more backs than it needs, probably, and C.J. Spiller, in the final year of his deal and with no extension in sight, could be the odd man out. I anticipate Fred Jackson being a Bill for life, and he could end up with a few new years on his deal, and the speed of Bryce Brown is impressive. Anthony Dixon supplies depth. A trade market for Spiller could well develop over the next month.
• Rookie Cyrus Kouandjio, whose knee was a concern for teams ahead of the draft, has been healthy and could end up winning a starting tackle job if he remains so, with Cordy Glenn on the non-football illness list.
• Marrone liked Saturday's session, which was the first to include live hitting and tackling with their first exhibition fast approaching. ... Jackson did not participate but will be back soon after getting kicked in the leg Friday during practice. ... The Bills are thin at tight end with Tony Moeki out (hamstring). ... Brown is getting plenty of work in the passing game out of the backfield. "He's a heck of an athlete," Marrone said.
The Raiders are reportedly planning on partnering Beast Mode with Muscle Hamster

The Buccaneers bolster their defensive line by adding a proven talent in Curry

Keep up with the latest moves in free agency as teams try to build a Super Bowl contender
After only one season, Johnathan Hankins is on his way out of Indianapolis

The Seahawks quarterback has his eyes on a certain wide receiver

An avalanche of free-agent signings around the league has altered draft plans for most tea...