Cris Carter, Michael Irvin to be 2015 Pro Bowl player captains
Last season, the NFL had Jerry Rice and Deion Sanders as Pro Bowl captains. This season, it'll be the turn of Cris Carter and Michael Irvin.
• 1 min read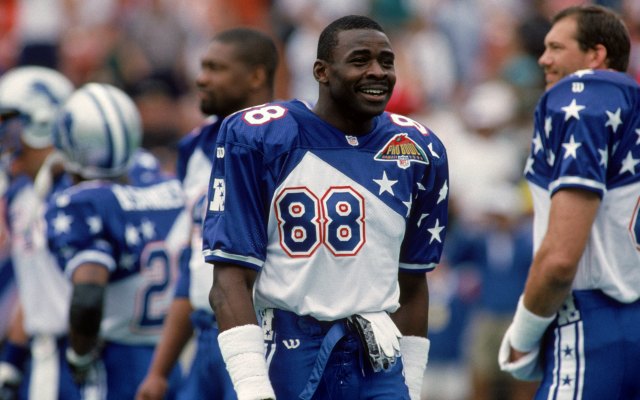 More NFL: Photos |  Videos & GIFs |  Training Camp updates | Manziel watch
The NFL started a new tradition before the 2014 Pro Bowl when it appointed Jerry Rice and Deion Sanders to serve as alumni captains who would pick the two teams to compete. In 2015, it'll be the turn of Hall of Fame receivers Cris Carter and Michael Irvin to serve as captains, the NFL announced on Wednesday.
That means Carter (eight career Pro Bowls) and Irvin (five career Pro Bowls) will have the final say over the Pro Bowl draft decisions, though each will also have help from two active player captains.
"Being voted to the Pro Bowl was always a tremendous honor for me," Carter said. "Last year, players really seemed to be excited about the new rules and the Pro Bowl Draft format. I'm excited to be a part of it this year."
Said Irvin: "Some of my favorite NFL memories were from my Pro Bowl trips. I can't wait to see which players get the Pro Bowl nod this season. I'm already thinking about how to build my team."
Making this potential rivalry even more enticing: Irvin recently ripped Carter for Carter's views that the Browns should cut receiver Josh Gordon. Then, Irvin told this story.
"I'm going to put a little personal on this even though I love Cris to death," Irvin said. "I don't know what year it was we were in the Pro Bowl. And all Cris is trying to do, he's just trying to share his experiences. He said to my wife -- he said to my wife --you know, Michael would never come out of this problem until you leave him. Till you leave him. For years, I've held it. I've never shared that with anybody. I've never in my life shared that with anybody. I was so irked with Cris because he was out of line then. His ass is out of line now. He is out. of. line."
The Pro Bowl draft will be held Jan. 20-21 and broadcast on NFL Network. The game will be played Jan. 25 from University of Phoenix Stadium in Glendale, Arizona.
Plus Jordy Nelson's lonely pre-game, Jamal Adams' Milly Rock, Le'Veon Bell's stiff arm and...

Justin Timberlake is headed back to perform at the Super Bowl for the first time in 14 yea...
Burfict could be facing his second suspension of the 2017 season

J.T. is reportedly set to bring sexy back to the Super Bowl stage

Eight months after 28-3 happened in Super Bowl LI, the Falcons and Patriots meet again in Week...