More NFL offseason: Mock Drafts | Prospect Rankings | Pro Days | Top free agents
After weeks of speculation, the Eagles announced Friday that they've parted ways with receiver DeSean Jackson. According to the Eagles, they informed Jackson of their decision to release him after "careful consideration."
The announcement came soon after a chilling NJ.com report stated that the Eagles were concerned with "Jackson's continued association with reputed Los Angeles street gang members who have been connected to two homicides since 2010."
"They are concerned about having him around the younger players," a source told NJ.com.
While Jackson had been questioned about his work ethic, his apparent want of a new contract just two years into a $48.5 million deal, and about potential locker room distractions, the NJ.com report painted Jackson in a new light.
About an hour after he was released, Jackson released a statement in which he wrote that he's not in -- or ever been in -- a gang and that "to speculate and assume that I am involved in such activity off the field is reckless and irresponsible."
NJ.com reported that Jackson is close to Theron Shakir, who was charged with murdering 14-year-old Taburi Watson in 2010 after Watson flashed a rival gang sign at Shakir, reportedly a member of the Crips, and co-defendant Marques Binns. Shakir also is a rapper who's recorded for Jaccpot Records, a record label that Jackson owns.
Though Jackson was not part of the murder case, the Los Angeles police department interviewed him about it in 2011. Detective Eric Crosson told NJ.com that Jackson was cooperative, and he also said that he reached out to the Eagles before he even interviewed Jackson to alert them to the situation. He said the team never responded.
Shakir eventually was acquitted of the charge, though Binns was found guilty.
A little more than a year later, Crosson came across Jackson's name again.
More from the report:
This time, Jackson's name surfaced as part of an investigation into a 2012 gang-related murder that occurred outside a South Los Angeles business where a party had taken place. The building was owned or leased by a member of Jackson's family, police said.

During a search of the building, Crosson told NJ.com investigators found several documents belonging to Jackson, including a car title, a gun permit issued in New Jersey and credit-card receipts.

After discovering the documents, Crosson said he made multiple attempts to contact Jackson by phone, but never was able to connect with the wide receiver. Crosson added that Jackson was never considered a suspect in the crime.

Despite Jackson's name having come up in connection with two gang-related murders involving Crips, Crosson said police have no hard evidence that Jackson is a member of the gang, which was formed in the late 1960's and has an estimated 35,000 members across the country. Crosson said, however, the Jackson routinely flashes Crip gang signs in photos on social media -- and even on television during an NFL game.
Here's the moment that Crosson apparently was talking about with regards to gang signs, which happened during last season's Redskins game.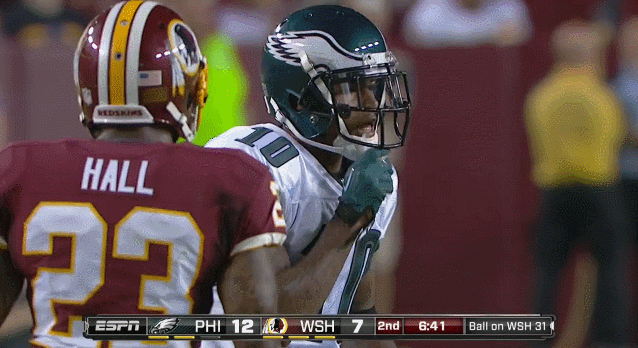 While some observers on Twitter have speculated that Jackson will find another job soon, don't forget that the NFL clearly remembers the Aaron Hernandez murder case and all of its implications. Plus, Jackson doesn't necessarily have a reputation for a team-first type attitude, and with his apparent desire for more money, that might not play well for teams who are thinking about signing him.
At least one Eagles player, Jason Kelce, seems OK with his team's decision.
We just made an extremely unpopular decision, but I couldn't be more excited and happy with where this organization is going!! #FlyEaglesFly

— Jason Kelce (@Jkelce) March 28, 2014
Although Jackson is coming off a career-best season in which he recorded 82 catches for 1,332 yards and nine touchdowns, you'd have to think Jackson's career -- or at least, his ability to earn a huge new contract at the moment -- is in jeopardy.