PHOTO: LA Kiss have crazy-looking grey football field
If you think you've seen every type of football field, you haven't. Just wait until you see what the LA Kiss did with their field.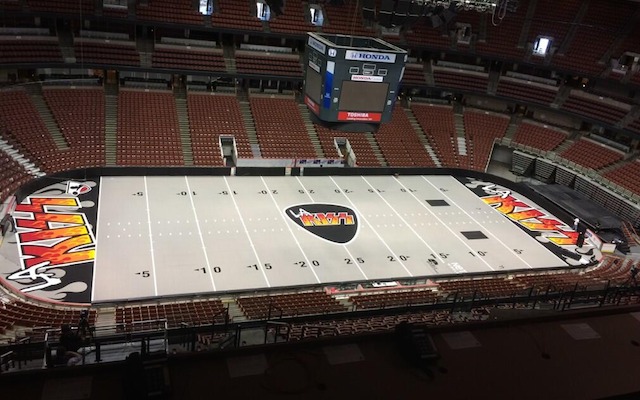 We don't cover a lot of AFL football here, but when we do, it's usually because the LA Kiss have done something crazy, like the time they unveiled their uniforms.
New @LAKISS_AFL football helmet by @hydrographics1 #uniswag pic.twitter.com/T9pW7PpdOA

— Uniswag (@Uniformswag) March 10, 2014
Or the time they put a helmet on a cheerleader because who doesn't want to see a helmet on a cheerleader?
And so we ask... now are you ready for some football?! @LAKISS_AFL #LAKISS http://t.co/J6okr4Mhqv pic.twitter.com/NSo6Gfn5qt

— LA KISS (@LAKISS_AFL) March 10, 2014
This time around, the Kiss have topped themselves by unveiling the football field you see at the top of the page. And I'm not going to lie here, I don't hate it. I actually love it. I would buy carpeting with that design. As a matter of fact, I am going to buy carpeting with that design. 
If you want to see what the field looks like in person, the Kiss will be hosting their first home game of the AFL season on April 5 at the Honda Center in Anaheim. The best part is, you don't even have to be there to see the game. Our very own CBS Sports Network will be airing the team's home opener against the Portland Thunder beginning at 10 p.m. ET on Saturday. 
Everything you need to know about the Packers-Panthers game on Sunday afternoon

The Lions will be wearing their Color Rush uniforms for the first time on Thursday

The Lions look to maintain playoff positioning while the Bears attempt to play spoiler
The Panthers have hired an outside law firm to conduct the investigation

Here's every official injury designation for each NFL team for Week 15

Bennett was one of the few players who escaped punishment after Sunday's melee in Jacksonv...