Eye On Hockey top 50 players: 35-31
We continue our countdown of the top-50 NHL players with players 35-31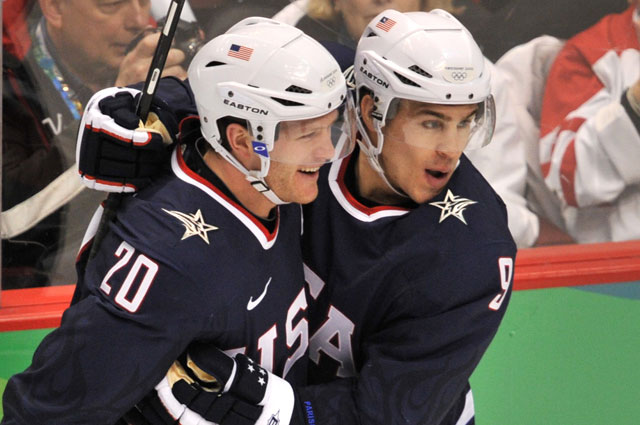 Ryan Suter (pictured on the left next to his new teammate, Zach Parise) cracks our top-50 list at No. 33. But how well will he perform apart from his long-time partner, Shea Weber? (Getty Images)
Since the NHL is still shut down for at least another month due to the ongoing lockout, we're going to occupy some of your time by counting down the Top 50 players in the NHL as decided by ... well ... me.
A number of factors went into the list including overall production, advanced metrics (via BehindtheNet.ca), personal observation, all-around play and what kind of role are they asked to play by their coaches. For example: If two players are similar in their production and are comparable in their style of play, the guy who is asked to face tougher competition or tougher assignments, among other factors, is probably going to get the edge.
To make it even easier: I basically started with the question of "If I'm building a team to win the Stanley Cup this season, who would I want on my team?"
There will be disagreements, I'm sure. And as is always the case, if a player you like is too low, or excluded, that obviously means I hate him and your team
Previously at Eye On Hockey: Players 50-46 | Players 45-41 | Players 40-36

2011-12 box score stats: 82 games, 30 goals, 34 assists, 64 points
2011-12 advanced stats: 1.497 Corsi Quality Competition, plus-8.1 Corsi Relative, 999 PDO
At the age of 32, Marleau's production is starting to decline in terms of goals and assists, dropping from 44 goals and 83 points in 2009-10 to 30 goals and 64 points in 2011-12. But even with the declining numbers, he's still a key player for the Sharks in terms of advancing the play up ice and doing so against top competition.
Among players who appeared in at least 40 games last season, Marleau faced the 14th toughest competition at 5-on-5 play and still finished with not only strong box-score numbers (he reached the 30-goal mark for the fourth straight season and the sixth time in the past seven years) but also as one of the best possession players in the league. Of the top-20 players in terms of toughest minutes in the NHL last season, only two of them finished the season with a better Corsi Relative ranking.
And in case you missed it in earlier entries, that's simply a plus-minus number that uses shot attempts instead of goals when compared to the rest of the players on his team. He's clearly not the player that he was just as recently as two or three years ago, but he's still a valuable player for the Sharks and a big part of what is one of the deepest forward groups in the league.
2011-12 box score stats: 82 games, 31 goals, 26 assists, 57 points
2011-12 advanced stats: .553 Corsi Quality Competition, plus-5.9 Corsi Relative, 1004 PDO
You might remember Bobby Ryan as the guy taken one spot after Sidney Crosby in the 2005 NHL draft. In his four full seasons in the NHL, Ryan has never scored fewer than 30 goals and has scored 136 since entering the league at the start of the 2007-08 season.
He has been the subject of trade rumors since the season, mostly due to his own comments that he later classified as … well …. kind of dumb. Had the Ducks given in to his demands, he likely would have been a more sought-after player than Rick Nash when the Blue Jackets put him on the market.
Ryan just turned 25 in March and is not only signed to a very reasonable contract for a player of his ability but is also entering what should be one of his peak seasons in the NHL during what is now the prime of his career.
2011-12 box score stats: 79 games, 7 goals, 39 assists, 46 points
2011-12 advanced stats: 1.262 Corsi Quality Competition, plus-7.3 Corsi Relative, 1019 PDO
One of the top prizes in the 2012 free-agent field, Ryan Suter joined Zach Parise in Minnesota by signing a 13-year deal to join a Wild team that has spent most of its existence struggling to become relevant in the Western Conference.
Landing the top-two free agents in one class certainly helps put them on the map and should at least improve them to the point that they can compete for a playoff spot after a dreadful second half of the 2011-12 season that resulted in them going from the best team in the standings in early December to one of the absolute worst by the end of the season.
Suter will step in and instantly become their No. 1 defenseman.
Throughout the whole free agency process, it was pretty much assumed Suter's two most likely destinations would be the Detroit Red Wings, where he would have an opportunity to fill the void left by Nicklas Lidstrom, or a return to Nashville, the team that drafted him in the first round in 2003, where he would continue to form one of the top defensive pairings in the league alongside Shea Weber.
Instead, he joined his friend, Parise, in Minnesota, where he will have an opportunity to be the clear No. 1 option along the blue line. Suter is as solid an all-around defenseman as there is in the NHL. But if there's a concern with him, it has to be how much of his success in Nashville was a result of playing alongside Weber, who is clearly one of the top players in the NHL.
2011-12 box score numbers: 80 games, 40 goals, 41 assists, 81 points
2011-12 advanced stats: .349 Corsi Quality Competition, plus-10.2 Corsi Relative, 984 PDO
The Penguins' acquisition of James Neal from the Dallas Stars for Alex Goligoski during the 2010-11 season was a classic example of a trade that was a win-win for both teams. The Penguins had an overload of defensemen and needed a young goal-scoring winger, while the Stars had an overload of young goal-scoring wingers and needed a young, puck-moving defenseman.
It was a classic hockey trade that was made simply for teams looking to improve areas of weakness by dealing from areas of strength, with no other factors (like contracts or the salary cap) playing a factor in the decision. From the Pittsburgh side, it was assumed from the start that Neal would be the answer to the still-ongoing question of "who will be the winger for Sidney Crosby?"
But when Neal arrived in Pittsburgh, Crosby was sidelined with a concussion. Even into the 2011-12 season, Neal's first full-season in Pittsburgh, he never had a chance to play alongside the Pittsburgh captain. Instead, the Penguins used him on a long with Evgeni Malkin and Chris Kunitz. The trio instantly clicked and became one of the top offensive lines in the league. Neal became a holy terror offensively and finished with career highs in goals, assists, power-play goals and points. There isn't much to make it look like a fluke.
It's unlikely he'll duplicate the 18 power-play goals that he scored last season, so another 40-goal season might be asking a lot. But there was no sudden spike in his shooting percentage or anything that else that should be expected to regress much in 2012-13. Actually, the fact he seemed to be a little unlucky in terms of his own team's goaltending when he was on the ice (the Penguins' save percentage was just .887 when Neal was on the ice last season, the lowest mark on the team) might even suggest that a few more breaks could go his way.
2011-12 box score stats: 80 games, 37 goals, 23 assists, 60 points
2011-12 advanced stats: .905 Corsi Quality Competition, plus-15.9 Corsi Relative, 980 PDO
Corey Perry saw his numbers decline during the 2011-12 season, but that's not necessarily because he had a bad year. That's just what happens when you score 50 goals and finish with 97 points like Perry did during the 2010-11 season. Those are impossible numbers to duplicate for more than 95 percent of the players in the league. And when you have a season like that, there's really almost nowhere to go but down.
The 2010-11 season, which saw Perry win the Rocket Richard award as the league's leading goal scorer and the MVP award, was simply his peak season in the NHL and was aided by a 17 percent shooting percentage, far above his normal career level. During a one-month stretch that started at the end of February, he scored 19 goals. Neither of those paces were sustainable.
All Perry did in 2011-12 was finish with a season more in line with his career norms. And that, of course, is still pretty darn good.
Perry is one of those players that you absolutely love when he's on your team and absolutely loathe when he isn't. Not only because he's a remarkably productive player but also due to his style of play, which seems to get under the skin of opposing players and fans alike.
For more hockey news, rumors and analysis, follow @EyeOnHockey and @agretz on Twitter and like us on Facebook.

Stacia Robitaille says Donald Trump told her in an elevator that she was coming home with...

Vladislav Yeryomenko was the Teddy Bear Toss goal scorer for the Calgary Hitmen

The Golden Knights are finally getting their No. 1 goalie back after a 25-game absence
Washington has won four straight, and the Kings are also on a tear right behind the Lightn...

The NHL says it's only interested in expanding to Seattle, but here's a look at all the moving...

The NHL says it is only looking toward Seattle for the next expansion team