NHL Trade Deadline Rumor Mill Roundup
What are the latest rumors as the NHL trade deadline approaches? Keep up with them here.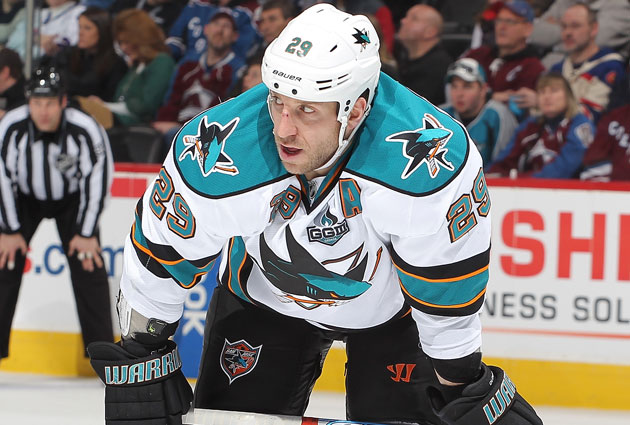 More NHL: Scores | Standings | Odds | Fight-O-Meter | League Leaders | Rumors
NHL Trade Deadline: Complete Trade Tracker
The NHL trade deadline is right around the corner on this Wednesday, April 3. The rumors are going to be flying much faster than the actual deals, so you can keep up with all the talk on the rumor mill.
Be sure to check back often as this will be an updating post, a one-stop shopping destination.
Monday, April 1
 
 
9:50 p.m.
With goalies looking to be one of the hot commodities near the trade deadline, several veteran netminders have drawn interest. One goalie who won't be available, however, is Jonathan Bernier. According to Renaud Lavoie, Bernier is not expected to be dealt.
9:40 p.m.
ACTUAL TRADE ALERT: Jay Bouwmeester traded to the St. Louis Blues for a conditional first-round pick and prospects Mark Cundari and Reto Berra. If St. Louis misses the playoffs, Calgary gets a fourth-round pick in 2013 and a first-rounder in 2014.
9:38 p.m.
ACTUAL TRADE ALERT: The Los Angeles Kings have reportedly acquired defenseman Robyn Regehr from the Buffalo Sabres for two second-round picks.
8:25 p.m.
Ryane Clowe, one of the most talked about players as the trade deadline looms, is a healthy scratch for tonight's game against the Vancouver Canucks. With multiple teams rumored to be interested in Clowe, him not being in the lineup could signal a deal is near.
6:24 p.m.
The Maple Leafs' interest in Calgary Flames netminder Miikka Kiprusoff is getting serious, according to Darren Dreger who told TSN Radio, "The Kiprusoff train is rolling between Dave Nonis and Jay Feaster right now, it really is." The two GMs spoke again Monday.
4:39 p.m.
ACTUAL TRADE ALERT: The Blackhawks have reportedly landed Michal Handzus from the Sharks for a fourth-round draft pick.
4:37 p.m.
The Islanders have made it clear they would like to re-sign Mark Streit but Darren Dreger says there is a deadline of Wednesday morning. If there's no deal by then the Isles might consider a trade.
4:35 p.m.
Thought the Roberto Luongo talks were dead for this season? Think again. GM Mike Gillis said he is "talking to four teams with varying levels of activity and various proposals." From Farhan Lalji of TSN.
4:30 p.m.
ACTUAL TRADE ALERT: Harry Zolnierczyk was traded from the Flyers to Anaheim. In return Philly gets Jay Rosehill.
4:25 p.m.
It was mentioned earlier that getting Ryane Clowe to Philadelphia could cost the Flyers Sean Couturier but Sarah Baicker of CSN Philly says the Flyers won't go down that road.
3:54 p.m.
Want evidence that the Sabres are really in sell mode? Patrick Caisee says that the team has asked Jasom Pominville to provide a list of eight teams he wouldn't accept a trade to.
2:42 p.m.
Don't think the Blues are done looking for defensemen after getting Jordan Leopold. Bob McKenzie says they are still keen on Jay Bouwmeester in Calgary, as are the Red Wings.
2:15 p.m.
The Stars and Derek Roy are no longer talking about an extension, Renaud Lavoie reports. That means they could look to trade him and Lavoie mentions the Canucks would have interest.
1:29 p.m.
The Senators have a glut of goalies right now and that means that the team is taking calls on Ben Bishop, per Pierre LeBrun.
1:26 p.m.
The Stars have said they want to re-sign Jaromir Jagr and they seem to be holding true to that because according to Randy Miller, the Stars have rejected an offer for two second-round picks.
1:23 p.m.
The Maple Leafs might not be actively shopping, but GM Dave Nonis is not ruling out the possibility of landing a veteran goalie. Of course, Miikka Kiprusoff and Roberto Luongo have both been mentioned with the Leafs to varying degrees in the past year.
1:20 p.m.
It's not much of a secret the Sabres are looking to move some players, defenseman Robyn Regehr included, however at this point Darren Dreger says they haven't had anything really pique their interest.
1:17 p.m.
Columbus was in eighth place when the day began so Darren Dreger says that they are going into the buyer category and could move one of their first-round picks if they find what they want -- a scorer.
1:14 p.m.
Here's a surprise addition to the rumor mill on Monday morning: Carolina defenseman Jamie McBain. Darren Dreger says the Hurricanes have made him available, somewhat surprising considering the D is considering the weak link in Carolina.
1:12 p.m.
After the Oilers re-signed Ladislav Smid on Monday, it seemed to pave the way for them to deal Ryan Whitney but Darren Dreger says the team is considering keeping him and re-signing goalie Nikolai Khabibulin as well.
1:08 p.m.
The Blue Jackets are close to re-signing defenseman Mark Letestu according to Elliotte Friedman. Letestu could have drawn some interest as a rental player and experienced Dman.
1:06 p.m.
Another team that could be in on the Clowe sweepstakes is the Wild, per Bruce Garrioch. As he notes, the Wild and Sharks are no strangers in making deals with one another.
1:04 p.m.
The Flyers are one team that seems to be hot on the Ryane Clowe trail according to the Philadelphia Daily News. The return price appears to be high as Bruce Garrioch says it could take Sean Couturier to pry Clowe away.
1:02 p.m.
Ryane Clowe of the Sharks has been mentioned a lot and has been a pretty hot commodity despite having no goals this season. Pierre LeBrun of ESPN.com says a deal could go down as soon as today. A lot of teams have expressed interest.
Pittsburgh coach Mike Sullivan says the team also respects players' right to protest

Some familiar faces are back, but a cap-strapped summer left Chicago a little shakier than...

The Pittsburgh Penguins will put politics aside and visit the White House out of 'respect'...
NBC will reportedly be devoid of NHL game broadcasts between Feb. 7-26

The Winnipeg winger suggests Trump is going after 'the principles the U.S. was founded on'

League gets excited about exhibition matches in Beijing and Shanghai