Nicklas Backstrom likely won't face NHL discipline for banned substance
Nicklas Backstrom couldn't play in the gold-medal game for Sweden because of a banned substance related to allergy medication but it won't be a problem for the NHL.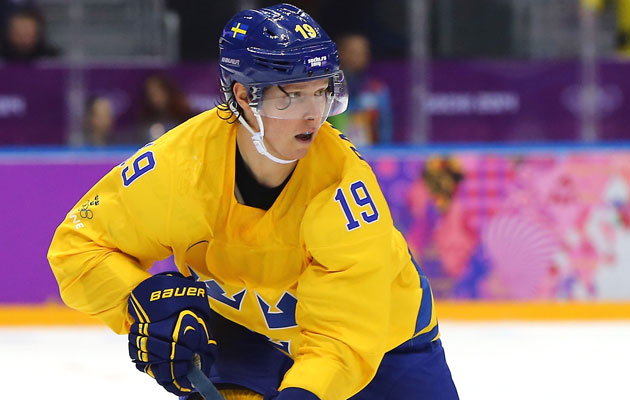 More NHL: Scores | Standings | League Leaders | Odds | Injuries | Power Rankings
The banned substance that cost Nicklas Backstrom a chance to play in the gold-medal game on Sunday won't keep him from playing for the Washington Capitals when the NHL season resumes.
Backstrom was a surprise scratch before the game for Sweden against Canada and later it was revealed it was because he failed a drug test. The banned substance found in his body came from allergy medication Zyrtec D, something Backstrom says he has been taking for years.
It was a devastating bit of news for Backstrom and Sweden, which couldn't muster any goals against Canada in the gold-medal game. Sweden officials have certainly not been pleased, frustrated at the timing, the fact that he can't take allergy medicine ... all of it.
However it won't be a factor in the NHL. Deputy Commissioner Bill Daly and the league issued a statement on Sunday explaining the situation in regards to his day job with the Caps.
"We understand that Nicklas Backstrom tested positive for a substance banned 'in competition' by the International Olympic Committee. It is our further understanding that the positive test was the result of a common allergy medication taken by the player knowingly, with the approval of the team doctor and without the intention of gaining an illegal or improper performance-enhancing benefit. In addition, the specific substance that resulted in the positive test is not currently on the League's Prohibited Substances List."

"Subject to confirmation of the facts as we understand them, and given the fact that the substance is neither prohibited in the NHL nor was used in an improper manner here, we do not anticipate there being any consequences relative to Nicklas' eligibility to participate in games for the Washington Capitals."
The Capitals had a statement at just about the same time on the matter.
Nicklas Backstrom did not participate in Team Sweden's Olympic gold-medal game on Sunday due to the allergy medication he has been taking intermittently for seven years, including this season while playing for the Washington Capitals to combat severe allergies. The medicine was approved by the Swedish national team. It is not anticipated that this will impact his participation in NHL games.
While it's good for him and the Capitals that this will have no impact on his NHL job, it makes it just that much more frustrating to see that his suspension from the gold-medal game was over something that the NHL doesn't deem to be an illegal substance.
The University of Denver star and Hobey Baker Award winner is drawing interest

Intrigue is high in Arizona after a wild offseason, but expectations should still be tempe...

Players are set to give personalized messages for Adidas' former hockey equipment brand
The 40-year-old center is returning to the Wild after a successful run in Pittsburgh

Edmonton locks up its 21-year-old RFA a month after McDavid's historic extension

Even with a new coach and added veteran help, the Canucks have a long road ahead