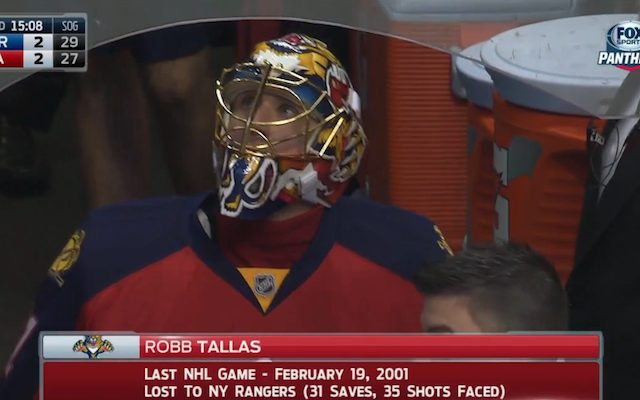 After having to dress as their emergency goalie exactly two years ago -- to the day -- Florida Panthers goalie coach Robb Tallas had to do it again on Tuesday night against the Toronto Maple Leafs after the third period of their game went in a strange and almost unbelievable direction.
Both Panthers goalies -- Roberto Luongo and Al Montoya -- suffered injuries during the 3-2 loss, forcing Tallas to quickly suit up to serve as the backup. It ended with Luongo returning to the game after he had already changed out of his uniform and was seen walking around in his street clothes. 
Here is how it all went down.
In the first period Luongo was injured when he was hit by a shot from Maple Leafs forward Leo Komarov. After initially remaining in the game he exited after the period had come to a close and was replaced by backup Al Montoya.
And that is when things started to get weird. 
That is when Montoya was injured early in the period, leaving the Panthers, a team in a desperate fight for a playoff spot, without a healthy goalie. The game was delayed on two separate occasions as Montoya briefly exited to the locker room while the Panthers tried to figure out what they were going to do. At one point Luongo came out of the locker room, in his street clothes, and was seen talking to team trainers, coach Gerrard Gallant and general manager Dale Tallon.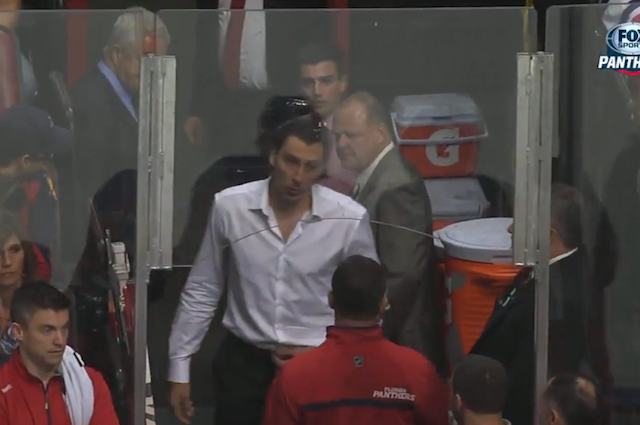 While all of this was going on there was a belief that either forwards Scottie Upshall or Derek MacKenzie would dress as emergency goalies after both went down the tunnel to the locker room while Montoya was struggling to stay in the game. In the end, though, it was Tallas, a former goalie that played six years in the league, briefly dressing as the emergency backup, something he did exactly two years ago to the day on March 3, 2013.  
While Montoya was attempted to play through his injury he surrendered the eventual game-winning goal. 
Luongo was able to finish the game. 
Here is how the NHL rule book handles situations like this.
"In regular League and Playoff games, if both listed goalkeepers are incapacitated, that team shall be entitled to dress and play any available goalkeeper who is eligible. This goalkeeper is eligible to sit on the player's bench, in uniform. In the event that the two regular goalkeepers are injured or incapacitated in quick succession, the third goalkeeper shall be provided with a reasonable amount of time to get dressed, in addition to a two-minute warm-up."
The league approved the Panthers' request to dress Tallas.
Here is the video of everything happening.