Playoff Preview: (4) Boston vs. (5) Toronto
The No. 4 seed Boston Bruins take on the No. 5 seed Toronto Maple Leafs. Get ready to hear a lot about Phil Kessel and Tyler Seguin.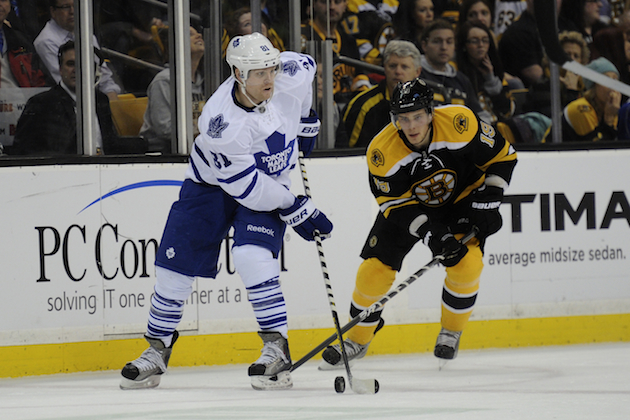 More NHL: Scores | Standings | Odds | Fight-O-Meter | League Leaders | Rumors
It has been seven years in the making, but the Toronto Maple Leafs are finally back in the playoffs.
It's a little disappointing we didn't get to see a first-round matchup between the Leafs and Montreal Canadiens, but Toronto's series against Boston should still provide some fun, especially if you enjoy analyzing and re-hashing a trade that happened three years ago. Because that's sure to happen at some point when it comes to these teams, thanks to Phil Kessel.
You might have heard a time or 500 that former Leafs general manager Brian Burke acquired him from Boston for two draft picks that turned out to be Tyler Seguin and Dougie Hamilton, a move that has been panned and ridiculed since the day it happened.
Let's just get this out of the way now and be done with it: The Maple Leafs are a better team in 2013 with Phil Kessel, a player who has been underrated and underappreciated for several years now, than they would have been with Seguin and Hamilton.
There. That was easy.
Kessel has been a huge part of the Leafs' success this season. Even when he wasn't scoring goals earlier in the year, he was still their best player on a nightly basis. Despite not scoring a goal in his first 10 games, he still finished the season with 20 goals, a pace that would have given him his fifth straight 30-goal season over 82 games. The only other players that scored 30 goals in each of the past four seasons and were on a similar pace this season were Washington's Alex Ovechkin and the New York Rangers' Rick Nash.
So, with that out of the way, let's get on to the series.
Boston offense vs. Toronto defense

The Maple Leafs aren't a particularly strong team defensively even though their goals-against numbers on the season might tell you otherwise. They give up a lot of shots, get outchanced quite often and rely heavily on the goaltending of James Reimer and Ben Scrivens. If not for the play of those two guys this season, and particularly Reimer, there's a chance that playoff drought would have extended to an eighth year.
Having said that, Boston isn't exactly an offensive juggernaut. The Bruins' roster seems like it should be a little more potent than it is, but they're simply a middle-of-the-pack team offensively.
Good, but not great. Guys who have a lot of skill and can beat you but lacking the one guy who is a go-to goal-scorer that the other team has to constantly account for.
Toronto offense vs. Boston defense

The Leafs are a pretty good offensive team thanks in large part to the trio of Kessel, Joffrey Lupul (when he has been healthy) and Nazem Kadri. They enter the playoffs as one of the highest-scoring teams in the league but have also been riding some really high percentages from a shooting standpoint this season. They're sixth in the league in goals but only 28th in shots on goal. How long can a team keep consistently generating that many goals on so few shots? It already started to catch up to Kadri late in the season (one goal in his last 12 games).
Patrice Bergeron is one of the NHL's best defensive forwards and should give whatever line he goes up against problems, while Zdeno Chara will probably become quite familiar with Kessel over the next two weeks. 
Goaltending

As mentioned above, Toronto's goaltending is one of the biggest reasons why the team is here. The best thing that could have happened at the deadline was the front office not being able to complete a deal for a veteran. For the first time in nearly a decade, the Maple Leafs finished the season with goaltending that could be considered better than the league average, and it's that duo that's going to give them a chance.
Having said that, I don't think either one is better than the guy who will be lining up at the end of the ice, Tuukka Rask.
Special Teams

Both teams have been mediocre at best on the power play this season and really strong on the penalty kill.
I'd like to think that adding a guy like Jaromir Jagr at the trade deadline would give a boost to the Bruins' power play, but it hasn't quite shown up yet in terms of actual goals. Both teams get great goaltending, but their penalty kills are also aided by the fact they're among the best in the league in not allowing shots, finishing third (Boston) and fifth (Toronto) when it comes to allowing the fewest shots per 60 minutes of 4-on-5 play.
Prediction

The University of Denver star and Hobey Baker Award winner is drawing interest

Intrigue is high in Arizona after a wild offseason, but expectations should still be tempe...

Players are set to give personalized messages for Adidas' former hockey equipment brand
The 40-year-old center is returning to the Wild after a successful run in Pittsburgh

Edmonton locks up its 21-year-old RFA a month after McDavid's historic extension

Even with a new coach and added veteran help, the Canucks have a long road ahead