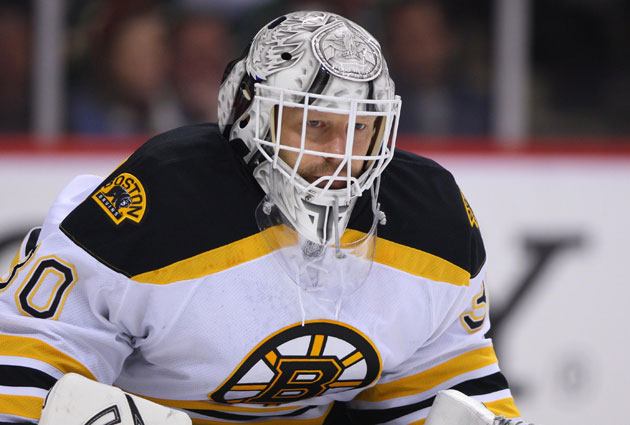 Tim Thomas supports Chick-fil-A, and it's not just because of the waffle fries. (US Presswire)
Tim Thomas has become no stranger to making political statements and letting the world know how he feels as an INDIVIDUAL, not as a hockey player. But since he is still a hockey player -- he hasn't retired, just taken a sabbatical -- his comments draw interest in the hockey world too.
His latest stand is no exception. He took to Facebook on Thursday and let everybody know he sides with Chick-fil-A in the company's stance against gay marriage.
I stand with Chick-fil-A.

Chick-fil-A is privately owned by the Cathy family. The company president, Dan Cathy, drew the wrath of gay rights advocates and supporters when he made recent statements that some have alleged are anti-gay.

Cathy told Baptist Press that the company was unapologetically in favor of traditional marriage.

"Guilty as charged," he said. "We are very much supportive of the family -- the biblical definition of the family unit. We are a family-owned business, a family-led business, and we are married to our first wives. We give God thanks for that."

In a separate interview on the Ken Coleman Show -- Cathy suggested that the nation could face God's wrath over the redefinition of marriage.

"I think we are inviting God's judgment on our nation when we shake our fist at him and say, 'We know better than you as to what constitutes a marriage,'" Cathy said. "I pray God's mercy on our generation that has such a prideful, arrogant attitude to think that we would have the audacity to try to redefine what marriage is all about."
Considering the store isn't open on Sundays (seriously, I've mindlessly gone there on a couple of occasions only to remember), its position isn't terribly shocking. And considering the tenor of his past statements, Thomas' isn't all that shocking either.
Nor is the outrage. It's as hot a topic as there is in politics these days it seems. So hot that Boston mayor Tom Menino sent a letter to Chick-fil-A telling the company not to bother expanding to his city. That could make for an awkward moment if Thomas actually did come back to the Bruins at some point.
Patrick Burke and the You Can Play Project, which is aiming to end homophobia in hockey and all sports didn't comment on the matter other than to point out that the captain of Thomas's team, Zdeno Chara, took part in the Project's effort with a PSA.
Thomas is of course well within his rights to express his opinion, which he is obviously doing a lot of these days, particularly with so much time off. Others are just as within their rights to disagree with Thomas and his take.
It does add to a growing list of "issues" -- for lack of a better word -- surrounding Thomas. If he does try and come back after next season it will be interesting to see if any of these public statements he has been making will hurt him in trying to find a suitor. He will already be behind the 8-ball with a year off at an advanced age and a big salary.
The best part of this all, though? The Twitter account of @Stromebone1 (it's Roberto Luongo but shhhh! he won't publicly admit to it) throwing out this tweet.
Hey guys remember 2y ago in the Stanley Cup Final when people thought I was the crazy goalie?Well I still might be, but NOT the craziest one

—Strombone (@strombone1) July 26, 2012
Ah yes, the good old days when people saw Tim Thomas as crazy only in the way he played goal.
What is it about Boston athletes and controversies involving fried chicken, anyway?
Previously at Eye on Hockey
Thomas explains decision to skip White House visit
For more hockey news, rumors and analysis, follow @EyeOnHockey and @StubitsCBS on Twitter and like us on Facebook.