Tuomo Ruutu will miss regular season if it ever starts
Carolina Hurricanes forward Tuomo Ruutu will miss the regular season. If it ever starts, that is.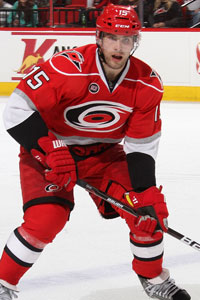 Tuomo Ruutu will miss the 2013 regular season if it ever starts. (Getty Images)
If the NHL and NHLPA are able to settle their differences in time to salvage some sort of a 2013 season, the Carolina Hurricanes are going to have to play it without one of their top players.
General manager Jim Rutherford told Chip Alexander of the Raleigh News & Observer that Tuomo Ruutu recently underwent hip surgery and will miss at least the regular season, and perhaps even part of the playoffs if it ever gets to that point.
"We're not sure how long he will be out," Rutherford told Alexander. "Certainly through the regular season, if we play it. Maybe longer. He tried a number of things to rehab it but it got to the point the doctors recommended surgery. There was really nothing that signaled surgery might be necessary. It just flared up. Like most athletes, hockey players have a lot of wear and tear on their hips."
In 72 games during the 2011-12 season Ruutu scored 18 goals to go with 16 assists.
Once the season gets underway he will be in the first year of a brand-new four-year, $19 million contract. He's been with the Hurricanes since the middle of the 2007-08 season when the team acquired him from the Chicago Blackhawks in exchange for Andrew Ladd.
He has scored 81 goals in parts of five seasons with the Hurricanes.
There should be a lot of excitement around the Hurricanes given the offseason they had, acquiring big-minute center Jordan Staal from the Pittsburgh Penguins and signing talented winger Alexander Semin away from their division rivals in Washington. Given how weak the Southeast Division was in 2011-12, the Hurricanes have a real chance to compete for the top spot based on their offseason additions.
They will now have to do it without the services of Ruutu.
For more hockey news, rumors and analysis, follow @EyeOnHockey and @agretz on Twitter and like us on Facebook.
Without the star power of the NHL, America is banking on big contributions from some AHL, KHL...

Lincoln Financial Field will play host to the annual outdoor game on Feb. 23, 2019

The Lightning stay on top as other teams begin to catch fire
The NHL said the Flyers defenseman was 'reckless' and used 'excessive force'

'How you gon' do that hockey?'