The Lineup: Brewers' bullpen implodes again, Pirates reeling
Brewers relievers have blown 23 saves this season -- three of them coming in one of rookie Mark Rogers' four starts. Meanwhile, the Pirates hope A.J. Burnett can stop their losing streak.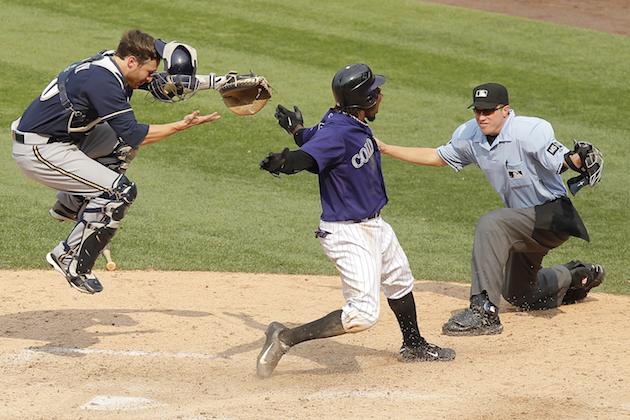 Colorado's Eric Young Jr. scored the winning run on Tyler Colvin's two-run double. (Associated Press)

Felix Hernandez and Melky Cabrera dominated the day's news -- and for good reason -- but there were plenty of other baseball story lines on Wednesday. In the National League, the Pirates dropped seven games back in the Central and with a Cardinals win, Pittsburgh Pirates is now tied with St. Louis Cardinals for the second wild card slot. In the American League, an A's loss and Los Angeles Angels win has the two teams tied behind the Texas Rangers in the AL West and 1 1/2 games out of the second wild card.

Full Wednesday scoreboard with recaps and box scores for every game








3 UP

Max Scherzer , Detroit Tigers : Which Tigers pitcher holds the big-league lead in strikeouts? With 10 strikeouts in Wednesday's 5-1 victory over the Minnesota Twins , Scherzer now has 178 strikeouts -- four more than Verlander. Scherzer's strikeouts come in fewer innings, too -- 140 2/3 for Scherzer and 177 for Verlander.

David DeJesus , Chicago Cubs : It took until his 55th game at Wrigley Field to hit a home run in a Cubs uniform -- and one inning to hit his second. DeJesus tagged Houston Astros starter Bud Norris for two homers in the victory over the Astros. DeJesus  doubled his homer output on the season.

Adam Wainwright , Cardinals: Nobody should take the Cardinals lightly -- this weekend they're expected to get Jaime Garcia back and recently it's appeared Adam Wainwright is rounding into form. He won his fourth consecutive decision on Wednesday, allowing two runs on five hits in five innings.

3 DOWN

Cleveland Indians defense: The second inning of Wednesday's loss to the Angels was a clinic in how not to play baseball. A total of three errors led to five runs -- three unearned -- in Roberto Hernandez 's first game with his real name. Shortstop Brent Lillibridge made two of the errors, while catcher Carlos Santana added another.

Aaron Cook , Boston Red Sox : How does a guy who entered the sixth inning with a no-hitter wind up on this list? Well, he may have started the sixth with a no-hitter, but he didn't finish that way. With one out in the sixth, Cook walked Nick Markakis and then lost the no-hitter when J.J. Hardy singled. Nate McLouth followed with an RBI single, setting up runners on first and third with one out and the Red Sox holding a 2-1 lead. Adam Jones hit a bouncer back to Cook, who had the perfect opportunity to turn an inning-ending double play. Instead, the throw went into the outfield, allowing Hardy to score the tying run. Matt Wieters then hit a ground rule double, giving the Baltimore Orioles the lead and ending Cook's night.

Jim Henderson , Milwaukee Brewers : 3 Down could just be renamed "Brewers bullpen report" this season, and Wednesday featured another entry in the sad series. Brewers rookie right-hander Mark Rogers has yet to earn a big-league victory, but once again he was in line for the win on Wednesday. Instead, Henderson gave up three consecutive one-out hits to give Colorado Rockies a 7-6 victory. It was the third time in four starts that Rogers has been the victim of a blown save and the 23rd blown save by the Brewers' bullpen this season.








Bombed in the Bronx: Excuse the Rangers if they don't feel too confident coming into Thursday's game against the Yankees. Losers of their last three, Derek Holland pitches for the Rangers against the Yankees, a team that he has had zero success against. In six starts and seven games overall against New York Mets , Holland is 0-5 with a 9.26 ERA. He's 0-3 with an 8.20 ERA in three starts at Yankee Stadium. 1:05 p.m. ET

Stopper: The Pirates rearranged their rotation to make sure A.J. Burnett would get as many starts as possible and after losing three straight, it may have been a wise decision. Burnett is 14-4 with a 3.32 ERA this season. He struck out a season-high 10 batters in his last start, but suffered his first loss at PNC Park this season.  4:05 p.m. ET

Home sweet home: The Cardinals have won 15 of their last 18 at home and no Cardinals hurler has been better at Busch III than Kyle Lohse . Lohse is 6-1 with a 2.40 ERA in 11 starts at home this season and has allowed two or fewer runs in his last five starts at home. The Cardinals are undefeated in five games against the Arizona Diamondbacks this season. 8:15 p.m. ET

Thursday's probable pitchers








• Mets future still messy: Although the Mets don't have to worry about hearing the name Bernie Madoff anymore, their payroll for 2012 remains to be determined. [Wall Street Journal]

• Attendance vs. tickets sold: When you hear a team announce how many people were at the ball park on a given night, it's not how many people are actually in the stands, but it's something more importantly -- how many tickets were sold. [Associated Press]


• Big leaguer helping out Little Leaguers: Oakland Athletics outfielder Jonny Gomes is helping out the Little League team from his hometown of Petaluma, Calif., which has advanced to the Little League World Series. [San Jose Mercury News]

• Remember the Expos: Wearing Expos gear is more fashionable in Montreal now than actually going to games was for the team's final decade. [The Globe and Mail]

• Beats a coin toss: How did you determine the draft order for your fantasy league? It probably wasn't as cool as how the Orioles determined their draft order for the team fantasy football league. According to reliever Darren O'Day , the team held crab races for the order. Chris Davis ' crab came in first. [DC Sports Bog]

• On the road: Baseball and other professional sports teams bring challenges to the travel industry. [CNN.com]

For more baseball news, rumors and analysis, follow @EyeOnBaseball on Twitter, subscribe to the RSS feed and "like" us on Facebook.
Show Comments
Hide Comments