NBA Trade Deadline Buzz: Why the contending Hawks are looking to deal
Why would the Hawks -- a 60-win team just a season ago -- be assessing interest in their All-Star players? Ken Berger says Atlanta has its reasons, and they make sense.
TORONTO -- One of the surprising teams involved in trade talks at All-Star weekend is the Atlanta Hawks . Surprising, unless you step back and think about it.
The Hawks won 60 games last season and advanced to the Eastern Conference Finals despite a tumultuous season that included the ouster of GM Danny Ferry over racially insensitive remarks. The success on the court -- and at the box office, where the Hawks have long struggled -- was a watershed moment for the franchise that's been to the playoffs eight consecutive years.
Finally, the city was starting to notice.
The Hawks are once again in the postseason mix, sitting fourth in the East at the break. So why break up a team that is riding a wave of success -- and one that, with former San Antonio Spurs assistant Mike Budenholzer, has become the latest to embrace and attempt to emulate the San Antonio way?
Multiple executives with teams around the league confirmed to CBS Sports that the Hawks have, in fact, been calling teams to assess interest in All-Stars Al Horford and Jeff Teague . 
Does that mean they'll trade one or both of them? Not necessarily. But it makes good business sense to at least see what is out there.
Horford, who turns 30 in June, will be an unrestricted free agent this summer for the first time in his career. Given his talent, dependability and versatility -- not to mention the looming spike in the salary cap from $70 million to $89 million -- Horford will command a max deal. He can get five years from the Hawks or four years from anybody else with cap room (i.e., almost every other team in the league). 
If you buy into the notion that the Hawks have reached their full potential with their current group, it's worth asking this question: If Atlanta can't get to an NBA Finals with a soon-to-be 30-year-old Horford making $12 million a year, what can they possibly do in a few years with a 34-year-old Horford making twice that?
Given that the East-leading Cavs have steadied themselves since firing David Blatt and hiring Tyronn Lue, the East is Cleveland's to lose.
As for Teague, his $8 million salary is already a bargain, and will be more so once the cap spikes next season. His contract -- and the talent that goes with it -- could be all the incentive the Hawks need to get as close to fair value as possible for Horford, who will be close to impossible to replace in a deal.
As is often the case with deadline deals, there are more factors at play than your record and the players coming in or going out.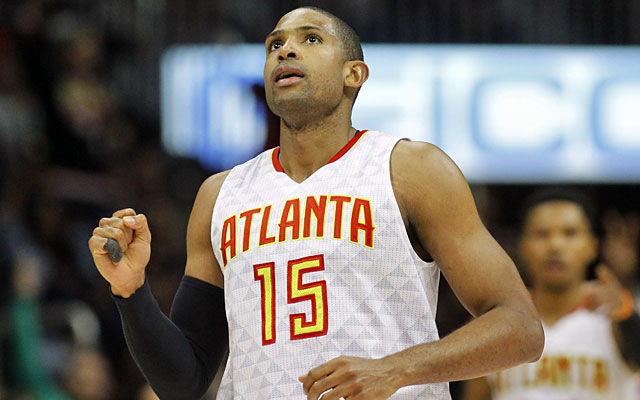 Unexpected sellers: A common assumption has been that the preponderance of teams still in the playoff mix, particularly in the East, will ramp up trade deadline activity. A plausible case can be made, however, that it will have the opposite effect. With as many as 12 teams in each conference either solidified or within striking distance of a playoff spot, that's an awful lot of sellers -- and not enough buyers.
The exceptions are teams like the Chicago Bulls and Memphis Grizzlies , who had every reason to believe they'd be contenders and have suffered injuries that have imperiled their seasons. The Bulls are without Joakim Noah , who will be an unrestricted free agent, and now have lost All-Star Jimmy Butler for about a month with a knee injury. The Grizzlies have lost All-Star Marc Gasol to a broken foot, an injury that, if history is a guide, could keep him out for the rest of the season as a worst-case scenario.
Other teams that face an unanticipated reckoning as the February 18 deadline approaches are the New York Knicks , who have lost 10 of 11 and just fired coach Derek Fisher; the Washington Wizards , who haven't been healthy enough to assess exactly what they have; the Milwaukee Bucks , who expected to take the next step after signing free agent Greg Monroe this past summer; the New Orleans Pelicans , who have taken a dive after making the playoffs last season; the Phoenix Suns , who need to reboot; and the Sacramento Kings , who are a mess.
Oh, and one more, of course: the Houston Rockets . They're always active at the deadline, but this time, it's amid the disappointment of taking a significant step back after advancing to the Western Conference Finals last season. Houston GM Daryl Morey is said to be open to discussion about any player other than James Harden , but the player he's most interested in moving his Dwight Howard .
Howard will be an unrestricted free agent this summer, and while neither he nor his agent, Dan Fegan, has requested a trade, it's well known around the league that Howard will be seeking a max deal on the market in July. By leaving the Los Angeles Lakers for Houston in the first place, Howard already has shown a willingness to take less money for a change of scenery, and the feeling among rival executives is that he's prepared to do so again.
Advice for Durant: As a former teammate and close friend, James Harden said he's willing to advise Kevin Durant on his looming free-agent decision this summer.
"Kevin's a smart guy, so he's going to make the decision that's best for him," Harden said. "That's one of my closest friends, so I'll definitely give him tips and help him out if he needs it. But in that type of situation, you don't want to press it; you just want to let it flow."
The Oklahoma City Thunder traded Harden to Houston in 2012, at a time when it seemed clear that the new collective bargaining agreement wouldn't allow them to afford three superstars. That was the idea, but the unexpected rise in the cap -- fueled by the league's massive broadcast rights contracts -- has turned the tables on OKC, which now faces the possibility of losing Durant to any number of teams that already have multiple stars.
Had the National Basketball Players Association agreed to smoothing the cap increases in over several years, teams like the Golden State Warriors and Los Angeles Clippers wouldn't even remotely be considered possible landing spots for Durant. But the NBPA rejected the idea, and unanticipated chaos will reign this summer -- with Durant at the center of the storm.
Show Comments
Hide Comments
Our Latest Stories
The future Hall-of-Fame big man is already embracing his "coaching" role on the Spurs

Is it fair to doubt either's place in their respective fields?

Big Papi was more than happy to help a fellow countryman on his big day
Rose is reportedly more concerned about his impending trial than he is letting on

Curry gave a glimpse at one of his new tricks at Warriors practice

A look at the past, present and future of three superstars who do not play for a superteam