Can Michigan's outmanned bigs handle gigantic Kentucky? Maybe
Without Mitch McGary, Michigan's big men are largely dismissed. With big Texas and tough Tennessee in their wake, bigger-yet Kentucky looms. Can the Wolverines do it again?
More NCAA hoops: Tournament bracket | Complete coverage of NCAAs | Latest news
INDIANAPOLIS -- Michigan's big men can't stop Kentucky's big men. They don't even belong in the same paint. I know this, most of you know this, but not any of Michigan's big men know this. And that's what is so charming about them, so winning. They keep beating bigger, stronger frontcourts because they don't know any better.
Ignorance is their strength, but it doesn't do me any good. I'm not here to write fairy tales but the truth, and the truth is this: Michigan will try to stop 7-foot, 265-pound mammoth Kentucky center Dakari Johnson with a power forward who goes 6-8, 250 (Jordan Morgan). Michigan will try to stop 6-9, 250-pound power forward Julius Randle with a wing who is 6-6, 220 (Glenn Robinson III).
It can't happen, but it might. Hell, it already has. Since losing future NBA big man Mitch McGary following back surgery on Jan. 7, Michigan's frontcourt has been thoroughly vetted as the weakest link in an otherwise beautiful program that has one of the best offensive tacticians in the country in coach John Beilein, one of the best shooters in Nik Stauskas and some other splendid pieces in Caris LeVert and Glenn Robinson III -- if only Glenn Robinson III were allowed to play on the wing where he belongs, not in the paint where he is needed.
And so on Saturday, one day before his team will play the enormous Kentucky Wildcats in the Midwest Regional final, Morgan was asked about the Michigan frontcourt. He was reminded that his team will be at an interior disadvantage against Kentucky on Sunday, just as it was against Tennessee in the Sweet 16, and how hard is that when ...
"And Texas," Morgan said.
Excuse me?
"Also a disadvantage against Texas."
Ah, right. Texas was supposed to be bigger and stronger than Michigan in the Round of 32, and while Texas did outrebound Michigan 41-30, Morgan held his own with a 15-and-10 double-double and the Wolverines won easily, 79-65.
Right. Texas. We're sorry to keep bringing up your frontcourt as the reason Michigan could lose, Jordan, it's just that ...
"No, it's fun," Morgan said. "I like it. I like messing up people's brackets."
That conversation was between Morgan and another reporter, but I had to chime in when Morgan was asked about the huge Randle and Johnson, who is even bigger, and Morgan responded, "We have to use what we have to our advantage."
To which I said, as nicely as possible, "Against those guys, what do you have that's an advantage?"
Morgan smiled because he's a nice kid. And then he eviscerated me because he's a smart one.
"Experience," he said. "Knowing when to pick your battles. Keep on moving, moving [the other guy], because it's hard to enter the post when the target is always moving."
It's a great answer, and it's the only chance Morgan, Robinson and the rest of Michigan's undersized frontcourt has to keep Randle, Johnson and the rest of Kentucky's enormous frontcourt from dominating this game. With or without injured 7-footer Willie Cauley-Stein, Kentucky's size and strength will be greater than Michigan's, so Michigan's savvy will have to ...
"I don't know," Morgan said. "They look pretty big, but I'd be surprised if they're that much stronger than I am, to be honest with you."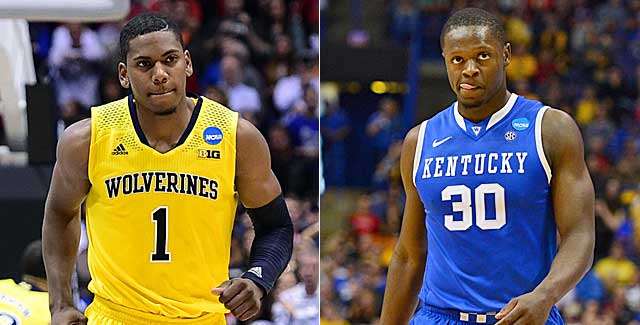 That's Morgan being Morgan. He doesn't give an inch, even when he gives up four of them. And he remembers all slights. He'll probably remember the grilling he got from the media on Saturday, just like he remembered that some in the media were saying Tennessee could upset Michigan in the Sweet 16 because Morgan couldn't stop Vols big men Jarnell Stokes and Jeronne Maymon. That was a mismatch, they were saying in the media. Which is why Morgan -- after outscoring Stokes and Morgan combined (15 to 13) and nearly matching them on the glass (9 rebounds for them, 7 for Morgan) -- could be heard screaming a single word as he walked off the court:
"Mismatch!"
Morgan is feisty that way, a guy who wants to be told he can't do something just so he can. He's the same way off the court, too, nearing completion of his master's degree in industrial engineering in May after being told he couldn't possibly near completion of his master's degree in industrial engineering in May.
"When people tell you what you can't do," he said, "I just don't listen to it."
In another room, people were telling Glenn Robinson III what he doesn't seem to know. OK, those "people" were one person, and that one person was "me." But I was listening to Robinson describe Julius Randle, the ferocious physical specimen he will be matched up against Sunday, as if he's seen anyone like Randle before. And he has not.
Listen, Robinson has faced the best power forwards the Big Ten has to offer, but the Big Ten can't offer someone like Julius Randle. The college game can't offer someone like Julius Randle. Bear with me, and hear what I'm saying when I say this: From a physical standpoint, not talking skills or style but sheer physical freakishness, the only people who are as big as Randle and as strong as Randle and as quick as Randle are in the NBA. And those "people" are one person. And his name is LeBron James.
And Glenn Robinson III is telling me he can defend Randle because he has guarded Branden Dawson of Michigan State? Dawson is 6-6, 225 pounds.
Randle is 6-9, 250. And more explosive.
This is where I leaned forward to Robinson and said to him, sincerely, "I don't know if you know how athletic Julius Randle is."
To which Robinson responded:
"I understand," he said, then leaned forward to finish me off. "But I don't know if you know how athletic I am."
Oh, I know it. That's what I told him, and that's what I'm telling you as well. Glenn Robinson III's athletic ability is absurd. But he's 6-6. He's 220. And people 6-6 and 220 can't handle people like Julius Randle, just like Jordan Morgan can't handle Dakari Johnson.
Everyone knows it. Everyone except the guys in the Michigan locker room.
Which is why Michigan might just handle Kentucky's frontcourt, anyway.
After a close game against Michigan, Air Force is playing San Diego State with some moment...

Quickley played for John Calipari this summer with USA Basketball

A revamped Erwin Center is part of a $4.25 million upgrade to the Longhorns' hoops facilit...
Nov. 10 will be here before you know it so here's what you need to know

The league would be wise to treat that series like the ACC treats Duke-North Carolina

Pacific is penalized after the NCAA found academic rules were broken