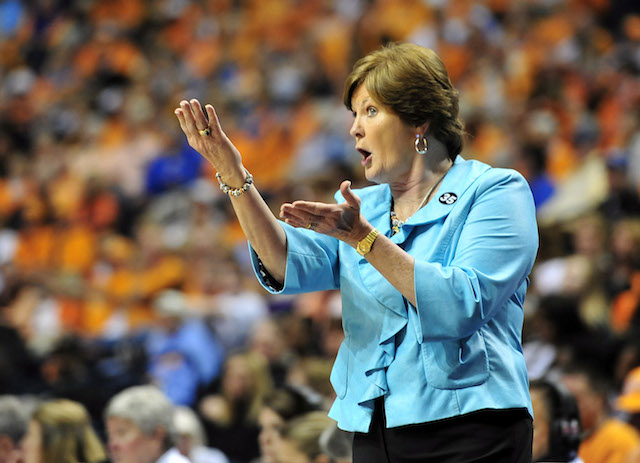 More College Basketball: Early Top 25 (And One) | Coaching changes
CBSSports.com college basketball writers Gary Parrish, Jeff Borzello and Matt Norlander spent the July recruiting period at various NCAA-sanctioned events, where they talked with coaches from all levels. They asked for honest opinions on prospects, players, coaches and issues. They'll be sharing those opinions over a three-week period.
1: Which NCAA player would you take over all others?
****
The San Antonio Spurs made headlines Tuesday when they announced the hiring of Becky Hammon as their new assistant coach, making Hammon the first full-time female assistant coach in the NBA. Hammon is retiring from the WNBA after this season, her 16th season of professional basketball.
While Hammon is not a head coach, the news got us thinking about when men's college basketball might follow suit and name a female as the head coach of a Division-I program. 
Will it happen soon?
Today's question: Do you think a woman will be head coach of a D-I team in the next 25 years?
Yes: 58 percent
No: 42 percent
FIVE QUOTES THAT STOOD OUT
"I know you're asking because of what Pop just did. But the NBA is way more progressive than college basketball. They had a female referee like 20 years ago, and we still don't have that. So I'll vote no." 
"I can't see a woman being able to deal with AAU guys, etc. Plus at the end of the day, she would need to convince a 17-year old guy to come play for her. Think about the peer pressure that kid would get. 'You're going to play for that lady?' The negative recruiting against her would be crazy too. And what woman do you hire?"
"I believe there are some women coaches who can do it now. Think about it. From an Xs and Os standpoint, it's just preparation and discipline to be prepared. Recruiting-wise, they'll have some challenges, but I think they will have more advantages with PSA's and parents. Single mothers would relate. The nurturing dynamic. I think it can happen."
"People love following success. [The] Spurs are a successful organization. If they make it work, it will make people think about it more."
"I don't believe it will ever happen. Will there be a woman's assistant soon? Yes, but it won't happen as a head coach. Pat Summit is brilliant and she didn't get a chance to coach a men's team. She was very capable but it didn't happen. A big part of being a college coach is molding boys into successful men. Obviously a woman can't do that. I just don't see a place for it."
THE TAKEAWAY (BY JEFF BORZELLO)
We had planned to do this question in the series no matter what, but after Tuesday's news, we asked a few dozen more coaches to see if the climate had changed.
And had we done this entire poll a week ago, I would have bet money that there would be more "no" votes than there were this week. But the Spurs hiring Hammon changed things for many coaches -- as colleges could now be more apt to hire a woman because the Spurs did it. (The fact we might have a female president soon can only help, a point to which multiple coaches alluded.)
One of the more interesting things about people interviewed for this question was the reasoning for the "yes" and "no." It was mostly the same.
Recruiting was a main thing coaches pointed to when explaining why a female head coach wouldn't work. On the other side, a couple of coaches said a female coach could more effectively relate to single mothers and parents.
Some thought that women wouldn't be able to mold young men into adults during their four years in college -- while others looked at the number of men in women's college basketball as proof it could work.
In the end, while 25 years is a long time, the popular opinion is that we're still a ways away from having a female head coach in Division-I men's college basketball. Most don't think we're that far from having a female assistant, though. WNBA assistant Bernadette Mattox was an assistant coach under Rick Pitino at Kentucky in the early 90s, and while Hammon is different than most candidates -- she spent plenty of time behind the scenes working with the Spurs while recovering from an injury during the 2013 season -- there are other qualified potential coaches out there. 
A forward-thinking athletic director could take a chance sooner rather than later on a head coach, but as many coaches said, we need some progress made on the assistant coach front before seeing a female head coach in men's college basketball.