Dayton raises expectations with strong Maui showing
Dayton is a surprise 6-1, and looking like a viable contender in the A-10.
• 3 min read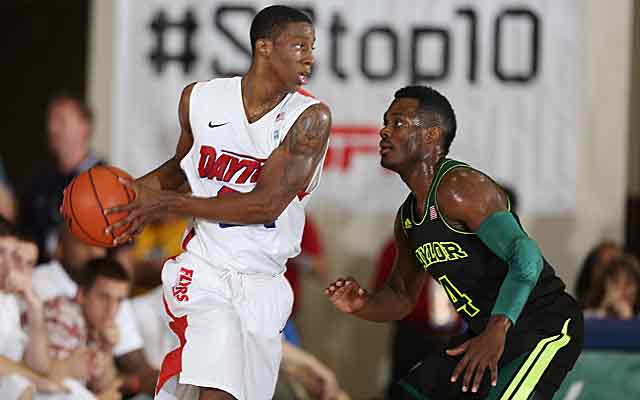 Dayton's success last week at the Maui Invitational put the Flyers on the national map.
The Flyers beat Gonzaga and California, in addition to a near-upset of Baylor.
The impressive performance by Archie Miller's team reiterated what many believed prior to the start of the season -- Dayton is a legitimate contender in the Atlantic 10.
"We're a team that's built on versatility," Miller said. "The thing that's gotten better here in the start of the season is our defensive intensity. I've always felt that our offense would take care of itself, but our defense would dictate what type of team we'd be. So far that's been the case."
In the preseason, Miller talked about Dayton's plethora of options on the floor, and that created a high level of competition in practice.
To Miller, it's one of the biggest reasons why the Flyers are 6-1.
"I think it's a played a huge role," Miller said of the daily competition. "A lot of guys that were playing a lot of minutes aren't playing as many minutes this year. The good thing is our players have come to the realization that the guys who go the hardest in practice are going to play the most in the games. There's pressure in practice to play well because if you don't you're not going to be good enough to play."
Miller said in the preseason that Ohio State transfer Jordan Sibert had separated himself as Dayton's best offensive player, and through seven games he's leading the Flyers in scoring, averaging 14.4 points. The 6-foot-5 guard is also shooting 51.4 percent from three-point range.
"He's very hungry offensively," Miller said of Sibert. "He's confident in his shot and he's not a one dimensional player. He's gotten much better at driving the ball to the basket. He got off to a little bit of a slow start but he's really found his stride lately."
And so has the rest of the Flyers' roster.
The biggest difference in watching Dayton this season compared to last? The skill level.
"We've got five guys on the floor now who can make a play," Miller said. "When we sub, we're bringing in guys that can make an impact. We're bringing in a guy like Vee Sanford who's averaging 9.4 points per game, or a guy like Jalen Robinson who had 17 points and five rebounds in a win against Cal. We're also getting good minutes from our freshmen --Scoochie Smith, Kyle Davis, and Kendall Pollard. Scoochie is playing close to half the game, and we don't beat Cal without Kyle and we don't beat Gonzaga without Kendall."
And they don't beat many teams this season without Devin Oliver.
The 6-7 senior has drastically augmented his game offensively and is a legitimate pick-and-pop threat at power forward.
Oliver made four three-point shots against Baylor in Maui and is averaging 14.1 points. Last year as a junior, Oliver averaged 8.9 points.

"He's really worked hard on his shot," Miller said of Oliver. "He can space people now on the perimeter and he's leading us in assists."
Sibert may have emerged as this team's best offensive player but the Flyers have multiple scoring threats.
Dayton has capable point guard play with Smith and sophomore Khari Pirce while sophomore Dyshawn Pierre is another skilled player at 6-6 that's a threat to make a play each time he touches the ball.
The Flyers weren't mentioned among the elite teams in the Atlantic 10 before the season, but early indications are that this squad will be right in the mix at the top of the league standings with VCU, Saint Louis, and UMass.
Buy stock in Dayton.
They're that good.
Oklahoma's star freshman has a father who has been there and done that

Kentucky now is at risk of slipping out of the Top 25 (and one)

Cherry's commitment gives ASU a top-20 recruiting class and its highest rated pledge since...
Matt Norlander is on a 11-7 run in college basketball picks and shares his best bets for W...

Kentucky losing this game probably cost it a shot at earning a high NCAA Tournament seed

Freshman had 12 turnovers and 20 points; the Wildcats rattled him and kept OU on its heels