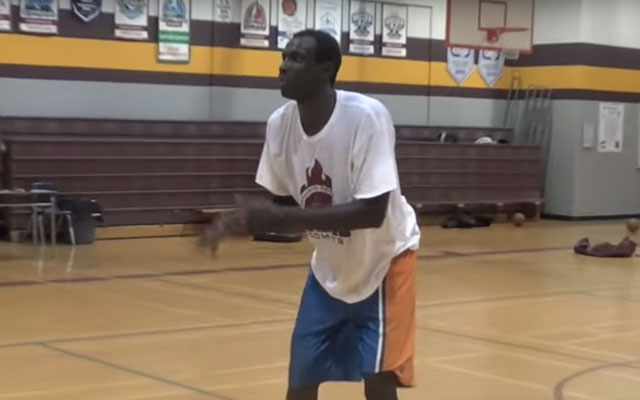 In January, Jonathon Nicola told the media he arrived in Ontario after fleeing the violence of South Sudan. What the gifted 6-foot-9 high school basketball player didn't reveal is his age, and according to the Windsor Star, Nicola is actually 30 years old.
Per the Star, Nicola was arrested earlier this week and and is being held under violation of the Immigration Refugee Protection Act. No details have been revealed from the Canada Border Services agency or school officials at Catholic Central High School, where Nicola was a star as a 6-9 center.
"There's really not a whole lot to say," a local school board spokesman told the Star. "Because of the fact this is a matter that's still outstanding before the federal authorities, obviously we can't really comment on it. Beyond that there's not a whole lot to say."
Nicola remains in custody with another hearing scheduled for next week.
Canada Homestay, a group that finds homes for foreign students, arranged for Nicola to live with Pete Cusumano, the head basketball coach at Catholic Central, under the impression that he was a 17-year-old, Grade 11 student.
Cusumano told the paper he isn't allowed to discuss the situation.
Given the ongoing violence in South Sudan and the potential for a better future, it's easy to see how a few individuals might root for Nicola's success rather than question this 6-foot-9 young adult with a size 16 shoe. But one high school player, responding to the breaking hoops news of the week in Canada, has a new way of looking at getting dunked on by Nicola earlier this year.
@HoopsHypeCA @ofsaabasketball @TheWindsorStar what pisses me of more about this is that this man dunked on me.

— retro_Boomie (@acebxxmie) April 21, 2016