Julius Randle: 'I didn't come here to be liked'
Julius Randle is taking on more of a leadership role down the stretch for Kentucky.
• 1 min read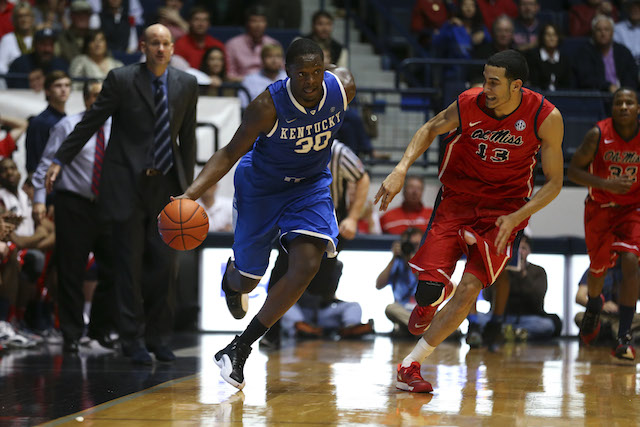 Kentucky head coach John Calipari has already made it clear he thinks this season's Kentucky team is the most scrutinized team in the history of sports -- but the Wildcats could be tuning out the attention and turning the corner as we head toward March. They eked out a home win over LSU on Saturday, making it six wins in seven games.
One of the biggest reasons for the focus? The improved leadership of Julius Randle.
Randle has notched a double-double in three of the past four games, going for 15 rebounds and the game-winning shot in the fourth game during that stretch. Moreover, he's taking more responsibility defensively and as a leader.
And according to VaughtsViews.com, it seems like his mindset has changed:
"It is what is [on the scrutiny]. I don't care about that. It may or may not be true, but I'm playing basketball. I didn't come here to be liked. I came here to win a championship," Randle said.
Randle, a 6-foot-9 forward, is averaging 15.7 points and 10.3 rebounds on the season. Kentucky hosts Arkansas on Thursday.
The Sooners are on a two-game losing streak but still rising on one AP ballot

Vegas legend Kenny White has nailed 3 straight UNC picks and just made a play for Monday's...

Josh Nagel has almost two decades of handicapping experience and locked in a play for Monday's...
The Wildcats stumbled to an 0-2 record this week and fell out of the top 25

Gary Parrish and Matt Norlander also get into Trae Young's 48 points on 39 shots at Oklahoma...

The Wildcats had been ranked for 68 consecutive weeks