This week marks the 30th anniversary of Villanova's stunning victory over Georgetown in the 1985 NCAA title game. To this day, the Wildcats' magical run under Rollie Massimino is mentioned among the best stories in tournament history, and beating the Hoyas is often listed among the greatest upsets in sports history.
There have been others, of course. Jim Valvano and North Carolina State taking down Houston for the 1983 title is one that quickly comes to mind. But why, with so many unbelievable upsets and great stories both before and after the 1985 championship game, has Villanova held that top spot in the minds of so many?
On the surface, there are plenty of reasons why the 1985 championship remains so relevant. The Wildcats are still the lowest seed (8) to win a national title. It was the first year of the 64-team bracket, which has proven to be a wildly successful formula but at the time was an experiment. Would adding more teams to the field water down the product? Did it hurt the top seeds who would've had first-round byes under the previous format? The NCAA was taking a risk here, and it paid off huge with the type of "Cinderella" run that has come to define the romance of the tournament.
This was also the formal arrival of the Big East as a powerhouse conference, with three Big East teams (Villanova, Georgetown and St. John's) reaching the Final Four. In fact, as Coach Massimino is happy to remind you, a Gary Williams-led Boston College team could have made it four before a loss to Memphis State in the Sweet 16. Still, despite the strength of the conference, this was the ultimate David vs. Goliath matchup. Villanova wasn't even assured of a spot in the field, and Patrick Ewing and the Hoyas were beasts.
But more than anything, the 1985 championship matters for everything that has happened since Dwayne McClain fell to the ground with the ball in his hands as the horn sounded on April 1, 1985.
***
At 80 years old, Massimino is still coaching. He built the program at Northwood University -- an NAIA school in West Palm Beach, Fla. -- from the ground up. It's not Villanova or the Big East, but it's basketball. It's coaching. For Massimino, it's family. A coach for life, Massimino still has his Northwood players over for dinner just like he still hosts handfuls of former Villanova players every year. This past fall, with the 30th anniversary of the national championship and Massimino's 80th birthday coinciding, Villanova coach Jay Wright, a former Massimino assistant, helped organize a special weekend in Philadelphia.
"We [Northwood] had played Villanova two other times, but this was sort of a special ceremony because of the 30th anniversary of the national championship team," Massimino recalled. "All our players came down to Villanova as well as all my assistants, coaches, managers. We got together for a party for my 80th birthday, and we celebrated all throughout the evening."
The celebration was special in part because of the totality of involvement from his former players and coaches. "Eight or ten of my guys," Massimino says, visit him in Florida once a year, but getting everyone together brings out old stories and memories as you might imagine it would.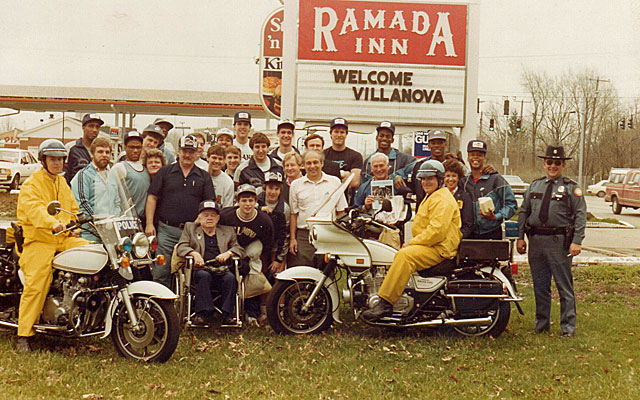 Villanova predictably thumped Northwood 93-50 that night, but that game, really, wasn't about that game. It was a celebration. The game wasn't in the Palestra, but streamers were thrown on the court in old-school Philadelphia fashion. The 1985 championship team was honored before the game. Once the nationally televised game started, on display was Massimino's colorful personality, the way he interacted with and coached his guys, the detailed preparation and familial bonds that have always defined his teams.
It's that way now. It was that way in 1985.
Everyone else may have been counting the Wildcats out in that tournament, but when they got past Dayton and top-seeded Michigan in the first two rounds, history suddenly was on their side.
"We had never lost a [Sweet] 16 game to get to the [Elite] 8," Massimino says.
This wasn't just any Sweet 16 game. This was against a Maryland team that had the great Len Bias. No matter. The Wildcats knocked off the Terps to set up a matchup with Dean Smith's vaunted North Carolina Tar Heels.
"We got this small little locker room, and Dean Smith got the big locker room," Massimino laughingly told CBSSports.com. "I kind of kidded him about it, God rest his soul. He was a wonderful, wonderful man."
Massimino says he knew that Villanova might be able to win it all after beating North Carolina in the Elite Eight. It didn't matter who Villanova played at that point because the Cats were on a roll. After Villanova outplayed the Tar Heels in the second half, Dean Smith called off the troops in the final minute as Massimino, a frequent opponent, clinched his first Final Four bid.
"Dean Smith was a wonderful, wonderful gentleman. We're up 12 with a minute to go and he just held the ball to end the game," Massimino remembers. "I'll never forget that. It was a wonderful gesture on the part of Coach Smith."
***
In college basketball a family-style approach to winning doesn't always end with cutting down the nets, but in 1985 it did. Whether it is actual familial ties, like we saw with Ron and RJ Hunter in this year's tournament, or family in the broader sense of the word, creating that atmosphere allows 18-to-22 year olds to do extraordinary things, like take down the intimidating 35-2 Georgetown Hoyas.
The human element of loving Cinderella stories comes from the relatability. There's nothing relatable about a demigod, and in 1985, Patrick Ewing was about as close to one as there was in college basketball. It was much easier to root for Ed Pinckney. An All-Big East player in his own right and eventually the Most Outstanding Player in the 1985 tournament, Pinckney always got up for playing against Ewing when the two teams met on the floor.
"Eddie Pinckney loved to play against Patrick and they both had something going," Massimino says. "They challenged each other every time they played against each other. Jon Thompson and I had a wonderful relationship, still do as a matter of fact. So it was something that was very special. People ask would you rather play St. John's than Georgetown -- it didn't really make any difference at that time."
If this was 2015, Villanova, with a 19-10 record after a loss to St. John's in the Big East tournament, would have been a bubble team with a terrific strength of schedule rating thanks to the dominance at the top of its conference.
"We were playing Georgetown on a Saturday and playing St. John's on a Monday or vice versa. We would play two No. 1 teams in the country on a Saturday and a Monday!"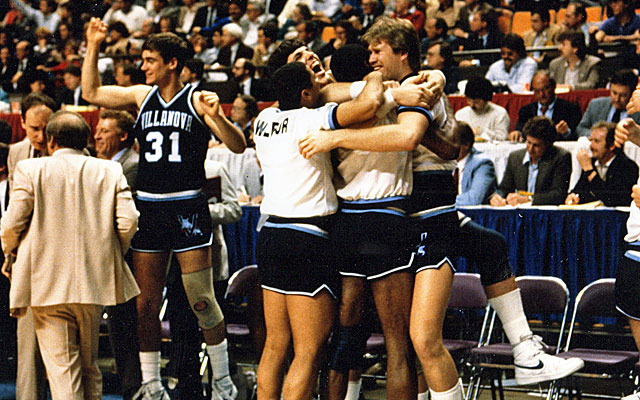 There is one noticeable, but humorous difference between the way the 1985 championship is remembered by fans and the way Massimino recounts the tale. Villanova was an incredible 22-of-28 from the field (78.6 percent), including 9-of-10 shooting in the second half, leading some folks to say the Wildcats played "a perfect game." Coach Massimino, on the other hand, remembers 17 turnovers and how close Villanova was to losing.
"You only take 10 shots in the second half, and you make nine, and you still have a chance to lose the game with 10 seconds to go on the clock, you know what I mean? The fact remains, it was a perfect game to a certain point, but we still had 17 turnovers in that game."
***
So what made the 1985 championship resonate in a way that has been different from the other great stories? Probably because the spirit of that title team has never left the Villanova program, so we get reminders of Coach Massimino's influence every year when the Wildcats take the floor. The players on the 1985 championship don't tire of talking about that team, that season or that game. It's special to us as fans, but it has been life-changing for the players and coaches who were a part of it, and program-changing for Villanova University.
For more than 40 years, Rollie Massimino, Steve Lappas and Jay Wright have leaned on that family-first way of doing business to run the Villanova basketball program. But as you might expect, Massimino claims no ownership over the program that has clearly been built with some of the same values he he put in place decades ago.
"Ownership? It's a great family," Massimino says. "No ownership. All those kids have done a great job in preparing and growing the program into the kind of program they wanted."
Massimino's former assistants have carried on his legacy with the Villanova basketball program and other major college programs across the country. Massimino's former players have become wildly successful in basketball and the business world. Massimino, the father figure for this story of a relatable group of underdogs that shocked the world in one of the most memorable three-weekend runs in sports history, is still coaching.
What makes the Villanova story different is not the shooting percentages or even being the lowest seed to win the title. It just happened to be the perfect combination of characters, with lovable underdogs and a consensus favorite apparently destined for a coronation, and setting, with the first year of the 64-team bracket and the glory days of Big East basketball, for our NCAA Tournament time capsule. This team, we believe, encapsulates so much of what we love about this event.
Will it happen again? Will there be another team to take Villanova's place in the tournament's storied legacy? Massimino, in his selfless manner, is one of the ones rooting for lightning to strike again.
"I hope there would be," he says when I ask if another 8 seed will accomplish the ultimate goal. "I think that's what you look for. That's what we're all about. Changing times and all. Hopefully there's an opportunity to do the same kind of thing that Villanova was able to do. I hope!"