Louisville's Russ Smith carries bigger load, reinvents self as senior
Russ Smith was always a scorer. And now as a playmaker, he's getting less attention for his wild play -- but that doesn't both him.
• 4 min read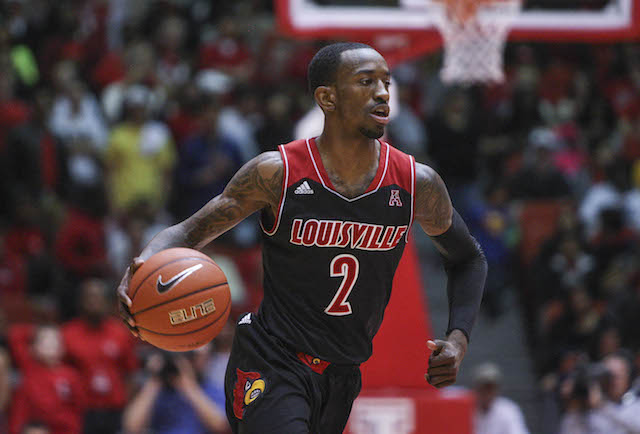 Latest in hoops: Top 25 (and one) | Bracketology | News & notes
LOUISVILLE, Ky. -- Russ Smith is done trying to appease everyone.
"It's a lose-lose situation for me," Smith said.
Since he arrived at Louisville, the New York native has been asked to essentially change each season. After his freshman and sophomore seasons, the common thought was that Smith had to be more efficient and take fewer wild shots. So last season, he went out and became the most effective offensive player in the country, according to KenPom.com.
After passing on the NBA, people told Smith he needed to play more under control and be more of a point guard -- as opposed to a scorer.
And this season, Smith has improved in nearly offensive category, especially assists and assist-to-turnover ratio. Moreover, he's shooting the ball better from both the field and 3-point range. There are far fewer negative "Russidiculous" plays than past seasons.
Despite all this, Smith is seeing less publicity than he had heading into the season. A preseason All-American, Smith has been seemingly bypassed in the national pecking order by players like DeAndre Kane and Tyler Ennis.
And while it may have bothered him in the past, Smith doesn't really worry about that anymore.
"Everybody has an opinion," he said after Sunday's 102-54 win over Temple. "I'm not really big on everybody's opinion. Everybody thinks things of me.
"I have two Final Fours, I have Big East championships, a national championship. I have all the accolades. Now they're saying I'm under the radar. If you want me to get 30 and 40, I can do that. But I don't need to do that. Now I'm getting my teammates involved, I'm being solid, I'm being efficient. Now everybody thinks Russ is bad now.
"I'm efficient, I'm getting guys the ball, I'm averaging five assists, having the best assist-to-turnover ratio of my life. I'm good. I could care less about who they think is better than me. Guys have to do more on other teams, I have to do less. All I have to do put guys in the position to do good, and that's what I'm doing."
It hasn't been an easy transition for Smith. When he got to Louisville, he played alongside Peyton Siva, one of the better point guards and leaders in college basketball. Smith didn't have to worry about running an offense or being the veteran voice on the court. He just had to score.
But at the start of this season, Smith had a new backcourt mate in junior-college transfer Chris Jones, a scoring guard. Two more veteran starters also were gone, as Gorgui Dieng moved on to the NBA and Chane Behanan was suspended (and later dismissed).
Not surprisingly, Smith struggled adapt during the first few weeks. He scored 11 points or fewer in five of the opening 11 games, making 50 percent of his shots in only three of those games.
"It was a lot different," Smith said. "I have to put myself in a position to score and I have to put myself in a position to create for others. It's just finding my role. If you tell me to do something, I'm going to do it. But if you tell me too many different things at once that I never really was used to, it's going to be hard for me at the beginning."
As he gets more accustomed to playing with Jones and freshman Terry Rozier, along with taking on more of a leadership role, Smith is getting back to being the dangerous playmaker he has always been.
"Russ has improved a lot on his game," forward Wayne Blackshear said. "Even just passing the ball and being more confident at the point guard position. Last year if that was the same Russ as this year, you would see him attacking and doing that crazy stuff. He understands what he has to do now."
Jones added: "I think he changed a lot. He's told me he never had to pass the ball [before]. So just him looking for people, that's good for us."
As Smith and the perimeter players get more comfortable playing with each other, Louisville has hit its stride. The Cardinals have won 10 of their past 12 games since losing to Kentucky, with the wins coming by an average of 23.4 points. Smith had 23 points and seven assists in a win over SMU, and 23 points against Connecticut. The AAC opener against UCF saw Smith go for 24 points and nine assists.
Smith is still playing like one of the best guards in America, and he's still the type of player who can carry Louisville in the NCAA Tournament. Last season, Smith averaged 25 points in the first five games of the tournament, proving he can be as unguardable as anyone in the country.
"He can go by people," coach Rick Pitino said. "Russ has the ability with 10 seconds to go, to get by people almost every time and make plays. He's a shot-maker."
Louisville is once again playing its best basketball at the right time, as Pitino-coached teams always seem to do. The Cardinals are defending better, they're playing together better offensively, and they're getting more production on the inside.
But the key will be Smith, and he sees a successful final month ahead for the Cardinals -- and his career.
"I don't want to put a lid on us," Smith said.
The Blue Devils improved to 4-0 in an easy win vs. Southern.

If LiAngelo Ball didn't come from a famous family, we might think differently of him

Ball significantly downplayed President Trump's role in helping get his son back to the U....
Discussing the one-and-done rule -- plus Michael Porter Jr.'s injury and Billy Preston's c...

Even though he's scheduled to graduate in December, the NCAA still won't let Hayes play

The Wisconsin resident wasn't happy with how the Musketeers handled their win in Madison