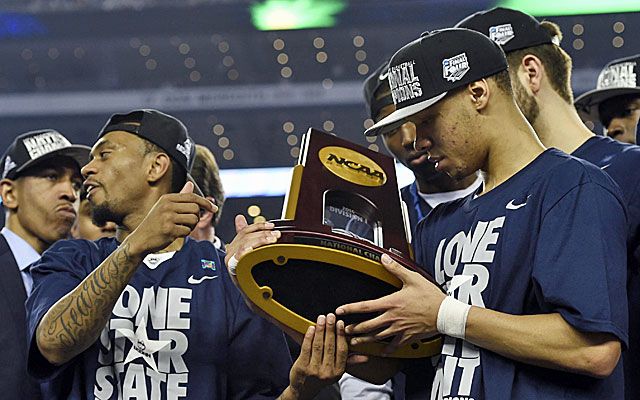 More: NBA Early Entries | 2014-15 Top 25 (And One) | Coaching Changes
Your jokes about the NCAA, cream cheese and bagels are officially off the table.
Because all of the food is on it.
The association's Legislative Council has deemed there shall be no bans on any food amounts for its Division I member schools and their student-athletes. This means players can eat as much as their schools allow. The grocery list for football teams just got gargantuan.
This news comes on the heels of UConn star and Final Four MOP Shabazz Napier telling the press in the leadup to the Final Four he sometimes went to bed hungry. A didn't lead to B in this case (this was a long time coming), but the timing of the decision is incontestable.
"The provision of meals approved today is in addition to the meal plan provided as part of a full scholarship," the NCAA's statement said. "Prior to this change, scholarship student-athletes received three meals a day or a food stipend."
Let's make no mistake: Hunger on college campuses was not plaguing players across this nation. It was more the restrictive spirit of the provision that irked so many. Now, if schools can afford and choose, they can stuff the mouths of their athletes -- scholarship and walk-ons -- as much as they'd like.
Plenty of schools still won't be able to stock the shelves as much as necessary, but at least the NCAA has taken this out of its hands and put it on the universities. As always, it's a matter of money and budgets, and in this case the big schools operating in the black will have more to offer than the smaller programs.
This rule should be official at the Division I Board of Directors meeting on April 24 and become effective Aug. 1.
Other things passed in voting by the Legislative Council on Tuesday:
A reduction in penalty for the first positive "street" drug test during/around championship play.
Strength and conditioning coaches must be certified from "a nationally accredited certification body."
"Require a school staff member certified in CPR, first aid and arterial external defibrillation to be present at all physical, countable athletic activities."