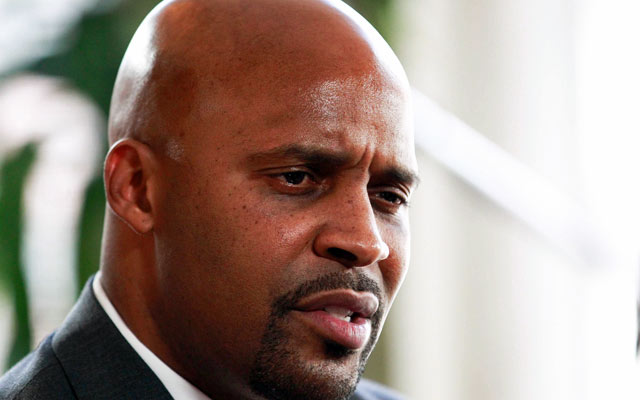 Latest in hoops: Latest News | Coaching Changes | Recruiting
BERKELEY, Calif. -- It's early on the West Coast, so early that fog -- or at least something that looks like fog -- is covering the Golden Gate Bridge, and yet California's players have already lifted weights and worked out, and now I'm sitting off to the side of the court at Haas Pavilion with their coach, who surprised the college basketball world back in April when he, seemingly out of nowhere, left Tennessee and moved three time zones left.
I remember that day vividly.
It was April 15.
It was a Tuesday.
While most Americans were trying to get their taxes filed on time, I was chasing rumors about who would replace Mike Montgomery at Cal. The name popping around that morning belonged to Chris Mooney, the Richmond coach. But sources crossed him off the list quickly, and then, a few hours later, Cuonzo Martin was formally introduced in Berkeley.
Vital Info: Cal's Cuonzo Martin
Age: 42
Previous Division I head coaching experience: Missouri State (2008-11), Tennessee (2011-14)
Record as Division I head coach: 124-82
NCAA tournament appearances: 1
NCAA tournament record: 3-1
Tennessee's administration was admittedly caught off-guard. So were Tennessee's players. And yet none of them was publicly critical of Martin the way players often are when a coach leaves, which was fascinating. More often than not, there's a sense of betrayal rooted in promises broken. But there was none of that with the Tennessee players, far as I know, and I remember thinking, back in April, how that was interesting, if not unprecedented.
So here I am now, roughly three months later, 2,478 miles away from Thompson-Boling Arena, talking to Tennessee's former coach, and I ask if he noticed what I noticed -- that none of his former players seemed bothered when he left. I then remind Martin that not only were the players not sour, they were actually supportive. And then I read him some of the things that some of his players Tweeted that morning, things like this:
Can't treat people any kind of way and expect good in return.

— Jordan McRae (@JordyMac52) April 15, 2014
And this:
Not even surprised... It was just a matter of time! #RESPECT

— Jeronne Maymon (@JeronneMaymon) April 15, 2014
And this: 
Best of luck to coach at Cal. Did what he had to do

— Josh Richardson (@J_Rich1) April 15, 2014
"Jordan McRae, Jarnell Stokes, they were all like, 'Coach, you gotta get out of here,' " Martin tells me, his point being that what they proclaimed publicly matched their private words. "The guys were like, 'It's time to roll.' And it was time. I think everybody knew that."
****
Forty-five Division I basketball programs made changes this offseason, for one reason or another, and there were some surprises in the bunch -- most notably Frank Haith leaving Missouri for Tulsa. In hindsight, that move makes lots of sense for lots of reasons. But, at the time, it was a little shocking because, at the time, it was not common knowledge in basketball circles that Haith was looking for an escape route ASAP.
But Cuonzo Martin?
Yeah, it was common knowledge that he was looking for a new home.
The only silly thing would've been if Martin wasn't looking for a new home given everything he had been dealing with at UT -- like crazy criticism from fans, prominent boosters working against him in tangible ways and, yes, that online petition signed by 40,000 folks requesting that Martin be fired so that the man he replaced, Bruce Pearl, could be rehired.
Do you remember how nasty it got for Martin at Tennessee?
Of course you do.
Which is why you probably don't realize that, in his three seasons at UT, Martin won more SEC games than anybody not named John Calipari or Billy Donovan, and that he was the only SEC coach besides Calipari and Donovan to make a Sweet 16. And you probably don't realize that Martin did all that despite UT's men's basketball budget dropping by roughly $1.6 million annually from Pearl's final year in Knoxville to Martin's final year in Knoxville.
In other words, by any reasonable measuring stick, Cuonzo Martin was doing fine.
So what was the problem?
Talk to enough people and the answers will vary. Some point to, despite the winning records in SEC play, two years of NITs followed by a slow start to Martin's third season. Others point to recruiting troubles. Others point to a stoic public demeanor. And lots and lots of people, quite frankly, think the color of his skin was an issue.
There's some truth to all of that, I think.
But Martin's problems in Tennessee were mostly two-fold:
He was never going to be Bruce Pearl in UT fans' minds.
Bruce Pearl was about to be back on the coaching market.
Pearl, as you know, was fired from Tennessee in March 2011 after admitting to lying to investigators during an NCAA investigation, but he forever remained a popular figure with the fans because he was a larger-than-life character with a track-record of winning. Martin, on the other hand, was neither of those things ... and he didn't look like Pearl, either. So when the Vols were relatively struggling midseason, and Pearl, in the final year of a show-cause penalty, was positioning himself for a return to coaching, lots of fans, including some of the rich and influential ones, publicly and privately campaigned for Martin to be fired and replaced by Pearl, and it hardly mattered that, behind the scenes, Tennessee athletic director Dave Hart had vowed to never rehire Pearl regardless of the circumstances.
Hart, for whatever reason, never said that publicly.
Which fanned the so-called flames and created a toxic situation.
Which was baffling, for the most part, to both the friends and rivals of Martin.
"We all thought it was laughable," said Yanni Hufnagel, who was, at the time, on staff at Vanderbilt but is now working for Martin at Cal. "It didn't make much sense. You have a team that competes every night, has outstanding character, graduates all of its players and is on the cusp of the NCAA Tournament. As a fan, how are you not satisfied with that?"
Answer: Because the Ghost of Bruce Pearl lingered.
"It was crazy," said Tony Sarwar, who, over the years, has trained Stokes and served as a mentor. And, yes, Sarwar has a story to go with that "crazy" comment.
The story starts with Sarwar and his wife driving to Knoxville last season to visit Stokes and culminates with them making dinner reservations at the local Ruth's Chris. Sarwar told Stokes and his girlfriend to meet them at the restaurant. But Stokes and his girlfriend were a little late, and Sarwar and his wife were a little early, and that led to them waiting at the bar.
"So we're at the bar waiting for Jarnell, and there are these three guys, and they're talking about how they're going to get rid of Coach Martin," Sarwar said. "So then Jarnell walks in, and they're all like, 'Jarnell Stokes! We're rooting for you!' And I'm like, 'No you're not rooting for them. I just listened to you for 10 minutes talk about how you're going to get rid of Coach Martin.' ... And they were just as red-faced as they could be."
Fast-forward to Selection Sunday, when the Vols received an at-large bid to the NCAA Tournament, and everything was set for one of the stranger Sweet 16 runs in recent history. Typically, coaches and players and fans rally as one and try to stick it to their doubters or rivals. But the Tennessee players took a different approach -- an us-against-our-fans approach -- and, after every win on their way to the Sweet 16, they celebrated accordingly.
"Even during the NCAA Tournament, we had so much fun, but every time we won, they were like, 'Yeah, Coach, we showed them!' " Martin said. "But what I was trying to do as a coach was say, 'Guys, it's not us against our fans. We're all in the same family. There's just some dysfunction in the family.' But you know how young guys are. They were like, 'Ahh, coach. To hell with them! We riding!' They actually became closer because of that."
Meantime, Martin was getting feelers about making a move.
In fact, the first call came before the NCAA Tournament even started.
"A search firm called first, right after the SEC Tournament, but they didn't tell me much," Martin said. "They said there was a good job opening -- but not because the coach was getting fired. But they didn't say what it was. So I just gave them my agent's number, and then I mentioned it to my wife. So then she's all over the Internet trying to figure it out."
For the record, neither Martin nor his wife ever figured it out -- until Mike Montgomery retired a few weeks later. That led to another phone call, which led to a trip to Cal's campus (that Martin said literally nobody knew he was taking), and though he was close with his players at UT and hated leaving them, he knew he had to (and knew they knew he had to), and the truth is that it only took a few minutes to accept Cal's offer once presented. 
"My heart was in Knoxville because of the players, but I knew my days were numbered," Martin said. "So this worked itself out the right way, and there really are no hard feelings."
That last part -- the "there really are no hard feelings" part -- is something Martin said over and over as we talked, to the point where I pressed him on it and eventually asked, "How can you really not have any hard feelings?" But the more I listened, the more I believed that he seems to genuinely mean it. Martin acknowledged, openly, that he realized a few months after taking the UT job that it probably wasn't the right job for him, but he said he still values the time spent in the SEC because of the experiences collected.
Was it hard? Yes, it was definitely hard; Martin won't deny that. But he went out of his way several times to make sure I understood that there were "a lot of wonderful people in Knoxville," and he insisted that he's pulling for his successor, former Southern Miss coach Donnie Tyndall, before explaining that he thinks the administration and fans will support their new coach because their new coach has three things going for him:
He's not following Pearl.
He's a lot more like Pearl than Martin could ever be.
Pearl, now at Auburn, is no longer a candidate in the eyes of fans.
"The fan base got used to Bruce, and then they brought in somebody opposite of Bruce, so it was hard," Martin said. "But, I think, now Donnie can just be Donnie. The slate is clean."
And situation better -- certainly for Martin and probably for Tennessee, too.
"I honestly think me leaving is good for me and probably good for Tennessee," Martin concluded. "Like I said, there were a lot of wonderful people there. But, for me, it was time."