Pac-12 orders another investigation into Ed Rush situation
The Pac-12 presidents and Larry Scott have ordered another investigation, this one an independent review, into the comments made by former head of officiating Ed Rush at the Pac-12 tournament targeted at Arizona coach Sean Miller.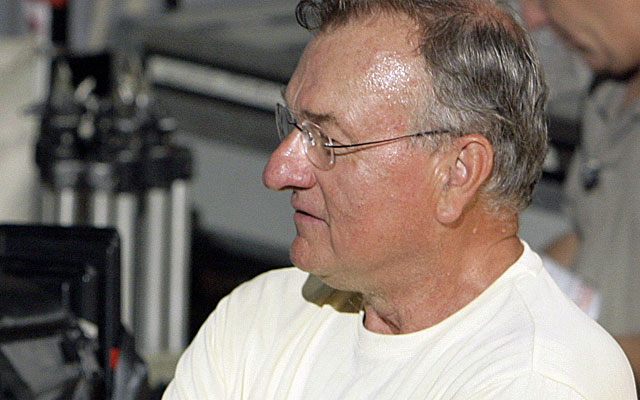 The Pac-12 will commission an independent review of Ed Rush's comments targeting Arizona coach Sean Miller at the Pac-12 tournament last month.
Sources told CBSSports.com that Rush, who resigned from his post last week as the Pac-12 head of officiating, made comments in front of multiple referees that he would give them $5,000 or a trip to Cancun if they would hit Miller with a technical foul or toss him from the game. In a Pac-12 semifinal against UCLA, referee Michael Irving called a technical on Miller with 4:37 left in a two-point game.
"I know now that was a mistake," Rush told ESPN's Shelley Smith. "It was a poor choice of words, the wrong audience and the wrong time. It was definitely a mistake."
Pac-12 commissioner Larry Scott said the league conducted a review, interviewed the referees and Rush, and concluded that the comments were made in jest. However, multiple sources told CBSSports.com that was not the case -- and the tone of Rush's comments was serious.
Scott has now, along with the urging of the league presidents, decided to conduct another investigation. It will examine all the officiating and coaching events at the Pac-12 tourney. In addition the review is also expected to contribute to the "broader examination of the officiating program." The review will report directly to the Executive Committee of the Conference's CEO Group governing board.
"After considering the matter, commissioner Scott and I agree that an independent review is important to maintain the confidence of our members, and of the public, in the integrity of our competition," CEO Group chair Edward J. Ray said. "While the review will focus primarily on the tournament, we expect that it will inform a broader examination of our men's basketball officiating and help us provide the best possible program."
"Nothing is more important to the Pac-12, or to me personally, than maintaining confidence in our integrity," Scott added. "Given the conflicting media reports, it is important that we do whatever we can to understand all the facts, not only to resolve the questions about officiating during the tournament but also to learn lessons that will help us make changes and improvements to our overall program."
The investigation is expected to be completed before the CEO Group's meeting in June. 
The UConn women's basketball coach stepped in to offer up a solution in an education budget...

Duke and North Carolina players will skip ACC Operation Basketball because of new NCAA pol...

After a close game against Michigan, Air Force is playing San Diego State with some moment...
Quickley played for John Calipari this summer with USA Basketball

A revamped Erwin Center is part of a $4.25 million upgrade to the Longhorns' hoops facilit...

Nov. 10 will be here before you know it so here's what you need to know