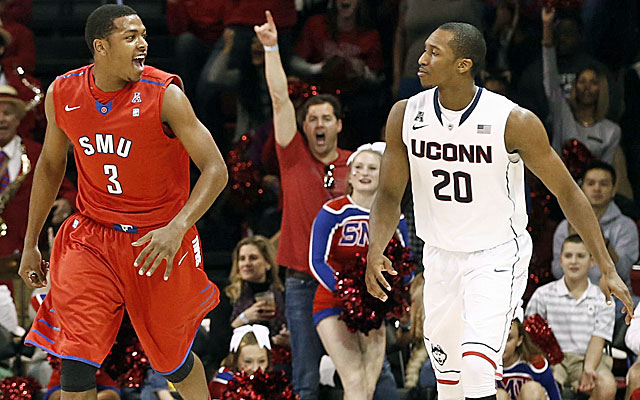 Why is Connecticut still receiving votes in the Associated Press poll?
And why is San Diego State behind Duke in the Coaches poll?
I'll address both of those things in the Poll Attacks.
Let's get it!
Associated Press poll: Every once in a while, somebody will ask how I could, in the Top 25 (and one), drop a school from, say, 10th to unranked in a single update. My answer, always, is that it's simply what recent results suggested should be done. But, for whatever reason, that's hard for some folks to grasp.
Not Andrew Greif, though.
He's an AP voter who did good work this week.
Greif had Connecticut ranked 10th last week, which was probably high but whatever. The point is that he dropped the Huskies from 10th to unranked on his ballot this week, and I applaud him for doing it because that's what should've been done after UConn lost consecutive games at Houston and SMU. Combine those losses with a Dec. 18 home loss to Stanford, and Kevin Ollie's team has lost three of its past five games against teams that aren't ranked, have never been ranked and probably won't ever be ranked.
That's why I'm no longer ranking UConn.
That's why Andrew Greif is no longer ranking UConn.
But there are still plenty of voters still ranking UConn, which received 41 points in the latest AP poll. For the life of me, though, I can't figure out why, because there isn't a single measuring device available currently suggesting UConn should be on any Top 25 ballots.
My buddy, Kevin Brockway, has UConn ranked higher than anybody else.
He has the Huskies 18th on his ballot.
Once upon a time that might've made sense. But it doesn't make sense anymore because UConn is 11-3 with three losses to currently unranked schools and just one win over a school that's currently ranked -- and, it should be noted, that one win is a home win at the buzzer over a Florida team that was without Kasey Hill (because of an injury) for the entire game and without Scottie Wilbekin (because of an injury) for the final three-plus minutes.
Beyond that, UConn's second-best win is over an Indiana team that's 0-2 in the Big Ten. Beyond that, UConn is now 44th at KenPom, 41st in the RPI and 47th at Sagarin. So good luck trying to explain why the Huskies are still getting any Top 25 votes. I mean, I like Shabazz Napier as much as the next guy. But come on, man. Ranking UConn now is silly.
Coaches poll: It's often beneficial to take two bodies of work and place them side-by-side to determine which team has done more to date. So let's try that here, then laugh about San Diego State being two spots behind Duke in the latest coaches poll.
----- Record -----
San Diego State: 12-1
Duke: 11-3
----- Wins over currently ranked schools -----
San Diego State: 2
Duke: 1
----- Wins over schools currently in the top 50 at KenPom -----
San Diego State: 3
Duke: 2
----- Wins over schools currently in the top 50 of the RPI -----
San Diego State: 2
Duke: 1
----- Losses to currently unranked schools -----
San Diego State: 0
Duke: 1
So, to summarize, SDSU has more wins, fewer losses, more wins over currently ranked teams, more wins over Top 50 teams (according to KenPom and the RPI) and fewer losses to unranked teams -- not to mention a win in a true road game over the Kansas team that has beaten Duke on a neutral court. So, pretty much any way you slice it, the Aztecs -- whose only loss is a single-digit loss to Arizona -- have a better resume than Duke.
That's properly reflected in Jerry Palm's latest Bracketology -- where San Diego State is a No. 3 seed and Duke is a No. 6 seed. But, oddly, Duke is ranked 13th in the coaches poll while SDSU is 15th. Not sure how anybody could, at this point, conclude that's the correct order ... although, I admit, Duke probably sounds better than SDSU to those who don't pay attention.