Report: Adidas ready to throw $180 million at Andrew Wiggins
Kansas freshman, projected No. 1 pick could make HUGE money from his first shoe company.
by

Eye on Col Basket staff

• 2 min read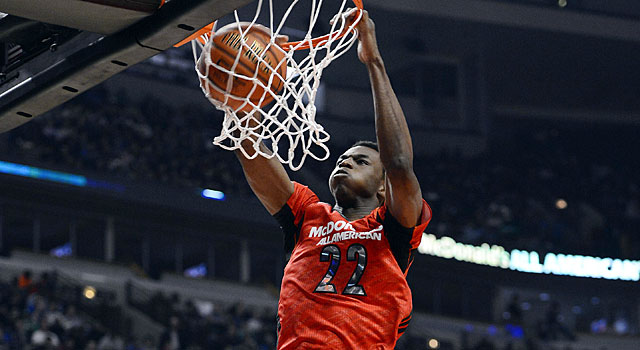 By Matt Moore
Here's today's sign of just how high the hype about Kansas freshman Andrew Wiggins, the projected No. 1 pick in next June's much-hyped draft is. Bleacher Report reports that shoe companies are lining up to make unreasonable offers for the youngster forward the second he announces he'll be leaving school for the draft. How unreasonable? How about $180 million over 10 years? 
Three sources told Bleacher Report that Adidas has pegged Wiggins as their prime target—and they would be willing to open up the bank for him. Of course, no meetings or official offers can be made until Wiggins declares for the 2014 draft after his season at Kansas.

"(Adidas) is easily the front-runner, 100 percent," said Rich Lopez, the publisher of the popular sneaker website KixandtheCity.com.

"From what I'm hearing, (Adidas) is really high on him," an industry source said. "I've heard a range for sure, from like $140 to $180 million for like 10 years. That's a big deal for a kid coming out of school because most rookie deals are probably like four years."

"I'm hearing from people at Kansas that he's got a $180 million offer supposedly coming from Adidas," a source close to Wiggins' inner circle said. "But I also heard that Nike is going to match anything."
via Inside the Epic Race to Get Andrew Wiggins' Sneaker Endorsement | Bleacher Report.
Excuse me while I go throw up over how much money that is. 
The article goes on to lay out the dynamics of what's in play for Wiggins with Nike (his longtime favorite), Adidas (who has a deal with Kansas) and Under Armour (the scrappy underdog that just signed Stephen Curry) as well as Chinese monoliths Li-Ning (Dwyane Wade) and Anta (Rajon Rondo). It's a pretty fascinating read from the perspective of just how much time and energy is spent on researching what to invest in a player that young. 
For his part, Wiggins has shown he's got a pretty good head on his shoulders so far. Playing in Lawrence, Kansas should help matters a bit. (Lawrence is a fun, quaint town, but not exactly a metropolis, and nearby Kansas City's nightlife isn't exactly off the hook.) But this is yet another indication of the unrealistic expectations placed on Wiggins. He may be the best prospect since Kevin Durant, or Chris Paul, or maybe even LeBron James. But there's little indication he's the next Greatest of All Time. At some point, it would be nice if we could let the kid be a kid. 
But business is business, and Andrew Wiggins is set to be a huge part of basketball's business.
The Big Ten Tournament is a week earlier than usual, so the regular-season schedule may look...

Arizona, Grand Canyon and Tulane are also in Barcelona and have reported to be accounted for...

The Memphis transfer has denied the allegation
Cavaliers basketball coach tapes statement on behalf of his university and his city

Gary Parrish and Matt Norlander discuss all things Marvin Bagley and his immediate future

Which version of Grayson Allen will show up for Duke and other questions for every ranked...