Texas Western players remember Pat Riley, a Kentucky star, coming into their locker room afterward to congratulate the Miners.
"That was exciting for him to do that," Armstrong said. "I know we didn't approach the game thinking about race, and I don't think the Kentucky team approached it as a racial game either."
 Texas Western player: Don Haskins was prejudiced
 This is where history and Hollywood converge, and new truths become part of the story. In "Glory Road," the 2006 Disney movie about Texas Western, Miners coach Don Haskins tells his team the day before the championship that he will play only blacks the next night to make a social statement. Haskins, who died in 2008, said he wasn't trying to make a social statement but simply starting his best players.
 "I couldn't stand the movie because it didn't tell the truth," said Willie Cager, a black Texas Western forward in 1966. "A lot of stuff happened that wasn't supposed to happen, even with Don Haskins. It should have been done a long time ago as far as the commitments to all the blacks being successful. It was totally different from my perspective. Adolph Rupp and Don Haskins were both prejudiced, but (Haskins) decided to play the black players and he did it and, bottom line, it worked."
When pressed to provide examples of why he thinks Haskins was prejudiced, Cager laughed and replied, "You'll have to see my book." Cager said he is releasing a book in a couple weeks.
Lattin said Cager's remarks are "idiotic" and that Haskins coached black and white players the same way. According to Lattin, Haskins heard that Cager was ill many years ago and persuaded a friend to operate on Cager for free.
 "Coach Haskins saved his life. He couldn't afford the operation," Lattin said. "Now he's saying this again? Cager is out of his mind. I hate to hear him saying that. It's idiotic. I am so angry. I feel embarrassed by it."
Lattin said Cager has talked about writing a controversial book for 25 years. "It's not really a book, it's more like a pamphlet," Lattin said. "Coach Haskins, I loved him very much. He was a tough guy, but we're all tough. He was just coaching the only way he knew how. He didn't treat African-American guys differently than white guys."
Texas Western's players came from all over the country to El Paso, Texas. Three were from New York; two from El Paso; and two from Gary, Indiana. They came from the inner cities of Detroit and Houston, and from rural areas in Missouri and Kansas.
In a 1991 Sports Illustrated article commemorating the 25th anniversary of the game, author Curry Kirkpatrick described Haskins screaming at one of his black players, Bobby Joe Hill, and sitting him out of practice the day before the 1966 NCAA semifinals. "Fine, Hill!" Haskins shouted, according to the story. "Keep acting nonchalant. If your brains were dynamite, this place would be blown apart."
 "How can you talk to these black guys like that?" one shocked coach asked Haskins afterward.
  Haskins replied, "Same way I do white guys."
 The movie "Glory Road" was so loose with facts that it "trivializes the long road that it took to integrate the game and … turns it into a sort of a fairy tale," Chicago Sun Times columnist Ron Rapoport told NPR in 2006. Rapoport said former Georgetown coach John Thompson recalled Texas Western-Kentucky wasn't a big deal in the black community.
Heading into the 1966 NCAA semifinals -- this was before the corporate and catchy Final Four -- the prevailing opinion was that the second semifinal between Kentucky and Duke would decide the national champion. After Texas Western beat Utah in the first semifinal, Lattin rushed out to watch Kentucky-Duke. What Lattin noticed immediately: No blacks on either team.
"I was completely and totally shocked," Lattin said. "I didn't say I dislike these guys. But it was such a surprise because 90 percent of the teams we played had at least one or two African-Americans."
 About five years ago, Lattin randomly met C.B. Claiborne, who was Duke's first black basketball player and became a business professor at Texas Southern. "He was on the Duke freshman team," Lattin said. "I never knew that. How about that? I told him you should write a book."
Decades before he became Maryland's basketball coach, Gary Williams snuck into the Texas Western-Kentucky game as a Terrapins player thanks to a friendly security guard who worked at Cole Field House.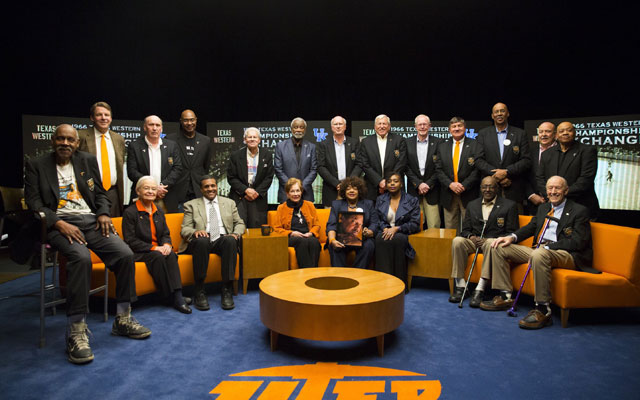 Back then, there were very few games on TV. Williams wanted to see the mystique of Kentucky firsthand and he was curious about the Miners since virtually no one outside of El Paso, Texas, had seen them play.
"The thing you noticed at the start of the game was Texas Western did have a size advantage," Williams said. "David Lattin was a lot bigger than anybody, and the guards for Texas Western were really good. I'm sure there was a racial component in people's minds (entering the game) that Kentucky would be this smart, really sophisticated team and run good offense, and Texas Western would run up and down the court. Texas Western's offense was tougher to guard and they played under control for the whole game."
Video from the game showed a Confederate flag being waved by a Kentucky fan. Otherwise, Miners players said there was no racial tension.
"It's kind like, hello, give me a break," Cager said of the flag. "It didn't matter to me. I was ready to play that game. I want to win, bottom line. We were successful in kicking their booty."
Attention for the game came later
 After Texas Western's 72-65 victory over Kentucky, there was virtually no mention in the media about race. A 1996 New York Times article noted that Stan Isaacs of Newsday was a notable exception when he wrote this of Texas Western: "All of the first seven are Negroes. That shouldn't be significant one way or the other, except that many people make it noteworthy with snickers about the ethnic makeup of the team."
Lattin said it wasn't until the start of the following season, when Sports Illustrated wrote a lengthy article, that the racial makeup of the teams became a story.
"That's when people started talking about it," Lattin said. "Coach Haskins did say he had some threatening mail and phone calls. I had a couple. No big deal. That was about it. The further we got away from the game, the more it was talked about."
Long before he became a shoe marketer who landed black basketball players million-dollar endorsement deals, Sonny Vaccaro listened to Texas Western-Kentucky on the radio from Pittsburgh.
"I made a point to listen to it for some strange reason," Vaccaro said. "I knew it as the championship game. It never dawned on me the social significance that it was until after the fact."
Today, Vaccaro views Texas Western-Kentucky as the most significant game in basketball history. "Why? The blacks own the game today and that game paved the way," Vaccaro said. "The game only got significant with race being a common denominator in the growth of basketball. It still matters because race is still prevalent in the American eye."
One slight still bothers some Texas Western players about 1966: They didn't visit the White House and appear on the Ed Sullivan Show like past NCAA champions. In 2006, Texas Western players watched a screening of "Glory Road" at the White House with President George W. Bush.
"But that wasn't the same thing as President (Lyndon) Johnson)," Cager said. "I was very disappointed we didn't go to the White House or Ed Sullivan. Johnson was having a lot of problems with segregation and all that kind of stuff."
Said Lattin: "No one ever said why we didn't go, and I guess it was just read between the lines and that's the way it was. First of all, we came from nowhere and no one expected us to be there. We weren't ranked before the season started. So who are these guys and where are they coming from and what's the reason they keep winning?"
Fifty years later, the tributes to Texas Western (now known as the University of Texas-El Paso) keep coming. UTEP honored the 1966 team earlier this month during a ceremony that includes messages from President Barack Obama, Nike co-founder Phil Knight, film producer Jerry Bruckheimer and ESPN commentator Dick Vitale. The team was presented with keys to the city of El Paso.
A couple weeks ago, some Texas Western players returned to Cole Field House for the first time since 1966. Basketball is long gone from Cole, which was built for boxing, became one of the most storied basketball arenas, and now is transitioning into a football indoor practice facility.
"Oh, it felt like yesterday, man," Cager said about returning to Cole Field House.
 Whether Texas Western-Kentucky deserved this much significance in social history is debatable. Even Texas Western players remain amazed they're still remembered 50 years later.
 "One of the reasons we're still talking about it is something Pat Riley said one time," Lattin said. "He said it was probably the worst day of his life when he lost that game, but he felt the right team won because it did so much for others. It made it possible for kids to go to major universities, especially in the deep South, and not just for basketball. It's my legacy. When you do something for someone else, it's a legacy that lasts forever."
Follow and read more from Jon Solomon on Facebook and Twitter.