St. John's falls to Providence; Steve Lavin maintains team is in hunt
Steve Lavin did his job in stumping for his team, but it doesn't look like SJU is going to have enough.
• 2 min read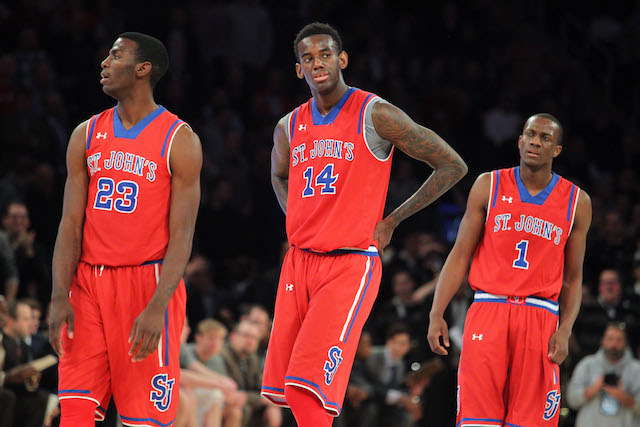 Latest in hoops: Top 25 (and one) | Bracketology | Bubble Watch
NEW YORK -- The consensus from the bracket projectors is that St. John's is done.
The Red Storm are 20-12 after falling 79-74 in Thursday's Big East quarterfinals.
But SJU coach Steve Lavin is holding out hope his team is still in the mix, and not for the usual reasons. The Johnnies have won 11 of their past 15 and rallied from an 0-5 start in league play.
The comeback in that sense was mirrored in the way his team trailed by 17 on Thursday before rallying back to gain the lead -- before giving way to Ed Cooley's Friars, who probably need at least one more win in order to feel pretty safe.
"What I shared with the team is, clearly at this stage in the season it's in the selection committee's hands," Lavin said. "If you look at our body of work, and the number of critieria considered, clearly we have some pluses. But losing in the first round of your conference tournament is not a good thing."
Not at all, especially against a competing bubble team like PC. Lavin cited the team's recent losses being by one at Creighton, at the buzzer, at the hands of Doug McDermott; a three-point loss at Villanova; and a loss against Xavier that came after the team "lost five loved ones."
St. John's has been a team surrounded by some sadness in recent weeks, as a few players have lost relatives for different reasons. Would the committee take such extenuating circumstances into consideration? Lavin believes so. He said the way his team played on the road, combined with the unfortunate timing of so much death around the team, might make for a closer look at what St. John's has done.
"I don't think it's an automatic that we're not in," he said. "I know people have been saying that. ... I haven't bought that this was a play-in game for either team."
St. John's was 1-7 going into the top 50 heading into this game. The RPI was at 57, strength of schedule No. 48. These are wobbly numbers, especially combined with the fact the team's two sub-100 RPI losses (DePaul and Penn State) and it's a tough case to make.
"We didn't hurt ourselves in the way we played today," Lavin said. "We hurt ourselves because we didn't win the game."
What was interesting was Cooley's stumping for St. John's. His team was without it star Bryce Cotton for six minutes which is an eternity for Cotton, who averaged more than 40 minutes per game this season (due to so many overtimes). It was his fewest minutes in a game since Nov. 18.
"I think we were very fortunate to win today, I think we got lucky at the right time," Cooley said, adding, "I'll be shocked" if the Red Storm don't get a bid because "the Big East is a monster."
"All we had to do was win by one. That's all I was concerned about," Cooley said.
But it was by six, and it might have been enough to put Providence into the NCAA Tournament. St. John's doesn't appear to be nearly as close. If it gets in, it would be one of the biggest surprises in recent Selection Sunday history. Lavin has the faith, even while acknowledging that it could be a long shot.
Calipari threw major shade at Duke and the coaching staff's recruiting pitch

Brown is the No. 2 center in the Class of 2018 and a big get for the Bruins

The Sooners are on a two-game losing streak but still rising on one AP ballot
Vegas legend Kenny White has nailed 3 straight UNC picks and just made a play for Monday's...

Josh Nagel has almost two decades of handicapping experience and locked in a play for Monday's...

The Wildcats stumbled to an 0-2 record this week and fell out of the top 25