The strange high school setup for five-star prospect Skal Labissiere
The elite prospect is going to school and one place but going to play hoops for another? Can that work?
• 3 min read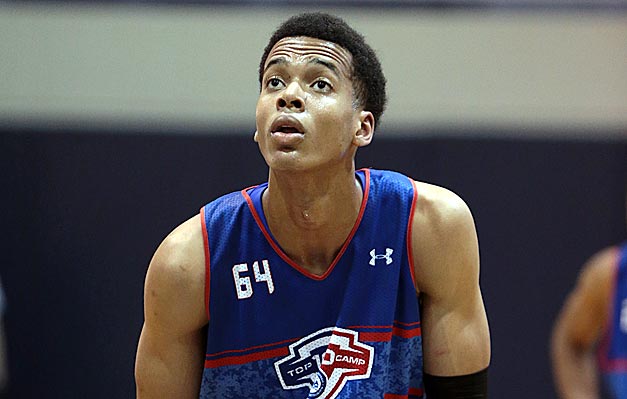 The college hoops media hoi polloi had a bit of fun/joking on Monday night after this was tweeted by five-star prospect Skal Labissiere:
Happy to announce that I will be playing my senior year with RYD Prep! #ReachYourDream #letsgetit #blessed

— Skal Lab (@OneBigHaitian) October 28, 2014
See, Labissiere, who came to Memphis from Haiti following that country's epic, ravaging earthquake in 2010, has an interesting setup. His American guardian, by law, is a man named Gerald Hamilton. Hamilton, who supposedly is upfront about the entire essence and business of Labissiere's pro prospects down the road, is essentially steering him to Reach Your Dream Prep so he can be put in the best/most competitive situation possible for his final year of prep hoops. The problem? The school doesn't even exist yet. Calendar reminder: It's late October, when students are typically enrolled in their high schools. Yet Labissiere's tweeting he'll play for this place that isn't up and running. Something's not adding up here.
It can't be this transparent, right? College hoops recruiting can get really grimy, but to this extent?
This is what you see when you type in rydprep.org. It is all you see; it is all the webpage consists of.
There might as well be an RSVP link for the NCAA in the upper right corner. As my friend from Yahoo Sports, Jeff Eisenberg, notes, "A call to the number listed on the site goes to a voicemail belonging to Hamilton. The address listed on the site is the same as Elliston Baptist Church & Academy, a tiny private school in Memphis that serves students from kindergarten through 12th grade."
So what gives? Well, while the 6-foot-11 Labissiere is planning on playing for Reach Your Dream Prep, in terms of academic eligibility, he'll still be attending, with intentions on graduating, at Memphis' Lausanne Collegiate School. Labissiere transferred to that school recently, but his eligibility to play prep hoops was shot down by Tennessee's Secondary School Athletic Association. He previously attended Memphis' Evangelical Christian School.
So now there's some scurrying being done to get Labissiere able to play high-level high school hoops over the next couple of months. Yes, this is an all-timer in terms of keeping a 17-year-old in the mix to play some basketball games ... before ever getting to college.
As far as how this all lines up with eligibility guidelines for the NCAA and possible future schools, that's still not entirely clear. But Labissiere made it known Tuesday morning that he's on track to finish school where only for a few weeks after transferring there for his senior season.
By the way, I am still attending Lausanne and graduating from there #golynx

— Skal Lab (@OneBigHaitian) October 28, 2014
Right now, it's looking like Labissiere could very well never play college basketball. I've seen him play in person, and he's got an NBA body already. Very polished and fun player to watch. Undeniably a stud. But will he be eligible when/where it matters? Will he even want to go undergrad? Our own Gary Parrish wrote about the premier recruit while in Las Vegas this summer. Labissiere's always had a different framework to his situation compared to other recruits. And he's open to going to overseas route for a year, if need be.
Maybe that's where this is ultimately heading. Otherwise, Kentucky, Memphis, Georgetown, Baylor and Tennessee -- the schools still invested and hoping to land Labissiere -- probably need to take a step back and realize this recruitment could be more vexatious than they imagined.
And you know the NCAA is already all too aware of what's going on here. The Emmanuel Mudiay fiasco assures us this is going to be an arduous transition for Labissiere, if indeed he tries to play college basketball next year.
CBS Sports HQ Daily Newsletter
Get the best highlights and stories - yeah, just the good stuff handpicked by our team to start your day.
Please check the opt-in box to acknowledge that you would like to subscribe.
Thanks for signing up!
Keep an eye on your inbox for the latest sports news.
Sorry!
There was an error processing your subscription.
Wade said he's never done business of any kind with Christian Dawkins

Zion Williamson, Duke's versatile 285-pound beast-of-a-specimen, can apparently do it all

It's back! The most definitive list of the top talent in the sport is here
Mike Kryzewski claimed the things brought up in this trial were a 'blip,' but now one of his...

Michigan State, Purdue and LSU should all feel great about their trusty ball-handlers as the...

The Blue Devils Hall of Famer believes the corruption trial is a 'blip'