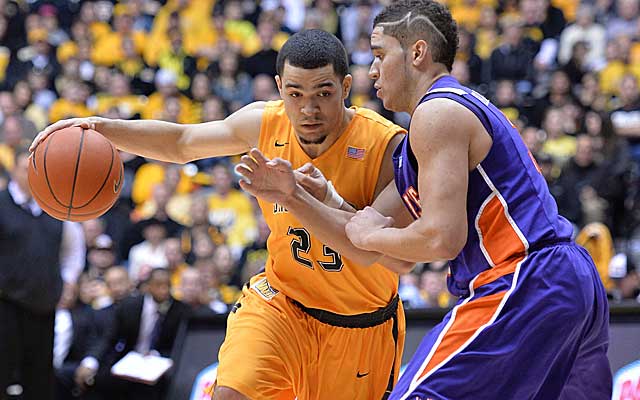 More college hoops: Bracketology | Team comparison | Top 25 (and 1) | Latest news
I talked extensively last month, while on the Wichita State campus, with folks within and around the Shockers program about the possibility of a perfect regular season, and everybody swore it wasn't something they were concerning themselves with too much.
Would it be nice to go undefeated?
Of course it would be nice to go undefeated.
But everybody seemed to understand that the odds, at the time, were stacked against them for a variety of reasons. And what's the point of worrying daily about a goal that couldn't possibly be accomplished until March? Thinking that far ahead almost certainly would lead to an unfortunate slip-up, I was told by more than one person. So, if you'll excuse the cliche, Wichita State really did seem determined to -- all together now -- just take the remainder of this season, you know, one game at a time.
That's still the plan.
And I'm sure it's a good plan.
But the rest of us are not required to stay focused. We're free to look as far ahead as our eyes can see, and that's why it's worth pointing out that the Shockers are now in what projects as their toughest week of the season, and if they exit still unscathed the chances of a perfect regular season will go from unlikely to more than likely just like that.
"I get 68 percent," is how Ken Pomeroy responded when I asked if he'd be kind enough to project the likelihood of a perfect regular season if the Shockers move to 25-0 this week with wins at Indiana State and Northern Iowa. "Could jump even more if they are dominant."
What you need to know, for the purposes of context, is that Pomeroy's site (KenPom.com) currently gives Wichita State a 38.5-percent chance of finishing the regular season with an undefeated record, meaning two wins this week will nearly double the Shockers' odds at history. That's because the two most-challenging games left on the schedule are this week. First up is Wednesday at Indiana State. Then comes Saturday at Northern Iowa.
"It's something a lot of people have talked about," Wichita State sophomore Ron Baker told reporters after Saturday's win over Evansville. "We're excited about it."
The fact that Wichita State will be favored by at least six points in both of this week's road games speaks to the size of the gap between Gregg Marshall's team and everybody else in the Missouri Valley Conference. The Shockers are great defensively and terrific defensive rebounders, and they have one of the steadiest point guards in sophomore Fred VanVleet.
They're undeniably good.
They're better than last season.
(And they went to the Final Four last season.)
Still, Wichita State remains one of the nation's most divisive teams, and any opinion on the Shockers is met with considerable pushback. Casual fans call you dumb for ranking them in the top five -- they're fourth in the AP poll, second in the Coaches poll and sixth in the Top 25 (and one) -- while Wichita State fans call you dumb if you have the Shockers outside of the top four. Their defenders point out that this is a program that went to the Final Four last year and has beaten everybody placed in front of them this season. Their detractors highlight that their lone win over a sure-bet NCAA tournament team is a win over a Saint Louis team with zero wins over sure-bet NCAA tournament teams, and the debate just never stops.
Here's the truth, I think: Wichita State probably isn't really the nation's second-best team like the Coaches poll suggests but is absolutely legit and capable of making another Final Four. The Shockers are 10th at KenPom and 13th in Sagarin, both of which are unbiased statistical formulas that are widely considered to be nice gauges for how good a team actually is regardless of a team's overall or conference record. In other words, Wichita State isn't good because of its record; Wichita State is good independently of its record, and that's why you'd be foolish to disregard the Shockers as a serious Final Four threat regardless of what you think of their strength of schedule or conference affiliation.
Good can come from almost anywhere.
Haven't we learned that over the past decade?
Either way, keep an eye on the Shockers this week, because if their 23-0 record becomes 25-0 late Saturday, they'll statistically be more likely than not to enter the MVC tournament undefeated. They would then be a double-digit favorite in every regular-season game going forward, meaning only a massive upset would keep Wichita State from becoming the first school to finish the regular season undefeated since Saint Joseph's in 2004.