Triple Threat: Still questions to be answered in ACC-Big Ten event
Jon Rothstein takes his weekly look at the players and upcoming games of interest.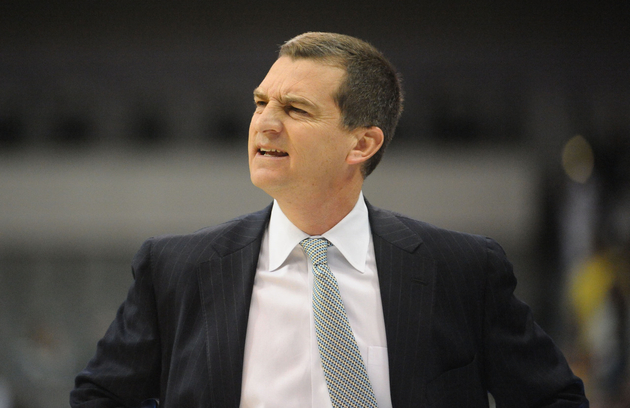 Which coaches are maximizing their team's talents? Which sophomores are worth investing in? Answers to those questions and more in this week's edition of the Triple Threat.
Three games I'm looking forward to
1. Maryland at Ohio State (Wednesday, 7:00 PM ET)
This is the first of several difficult games away from College Park that the Terps will have deal with in December. In addition to Wednesday night's trip to Columbus to take on the defensive-minded Buckeyes, Maryland will also play George Washington Sunday in the BB&T Classic, and then travel to Boston College next Thursday. Mark Turgeon's team has shown real promise in the last few weeks but going on the road and being competitive against a veteran team like Ohio State without a true point guard like Seth Allen is one tall task. It will be interesting to see how the Terps respond against such a quality opponent in a hostile environment.
2. North Carolina at Michigan State (Wednesday, 9:00 PM ET)
The Tar Heels lost to Belmont at home, beat Louisville on a neutral floor, and then lost to an underrated UAB team on the road. What does that mean for tonight's game in East Lansing? We'll find out soon enough. Michigan State looks every bit the part of a team that's primed for a Final Four run. It will be interesting to see if North Carolina's perimeter of freshman Nate Britt and Marcus Paige can match up with the Spartans' terrific duo of Keith Appling and Gary Harris. Britt didn't score in the loss to UAB and needs to be more assertive.
3. West Virginia at Missouri (Thursday, 7:00 PM ET)
Neither of these teams have made a national statement and winning this game would be a start for each of them. The Mountaineers look considerably improved from last season and played Wisconsin tough last week in Cancun. Juwan Staten has been absolutely terrific for Bob Huggins to start the season, dishing out 60 assists while only committing nine turnovers in eight games. He'll have to be at his best against Missouri's loaded perimeter trio of Jordan Clarkson, Jabari Brown, and Earnest Ross, who have the potential to emerge nationally as a unit as this season progresses.
Three quick hits
1. How good is Cincinnati?
We'll know after the next two weeks. The Bearcats (7-0) are about to begin an arduous three-game stretch, beginning with a road trip to the Pit on Saturday to take on New Mexico (CBS Sports Network, 4 PM ET). Cincinnati will then return home to play a neutral site game with Xavier on December 14th, and then travels to Madison Square Garden to face Pitt in the Jimmy V Classic three days later. Mick Cronin's squad has three cornerstone players in seniors Sean Kilpatrick, Titus Rubles, and Justin Jackson, but still needs a few other pieces to emerge offensively. Thanks to their improved depth, the Bearcats have augmented their full-court pressure and forced 42 turnovers in their past two games. It will be interesting to see if that philosophy and approach works against better competition over the course of the next three games.
2. Why should people be high on Iowa?
Because the Hawkeyes have many ways to skin a cat. Unlike other teams that rely on one or two guys, Iowa has several different players who can be the assassin on a given night. In Tuesday's 98-93 win over Notre Dame, the Hawkeyes had six different players score nine or more points. Fran McCaffery can play big, small, or any way he prefers based on the matchup his team faces on that given day. Iowa currently has 10 guys averaging 13.4 minutes or more each game.
3. Which elite freshman is being underrated nationally?
UCLA's Zach LaVine. After watching the Bruins several times already this season, it's not out of the realm of possibility to say that LaVine is the X-Factor in UCLA's season. The 6-5 guard has scored in double figures in eight of the Bruins' nine games and is currently averaging 12.8 points per game while shooting a ridiculous 62.3 percent from the field. A lethal athlete armed with a scorer's mentality, LaVine is going to cause a lot of headaches for opposing coaches in the Pac-12.
Three sophomores I'd buy stock in
1. Jake Layman, Maryland
Simply put, Layman is a burgeoning star. The 6-8 forward is leading the Terps in scoring and has connected on 23 of 45 three-point attempts to start the season. Versatile and highly skilled, Layman can play both frontcourt spots for Maryland, which is 5-2 heading into Wednesday's game at Ohio State as part of the ACC/Big Ten Challenge.
2. Winston Shepard, San Diego State
If there was a picture next to the word versatility in a dictionary, it would be of Shepard. The 6-8 wing can guard all five positions on the floor depending on the opponent and epitomizes the type of interchangeable player Steve Fisher loves to coach at San Diego State. The Aztecs are also using Shepard as a point forward when they move Xavier Thames off the ball on offense. Whatever San Diego State needs, Shepard provides.
3. D'Vauntes Smith-Rivera, Georgetown
It looks like Smith-Rivera's intense offseason training regimen is already paying immediate dividends. Leaner, quicker, and more experienced than he was a year ago, Smith-Rivera is averaging 18.8 points per game through six games after tallying just 8.9 last season as a freshman. The 6-3 guard has also made 17 three-point shots already this season after only connecting on 39 attempts from deep a year ago.
Three guys coaching their tails off
1. Jay Wright, Villanova
With wins over both Kansas and Iowa last weekend at the Battle 4 Atlantis in the Bahamas, Wright has once again made the Wildcats' program a national factor. Villanova looks like a legitimate contender at the top of the Big East, but will have to deal with several stern tests before they get there. The Cats host Penn tonight and then travel to Saint Joseph's on Saturday in the annual "Holy War" (6:00 PM ET, CBS Sports Network).
2. Mike Lonergan, George Washington
I felt like I should have paid $100 dollars and grabbed a clipboard after I watched the Colonials upset Creighton on Sunday because I watched Lonergan put on an absolute clinic. With two days of preparation at his disposal, the veteran coach came up with a brilliant game plan that held Bluejays' star Doug McDermott to seven points and Creighton to 53 as a team. George Washington is another team that's improved in the middle of the pack of the Atlantic 10. The 6-1 Colonials host Rutgers tonight.
3. Brandon Miller, Butler
"The Butler Way" continues. Miller was dealt a tough hand over the summer when his best player -- Roosevelt Jones -- was lost for the year with a wrist injury. Nevertheless, the Bulldogs have responded and look like, well, Butler. Miller has embraced the same attributes as his predecessors and has the Bulldogs defending, rebounding, and sharing the ball. Butler could have easily beaten Oklahoma State at the Old Spice Classic and fell to a talented LSU team in overtime. This team will make noise in the Big East.
Three (relatively quiet) freshmen of impact
1. London Perrantes, Virginia
The Cavaliers finally have a true point guard. Perrantes may be unassuming in his demeanor and approach, but he's already made a huge difference for Tony Bennett's team. The 6-2 freshman has 19 assists and just two turnovers in Virginia's last four games.
2. Isaiah Taylor, Texas
Not many people have noticed that the Longhorns have gotten off to a 7-1 start, but that may change if Taylor continues to perform at a high level. The 6-1 freshman is averaging 10.9 points, 3.9 rebounds, and 3.5 assists per game for Texas, and had 14 points, eight assists, and five rebounds in the Longhorns' win over Vanderbilt on Monday. Taylor looks like the type of sneaky good player that could help Rick Barnes' team surprise a few people in the Big 12.
3. Jon Severe, Fordham
An effortless scorer, Severe has the look of a guy that will be an All-Atlantic 10 caliber player for two to three seasons. Armed with deep range, incredible confidence, and a quick release, the 6-3 guard is averaging 23.2 points per game through five contests and scored 30 last week when the Rams won at Manhattan. Severe has also made 19 three-point shots on the season and is shooting an impressive 38.8 percent from deep.
Arizona, for no good reason, doesn't have to play at USC or UCLA this season

We look at the 'Major 7' leagues and give you the best of what's to come in conference play...

Louisville's coach predicts a change is coming to the NBA's one-and-done rule by 2019
Multiple former players of Lonergan's alleged verbal abuse and inappropriate remarks

When Miller left for Indiana, there was cause for concern in Flyerland; a top-100 signee says...

The Hoyas will spend their non-league schedule playing mostly nobodies -- as will most big...