UConn coach Kevin Ollie addresses NBA speculation
Kevin Ollie addressed the NBA coaching interest while introducing the new logo and site for the American Athletic Conference tournament.
• 1 min read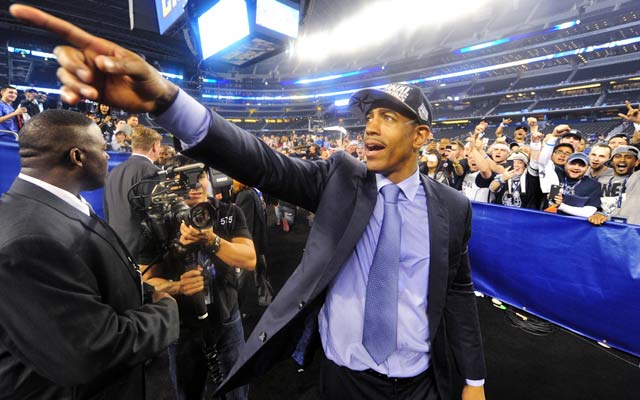 Parrish: UConn working on new deal for Ollie | Coaching Changes | Updates
The American Athletic Conference revealed a new logo for its conference tournament, which will move to Hartford's XL Center in 2015, on Friday. But with UConn's Kevin Ollie and athletic director Warde Manuel on hand for the festivities, conversation drifted away from the tournament to the future of the Huskies' head coach. 
Ollie, who has reportedly been contacted by at least one NBA team, does not hide from the speculation that he is a candidate for one of several open positions at the next level -- as of the time of this post, the Lakers, Knicks, Timberwolves, Jazz and Cavaliers are all looking for new coaches. Ollie has frequently reaffirmed his commitment to UConn, and credits the Huskies' success as the reason for the extra attention. 
"People have called and asked if I'm interested, and like I always say, 'I'm here with UConn right now and trying to work things out with our great university,' " Ollie said via the Hartford Courant. "I'm UConn-made and I want to be here for a long time. But those guys are persistent and they keep calling no matter what I say, that's just part of the success you've had, the success the university has had.
"It's a great honor to have options. It's a great honor, but at the end of the day I know where I want to be at and I know where my heart is."
Ollie has four years left on the five-year, $7.5 million contract he signed in January 2013. According to the Courant he made $1.6 million this past season, including the bonuses associated with the team's national championship run. A new deal seems imminent, but every passing week without an announcement heightens the nervousness for UConn fans.
"It's a great problem to have," said Manuel, the AD. "I have a great coach who's done great things here, these are problems you want to have. I've dealt with the other ones in my career. So I don't see it as problematic. I just want Kevin to be happy, us to be happy and everyone to move forward in a way that continues to strengthen UConn. There is no timeline we've put on it."
Fall is being shut down after dealing with shoulder injuries and will undergo surgery soon

The Wildcats' resume doesn't seem too impressive right now

Was there contact? 'Everybody saw it,' UK coach John Calipari said
After losing its second game this week, a deep NCAA Tournament run looks far-fetched for U...

Coach K shows he is on on top of his game by landing the best three prospects in the Class...

The Buckeyes and Boilermakers continue to assert their dominance in the Big Ten