West Coast tournament: Preview, prediction, TV info
This isn't a vintage Gonzaga team, but it still won the West Coast Conference regular-season title. Will the Zags win the tournament too?
• 2 min read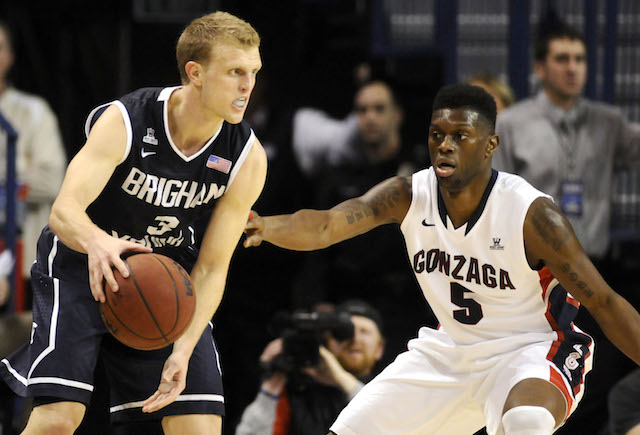 Latest in hoops: Top 25 (and one) | Bracketology | Bubble Watch
What: West Coast Conference championship.
When: March 6, 8, 10, 11.
Where: The Orleans Arena, Las Vegas.
Bracket: View tournament field here.
TV: Championship game on ESPN (March 11, 9 p.m.). Semifinals on ESPN or ESPN2, two quarterfinals on BYUtv, two quarterfinals on ESPN2.
Last year's champ: Gonzaga (32-3, No. 1 seed)
What matters: As usual, Gonzaga won the regular-season title -- although the Bulldogs are nowhere near as good as they were last season, when they received a No. 1 seed in the NCAA Tournament and were a dominant group. It took them three tries to clinch the championship, and they are a vulnerable group heading into the conference tournament. BYU needs to make a run to the championship game to stay in the at-large mix for the Tournament, and the Cougars have won eight of their last nine games. San Francisco surprisingly finished third in the standings, winning nine of 11 down the stretch. Saint Mary's has been a disappointment in league play, going 5-5 in its last 10.  
Who matters: Gonzaga still has plenty of individual talent, although the Bulldogs have been inconsistent. Kevin Pangos (14.6 ppg) has scored in single-digits in five of his last 10 games, while Gary Bell (10.9 ppg) has done the same in five of his last eight. Sam Dower (14.6 ppg, 7.0 rpg) has been the breakout performer this season for the Zags. BYU counters with the league's best player and one of the nation's best scorers in guard Tyler Haws (23.4 ppg). He can carry the Cougars. Matt Carlino (14.1 ppg, 4.6 apg) is averaging 19.7 points in his last three games. San Francisco has four double-figure scorers, led by Cole Dickerson (14.6 ppg, 7.6 rpg), and Saint Mary's has two all-conference players in Brad Waldow (15.7 ppg, 7.7 rpg) and Stephen Holt (15.0 ppg). 
Fun fact: 13.8. BYU plays the fastest offensive tempo in the country, averaging just 13.8 seconds per possession. The Cougars love to push the ball in transition, with Carlino handling the ball and Haws knocking down shots against an unsettled defense. If BYU is able to run fast-breaks consistently, the Cougars will have the edge in most games they play. Teams look to slow down the pace against them, so BYU also has to make plays in a half-court setting.
Prediction: BYU breaks through and knocks off Gonzaga in the championship game. The Cougars haven't been great in the WCC tournament since joining the league, winning just one game in two seasons. This year, though, I think the Cougars take down top-seeded Gonzaga. BYU is playing well down the stretch, and Haws is good enough to score his way to the automatic bid. If Carlino continues playing well, and Kyle Collinsworth and Eric Mika hold their own inside, BYU will win. If both Gonzaga and BYU get to the WCC title game, though, I think the league gets two bids no matter what. 
FBI investigation suggests Quinerly received improper benefits from a Wildcats assistant c...

Meet the mid-major coach who refused to vote for the teams involved in the recruiting scan...
The player, now at the University of Portland, says he was injured during a workout which broke...

Please don't start with the 'Being preseason No. 1 didn't work out so well for Duke last season!'...

A look at some of the biggest name coaches in new places in 2017