Wisconsin looks to build on Final Four run with returning core
Wisconsin won't get over Saturday's loss or a long time, but the Badgers could be right back here next season.
• 3 min read
More: Kentucky 74, Wisconsin 73 | Randle is UK's rock | Complete coverage
ARLINGTON, Texas -- The Wisconsin locker room after Saturday night's Final Four loss to Kentucky was an emotional one, to say the least. Hugging, audible sobbing, very quiet. 
It was one of the most emotional locker rooms I've been in following a game. 
And then less than 30 minutes after leaving the locker room, this happened.
Frank Kaminsky just walked past the media workroom, leaving the stadium, and screamed "ON WISCONSIN!"

— Matt Norlander (@MattNorlander) April 6, 2014
Saturday was a brutal loss, no question.
Getting to Bo Ryan's first Final Four, taking the lead in the final minute, then seeing Aaron Harrison bury a 3-pointer and Traevon Jackson rim out a pull-up jumper. That's why it was so tough in the Wisconsin locker room after the game.
"That's a shot that's going to stick in our minds for the rest of our lives," Kaminsky said. "I really wish that ball wouldn't have gone in, but it didn't. And there's nothing we can do about it now."
But as the younger players began to open up a bit, some optimism crept in. And Kaminsky's media room shout sort of cemented that thought.
Wisconsin is going to be back next year -- and the team will be good enough to build off the loss to Kentucky and be a national title threat once again.
"This should make people pissed off and hungry going into next season, this offseason," Kaminsky said. "We've got a lot to do. We saw what we needed to do in the postseason to get here. We'll take that going forward and build on what we've accomplished this season. We want to be back here next year, and win a championship next year. We know we can be contenders, and nothing is going to stop us."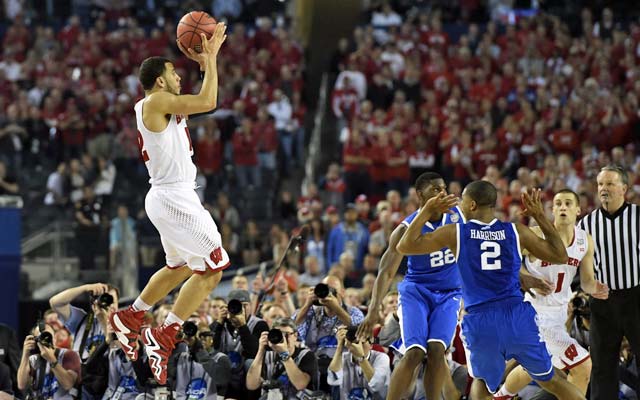 Nearly everyone is back that was a key member of the rotation down the stretch. Ben Brust is the only loss, and while he is the team's all-time leading 3-point shooter, Wisconsin can overcome his departure.
Kaminsky developed into one of the nation's best frontcourt players in the NCAA Tournament, showing the inside-outside skillset that few in college basketball possess. The big question for him will be consistency. He has to play like he did against Arizona, with 28 points and 11 rebounds. Against Kentucky, he struggled to get going, finishing with just eight points and five boards. If he can be a go-to-guy on a nightly basis, Wisconsin will be fine offensively.
Kaminsky is expected to return to Madison, as is forward Sam Dekker. Dekker has the potential to be a consistent option for Wisconsin, but like Kaminsky, he has to be more aggressive. Kaminsky and Dekker should be two of the best players in the Big Ten, and probably two of the top 25 or 30 players in the country.
Traevon Jackson is also back, and so is Josh Gasser. Two guards who've played together for a few years now, and bring a little bit of everything: shooting, defending, making clutch shots, toughness. Freshman Bronson Koenig should also be able to step up and fill Brust's shoes a little bit.
The main reason for excitement, though, is freshman forward Nigel Hayes. He is the type of player who can be a double-double threat inside on a nightly basis, bringing some of the physicality that Wisconsin has lacked at times. He can score in a variety of ways, and showed flashes of being a go-to option on the offensive end. It's unclear if Wisconsin will go big and start Hayes alongside Kaminsky and Dekker or keeping using him off the bench, but he's going to be a key factor next season.
"We're obviously a capable bunch, with the guys we have returning next year," junior forward Duje Dukan said. "We're excited for the opportunity. Having been through it, making it to a Final Four, we kind of know what to expect from the games, what to expect from the Big Ten. It's an exciting feeling knowing that we're a little more prepared than we were this season."
Wisconsin might not get over Saturday's loss in a day, a week, or even ever. It was an awful way to lose, and the Badgers won't forget it. But it will be motivation for next season, and the Badgers will build off of it.
The pieces are there for another deep run in next year's NCAA Tournament. And Wisconsin knows it.
Even if it doesn't completely show just yet. 
Marvin Bagley, if eligible at Duke this season, projects as the country's top power forwar...

The Big Ten Tournament is a week earlier than usual, so the regular-season schedule may look...

Arizona, Grand Canyon and Tulane are also in Barcelona and have reported to be accounted for...
The Kansas forward is no longer accused of walking out on an $88 tab

Cavaliers basketball coach tapes statement on behalf of his university and his city

Gary Parrish and Matt Norlander discuss all things Marvin Bagley and his immediate future