2014 over/under win totals: picking the SEC East
For the third consecutive year, we take a stab at picking against the SEC's over/under win totals. Here's the East and a brief wrap-up.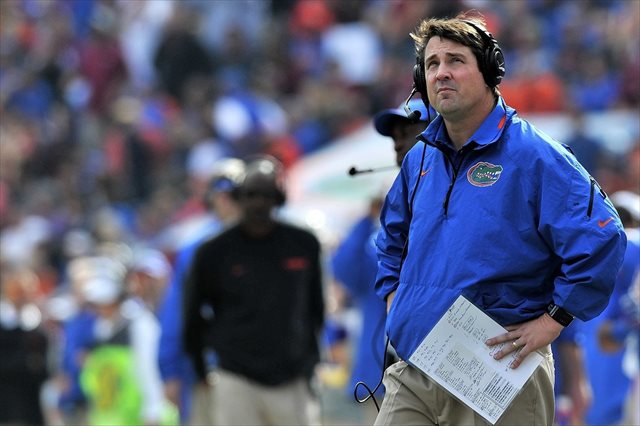 More college football: Jon Solomon | Dennis Dodd | Jeremy Fowler | Latest news
With SEC Media Days next week and the start of the 2014 college football season blessedly now less than two months away, it's time to do some serious looking ahead to the coming season. To that end: earlier this week I made some for-entertainment-purposes-only picks against the current over-under win totals listed for the SEC West at offshore sportsbook 5Dimes. And now it's time to do the same for the SEC East.
Totals reflect regular-season games only, no conference championship or bowls included, and schedules are linked to each team's name. Enjoy:
Florida, 7.5 wins (over -145, under +115)
Given that the offense can't be any worse with Kurt Roper at the helm ... that the biblical flood of injuries that sank the Gators' 2013 season won't be repeated ... that the defense remains coached by Will Muschamp and absolutely laden with blue-chip talent ... it's a mortal lock that the Gators enter the 2014 season headed for improvement and likely underrated. Still: eight wins might be a lot for a team with the Gators' offensive issues and a brutal schedule. Idaho, Kentucky, Vanderbilt and Easterns Michigan and Kentucky should be five, but the Gators would still need to pick up three wins from the following games: at Alabama, Tennessee and Florida State; vs. LSU, Missouri and South Carolina at home; and the Cocktail Party in Jacksonville.  If there might be an upset of a better team in there (the Gamecocks or LSU at home, most likely), the Gators' offensive issues mean it's not worth paying the -145 premium to bet on the Gators not also slipping up in Knoxville or home to Mizzou. Projection: Under.
Georgia, 9.5 wins (over -135, under +105)
So the Gators get to take on possibly the nation's preseason No. 1 and No. 2 teams, both on the road. Their archrivals from Athens ... do not. After their week 3 showdown at South Carolina, the Bulldogs' only remaining true road games are at Missouri, Arkansas and Kentucky. If Hutson Mason and Jeremy Pruitt's rebuilt secondary is anything other than a disaster (and here's a guess neither will be), those are all entirely winnable -- meaning the Dawgs could lose in Columbia, lose to either Clemson or Auburn in a pair of home games in which they'll likely be favored, and still go over this total if they see off Florida in the Cocktail Party. Projection: Over.
Kentucky, 3.5 wins (over -160, under +130)
This time last year, I picked the 'Cats to ease past this same total because surely they couldn't finish winless in the SEC for a second straight season. Oops! The good news is that surely, surely, they can't do it a third straight season with things so much brighter under center and a Franklin-less Vanderbilt team coming to Lexington. The problem: the 'Cats will be underdogs in all seven other SEC games (though a homecoming date vs. Mississippi St. could be intriguing), and both Ohio and ULM represent real chances to relive their upset losses to Western Kentucky in 2012 and 2013. (And of course, winning at Louisville seems highly unlikely). It's just too hard to see the 'Cats going 0-8 again or falling at home to Bobcat or Warhawk teams that seem a bit off their peak to side with the under ... but yes, consider me once bitten, twice shy about this one. Projection: Over.
Missouri, 8.5 wins (over +105, under -135) 
Assuming Maty Mauk lives up to the potential flashed in relief of James Franklin in 2013, it's easy to find six wins on the Tigers' schedule (South Dakota St., at Toledo, Indiana, Vanderbilt, Kentucky, Arkansas). Finding three more, though, for a team with Mizzou's major, major personnel losses is much tougher. The road slate of South Carolina, Florida, Texas A&M and Tennessee doesn't seem likely to yield more than one, and a sweep of UCF and Georgia at home doesn't seem too feasible, either. Gary Pinkel has proven his value time and again, but looking at the roster, it simply doesn't have the appearance of a 9-win SEC team. (Now, please ignore my Missouri prediction from last year, thanks.) Projection: Under.
South Carolina, 9.5 wins (over -120, under -110)
The Gamecocks have ripped off three straight 10-2 regular seasons, and will be favored to claim eight wins towards another without too much trouble (home to Texas A&M, East Carolina, Missouri, Furman, Tennessee, South Alabama; at Vanderbilt, Kentucky). That leaves them needing to go 2-2 over four much more difficult games: vs. Georgia, and at Florida, Auburn, and Clemson. With Mike Davis and maybe the SEC's best offensive line, though, the Gamecocks may simply have too much for either the Gators or Dabo Swinney's Tigers ... even before we talk about the Dawgs or the trip to the Plains. Not enough reason here to think Spurrier can't hit double digits again. Projection: Over.
Tennessee, 5.5 wins (over -115, under -115)
First of all, it can't feel good for Vol fans to see the total set at "will the Vols make a bowl game or not?" ... and "yes" not even the more expensive bet. But you can understand the skepticism: Butch Jones doesn't have a single returning starter on either the offensive or defensive line, and the road slate offers only one potential win (Vandy) vs. four likely defeats (Oklahoma, Georgia, Ole Miss, South Carolina). At home, Kentucky and two nonconference patsies should yield three more wins and Alabama a loss, meaning the Vols would need to go 2-1 vs. Utah St., Florida and Missouri. Jones' feisty bunch showed enough last year to think they just crawl over the line back to the postseason ... but this is another pick that doesn't have a ton of confidence behind it. Projection: Over
Vanderbilt, 6.5 wins (over +160, under -195)
Derek Mason appears to be a solid hire, the Commodores have four nonconference wins baked directly into the schedule, and drawing both Mississippi schools out of the West isn't the worst thing that could have happened. It's still very, very hard to imagine a team without James Franklin, Jordan Matthews, or another half-dozen Vandy stars from 2013 negotiating this schedule to seven wins. Even if the 'Dores win at Kentucky for a fifth win, to get to seven they would need to either 1. upset Florida or Ole Miss at home 2. sweep their final two games at Mississippi State and home to Tennessee. Frankly, just getting to six wins vs. that slate will be a major accomplishment for Mason. Projection: Under.
So, to review:
Best bets: Vanderbilt under 6.5 (-195); Georgia over 9.5 (-135); South Carolina over 9.5 (-120); Missouri under 8.5 (-135). Worth thinking about: Alabama over 10.5 (-130); Arkansas over 4.5 (-115); Texas A&M under 7.5 (-175). Only if you like danger: LSU over 8.5 (-240); Ole Miss over 7.5 (-150); Tennessee over 5.5 (-115); Florida under 7.5 (+115). Stay away: Kentucky over 3.5 (-160); Auburn over 9.5 (-105); Mississippi State under 7.5 (-120).
Florida's roster got a boost on Tuesday with the return of several key members of the prog...

Tom Hutton joins the ranks of former Aussie rules footballers joining the college football...

The freshman is already on Heisman lists after throwing the walk-off score in the national...
These seven teams should make the most noise down the homestretch towards signing day

Air Force was forced to cancel 11 athletic events because of the 69-hour government shutdo...

Olson has a lot of the tools offensive coordinators want in a quarterback