Breaking Down the Buzz: Auburn
Right this second, Auburn fans are currently more interested in the basketball program than the football program. That's a good thing for Gus Malzahn.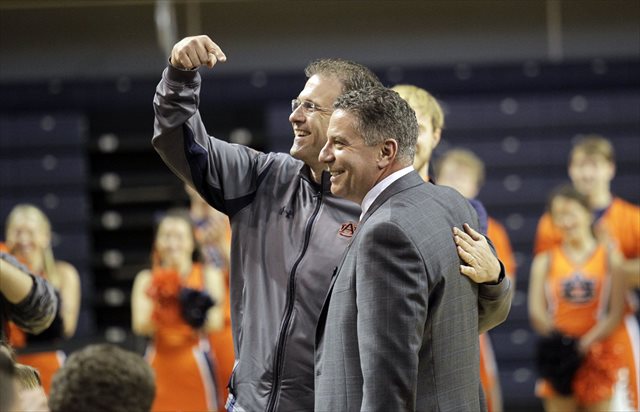 Each Monday, Wednesday and Friday-- and, on special occasions, the odd Thursday -- the Eye on College Football's Breaking Down the Buzz examines what current hot topic the fans of one BCS team are obsessing over, rationally or not. Today's team: the Auburn Tigers.
What they're talking about is ... Bruce Pearl! Bruce Pearl! And Jovon Robinson. And Bruce Pearl! It's not that Auburn fans aren't capable of getting excited about basketball. (If you remember this Tigers star of yesteryear, you might also remember that he played in front of no shortage of sellout crowds back in Cliff Ellis' salad days.) Like many of their SEC brethren, it's more that that Auburn's men's basketball programs have given them precious little reason to be excited compared to what's going on on the gridiron.
For proof, we give you the forum at 247Sports affiliate Auburn Undercover, which contains plenty of football discussion but also features a likely unprecedented number of active hoops-related threads, including one hoping Pearl becomes Auburn's Billy Donovan, one on Pearl's new assistant, one on a Bruce Pearl article from the Washington Post, one on potential transfer Kevin Ware, and of course one on this:
If you've missed it, yes, that's Pearl taking a turn in a campus dunk tank. (If you were one of the wags wondering how long it would take for Pearl to go out in the Auburn public without his shirt, the answer was: less than a week.)
It's safe to say that in nearly any other April, the football program's headlines -- either those coming out of the Tigers' ongoing spring practice, or that Auburn has begun re-recruiting five-star juco running back Jovon Robinson, who enrolled and actually practiced at Auburn in the fall of 2012 before a high school grade-change snafu left him ineligible -- would have dominated the Tiger fan discussion. And again, there's plenty of chatter on both those topics.
But Tigers fans are also legitimately excited about the possibilities brought by Pearl.
What they're saying is ... well, you can guess.  From the dunk tank thread:
•Gotta love a coach for getting out amongst the students. WDE

•From what all he has done since we have hired him, Coach Pearl has QUICKLY become my favorite basketball coach. And he hasn't even coached one game yet. We have something special guys!

•He has a very outgoing personality. Just exactly what Auburn basketball needs right when it was needed the most.
It's fair to call that a representative sample.
What we think is ... this is a good thing for Auburn football. Offseasons have rarely been happy times for the Tigers football program the past few years. There has been dramatic coaching turnover. There have been multiple, multiple allegations of NCAA-related malfeasance. There has been a notorious armed robbery. There has even been tragedy that goes far beyond the scope of football. 
Gus Malzahn no doubt would like to have a spring practice and offseason where his players make headlines for their dramatic progress, and where his coaches make headlines for their successes on the recruiting trail. But more than anything, he would likely prefer no headlines at all, for the calm that has seemingly enveloped the program since its BCS championship loss -- one in which signee Kalzaraz Bessent's arrest on subsequently dismissed charges might be the only "negative" story to have surfaced -- to remain in place all the way through fall camp.
Bruce Pearl's arrival means things might feel more quiet for Malzahn's Tigers in the media than usual. But here's a guess that that's just the way Malzahn likes it.
It looks like Jennings is slowly making his way back to the Vols after being dismissed last...

Offensive coordinator Brian Daboll's departure to the NFL has left a void at Alabama

Wilkins was considered a potential first-round pick in the NFL Draft
Brown will have two years of eligibility remaining

Chip Kelly has added some talent to his quarterback room from within the Pac-12

The 2017 season is in the books, and several big-name stars are jumping early to the NFL