CFB's 10-second rule disaster could yield competition committee
After the debacle that resulted in college football's tabled 10-second substitution rule, sentiment is growing for a competition committee that would mirror that of the NFL's group.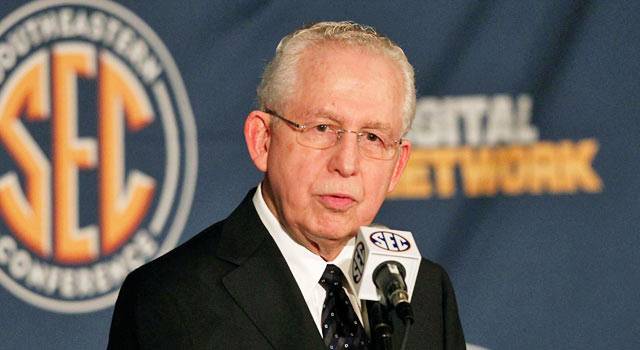 More college football: Dennis Dodd | Jeremy Fowler | Latest news
The rollout of the NCAA football rules committee's since-tabled 10-second rule proposal for offenses turned into a disaster.
Many coaches felt blindsided and expressed outrage. Safety was invoked for why up-tempo offenses needed to be delayed snapping the ball, yet no research was provided. Eyebrows were raised when slower-tempo coaches Nick Saban and Bret Bielema met with the committee.
Even the chairman of the committee, Air Force coach Troy Calhoun, changed messages as the outrage boiled. Calhoun initially said the committee "felt like it was time to act in the interests of protecting our student-athletes" and later said the rule shouldn't pass without safety data.
"This debate exposed a glaring error in the process, and hopefully we can fill that gap," SEC commissioner Mike Slive said.
Informal conversations have occurred around the country about creating a college football competition committee. The details are very much a work in progress -- the NCAA could have a role similar to its basketball competition committee -- but the concept is gaining momentum.
The general idea: Find smart people who care about college football to examine how the game is played, recommend any changes to the rules committee, and communicate their reasoning in an efficient way.
Is the relationship between offense and defense too out of balance? The competition committee could study this.
How does officiating impact the game, including inconsistencies between conferences? The competition committee could tackle this.
What safety rules and protocols are needed for player safety and the long-term viability of college football? The competition committee could handle this.
New Arizona State athletic director Ray Anderson believes the concept is a very good idea. He should know. As NFL head of football operations, Anderson administered the NFL's competition committee.
"I think a little more control so you could start getting some standards would be real good," Anderson said. "Right now you have all these conferences with different thoughts. But on stuff like concussion protocols, return to play, the safety rules, I think if you were a much more cohesive group you could probably do the college football committee."
Rogers Redding, college football's national officiating coordinator, said a competition committee could help because the rules committee mainly focuses only on playing rules.
"I think the rules committee could benefit from interactions with other bodies in a little more structured way," Redding said. "The College Football Playoff is going to add another dimension to all of this. A lot of ideas are floating around."
The nine-member NFL competition committee is chaired by Atlanta Falcons President Rich McKay and includes executives and coaches. The committee studies all aspects of the game and recommends rules and policy changes to NFL clubs. Members of the NFL competition committee tend to stay for longer periods than those on college committees.
Lengthy terms for competition committee members appeal to Terry McAulay, American Athletic Conference officiating coordinator and an NFL referee who worked last year's Super Bowl.
"You've had the Bill Polians and Jeff Fishers and Rich McKays who are almost keepers of the game as they went through their careers," McAulay said. "Owners are like PROP (the NCAA's Playing Rules Oversight Panel that must approve football rules committee proposals). It's their game, they have the final say so. But the competition committee is a year-round effort. You really need a body that's made up of people who stay there much longer."
Coaches need to understand rules aren't being made on the fly each year without tracking what's best for the game, McAulay said.
"There has to be that overlying body that doesn't have an agenda other than that," he said. "It was unfortunate the way several things rolled out in this cycle, but it may be the impetus to get to a better place."
Coaches want experts on committee
Several major college coaches expressed interest in a competition committee -- depending, of course, who's on the committee. One result of the backlash from the 10-second proposal was greater scrutiny on who comprises the NCAA football rules committee.
It's a 12-person collection of coaches, school administrators, and conference officials from various NCAA division levels. None of the members are from any of the five major conferences. Collectively, their schools and conferences ran fewer plays than the national average.
"Will it be active coaches who are in the middle of the fray, or will it be somebody who coached 20 years ago or an official that doesn't know the dynamics of the schemes?" Arizona coach Rich Rodriguez immediately asked after hearing the idea. "I think having an extra committee is good. But like anything else, it depends who's making up the committee."
Washington State coach Mike Leach said too many NCAA classifications are involved in making the same football rules for all divisions and not enough people with football expertise are involved.
"I think before we change rules, they need to be well thought out," Leach said. "Some of these are knee-jerk reactions. There's an outcry on some issue and let's have a rule. The answer to everything is not let's have a rule. I think the rules committee's job should be to change the rulebook to a pamphlet instead of continuing to expand it."
College football has been under attack lately due to safety concerns in the game that resulted in multiple lawsuits against the NCAA. For three straight years, the football rules committee has passed a rule change only to rescind it when too many coaches got upset, Pac-12 officiating coordinator Tony Corrente said.
"We had our meetings in January for two days and this (10-second) rule proposal wasn't even an afterthought," Corrente said. "We focused on much bigger and valuable issues and then this shows up and it's like where in the world did this come from? It was a shot out of the dark."
McAulay said college football's timeline in creating rules is "way too short." The agenda for the NCAA football rules committee arrives in late January, the committee meets in early February, and after about a 30-day comment period the rules are in place, McAulay said.
"I've always said, 'What's our hurry?'" he said. "The response is always, 'Coaches want to know the rules for spring practice.' That's not true at all. I've talked to coaches. Unless it's a major, major rule change, it really doesn't become part of their spring practice component. Our proposal was to extend the process until all of the conference spring meetings are done."
Baylor coach Art Briles praised the idea of a competition committee if active coaches are on it. He could envision more uniform officiating standards with such a committee.
"We have eight officials, some conferences don't," Briles said. "There's a difference in how one crew officiates a ballgame from one conference as opposed to another. I think having everybody have eight officials is certainly something that could be discussed."
A competition committee could address the long-debated issue of whether college football needs a controlling authority over officiating. Redding oversees College Football Officiating, LLC, which has created more cooperation than ever among conferences. But conferences have a vested interest in what happens in their games and like maintaining control.
"The concerns are we don't want to get into a basketball model and nobody belongs to anybody," McAulay said of a national governing body for football officials. "I think with the playoff system, there may be more of a need because now a game that happens in Corvallis, Oregon, could have more of a major impact in Gainesville, Florida than before. Fans are naturally going to blame officiating. Is this an incentive to create more regionalization so there isn't that perception nationally of favoritism or bias?"
Arizona State coach Todd Graham went a step further than any coach and said he would love to be on a competition committee.
"One of the things that kind of dumbfounds me is how quickly (playing) rules can be submitted and passed," Graham said. "If you wanted to change an NCAA rule, it would take an act of Congress. We should be very, very profound in how we change the (playing) rules."
Zaycoven Henderson was charged with aggravated assault with a deadly weapon

Patterson is a former No. 1 recruit in the country

Baker Mayfield and two Sooner teammates made the first team
SportsLine simulated every bowl game 10,000 times for pick'em leagues and confidence pools

The SEC regained its throne as the top conference in the country this season

Rhoads led Iowa State to three bowl games in seven years as head coach