Green-Beckham transfer to Oklahoma makes one wonder -- about Oklahoma
Dorial Green-Beckham, the ex-No. 1 recruit with a history of legal troubles, lands at Oklahoma -- where he may never play. Is Bob Stoops making a big mistake?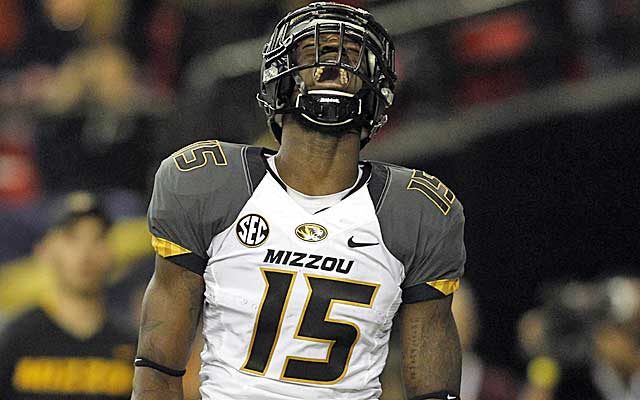 More: Green-Beckham enrolling at OU | DGB police report | Latest news
The Dorial Green-Beckham situation demands a reaction.
Outrage? Yup. Dumbfounded disbelief? That too.
Might as well forget reasoned discourse.
DGB's transfer to Oklahoma last week is one of those divisive issues made for this dead spot in the offseason. It's July. Media days begin next week. Camps open in less than a month. The airwaves are starved for topics. Morality is involved. Right. Wrong. NCAA transfer rules.
You must have an opinion, and it's probably not a favorable one of Missouri's disgraced receiver going to the Sooners. In the moment the default setting is Bob Stoops and the Oklahoma administration getting ripped for accepting Mizzou's disgraced star.
They're the ones who signed off on DGB three months after he appeared in a disturbing police report. They're also the ones who went to great lengths to vet the receiver. They found a kid who is in good academic standing. They found an athlete recommended by Missouri coaches. Good kid, they were told, perhaps not mature enough for all the hype.
In his two years at Missouri, Green-Beckham was arrested twice for marijuana-related issues and was the subject of a burglary investigation. In that last instance, that police report stated he allegedly shoved a woman down a flight of stairs.
Missouri's Gary Pinkel threw DGB off the team April 12.
OU's decision to take him can't be fully evaluated until DGB makes it out of Norman without further disgrace.
A risk? You bet. No matter how you cut this, DGB needs OU more than OU needs DGB. The Sooners would be a Big 12 title favorite with or without the receiver. Sure, they're a bit thin at wideout. That makes this nothing more than a curious business arrangement: DGB needs a bridge to the NFL Draft. Oklahoma needs a quality pass-catcher.
Two years ago the kid was perhaps the nation's No. 1 recruit, no doubt the most-hyped signee in Missouri history. Seven months ago he was arguably the best player on the field at the SEC championship game.
Take all of it together and DGB got an upgrade, a do over -- on the field, in his life. He's joining a top-five program, perhaps right away if OU and Green-Beckham are granted a transfer waiver.
That's a heck of a bounce back.
Back to that business arrangement. The more logical play on DGB's part would have been to drop down to FCS, play a season and head for the NFL. At one point, Eastern Illinois was reported as a possible landing spot.
As things stand now, OU has to know DGB would be eligible for next year's draft -- even if he never sets foot on Owen Field. That wouldn't help either party. If he heads for the 2015 draft, DGB wouldn't have played for 16 months.
There will be those disturbed with the police report's allegations of Green-Beckham assaulting a woman. But no charges were filed in any of the incidents. Police described Green-Beckham's girlfriend in April as being "extremely uncooperative" with police.
"I didn't see or hear anything," Samantha Bass is quoted as saying.
Police did report a hole in drywall where the Green-Beckham had shoved the door handle when entering the apartment, reportedly seeking the girlfriend at 2:30 a.m. Police did report that the woman who Green-Beckham allegedly shoved had "slight bruising and swelling of her right wrist and limited movement of her fingers on her right hand."
She did not require medical attention. Again, no charges were filed.
"... Football really is all he [Green-Beckham] has going for him and pressing charges would ruin it for him completely," the report said quoting a Bass text.
DGB might deserve a second chance, but getting one at OU seems strange. Bob Stoops has an admirable disciplinary record. This is the same coach who booted his starting quarterback off the team a month before the 2006 season.
Ryan Broyles was suspended for a year after being charged with stealing gas from a pump. He became one of Oklahoma's all-time great receivers. Star defensive tackle Dusty Dvoracek was first kicked off the team then reinstated in 2005. Former five-star recruit Trey Metoyer was kicked off the team in October.
But those were all Sooners. Green-Beckham is an import, an outsider. Stoops has potentially invited trouble. However, there was an existing relationship from recruiting. At the time, Missouri beat out Arkansas and Oklahoma for DGB's services. The kid has to have a certain comfort level in Norman. Assistant Jay Norvell happily tweeted a picture with the program's new prize.
OU's due diligence included scrutiny from AD Joe Castiglione, OU president David Boren and school attorneys. During that process, the school did not attempt to contact the woman who was allegedly shoved. Should it have done so?
There is high confidence, according to a source, that no charges will be filed in the April incident. Read the entire 19-page police report. Police and a domestic violence investigator did not get much cooperation from key witnesses.
Meanwhile, at his new school, Green-Beckham will be on a zero-tolerance policy. Counseling will be made available.
It is a transfer that still demands a reaction. It isn't often a No. 1 recruit becomes available on the open market. No doubt, several schools of OU's caliber had reservations about DGB's character.
Maybe it boils down to the obvious: OU wouldn't be going to these lengths for a walk-on. Dorial Green-Beckham is really good and was really available.
When it comes to chasing a Big 12 title -- and more -- perhaps that's all that matters.
Rhoads led Iowa State to three bowl games in seven years as head coach

The Georgia middle linebacker is one of the most valuable players in college football

Explaining my 2017 Heisman Trophy ballot and Jackson's tremendous season
Mayfield is the sixth Oklahoma player to win the Heisman since its inception

The Heisman Trophy will be presented to the best college football player this season

Army topped Navy for the second straight year in an absolute thriller in Philadelphia