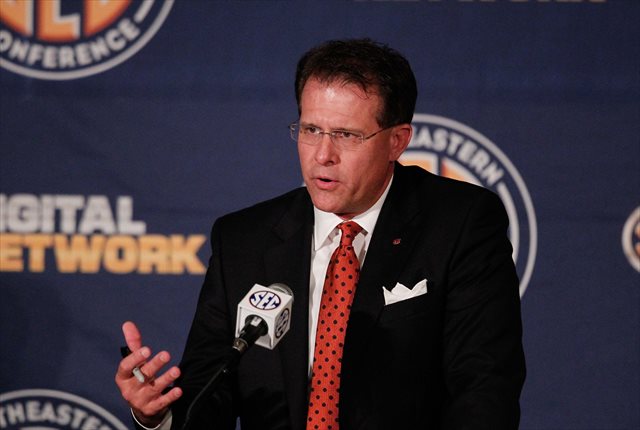 The division between SEC coaches over whether the no-huddle offense is fair play or a safety hazard doesn't look like it's going away anytime soon.
Auburn's Gus Malzahn took his opportunity at the SEC media days podium on Wednesday to blast the contention from coaches like Nick Saban and Bret Bielema that up-tempo offenses like his could lead to more player injuries, saying he thought the suggestion was "a joke."
But Arkansas's Bielema took his own jab, saying directly in response to Malzahn's contention that "I didn't just throw that out there."
The full text of Malzahn's comments, via ASAP Sports -- comments in which he not only dismisses the idea of no-huddle restrictions but takes aim at defenses that might cheat to slow no-huddle attacks down:
Q. You developed your hurry up system with high school players. There's coaches in this league that have criticized hurry up offenses as being unsafe, having more injuries. Have you talked to those coaches and disputed that with them at all?

COACH MALZAHN: When I first heard that, to be honest with you, I thought it was a joke. As far as health or safety issues, that's like saying the defense shouldn't blitz after a first down because they're a little fatigued and there's liable to be a big collision in the backfield.

If you're going to look at rule changes, officials, we need to look at the guys on defense that are faking injuries to slow down these pace teams. That's where college football's going. You see more and more teams using pace. I think you'll see it more and more at the next level also.
Malzahn's comments echo those made by Ole Miss' Hugh Freeze on Tuesday, when he also responded to Saban and Bielema by saying there was no evidence up-tempo offenses were unsafe.
But Bielema's comments suggested that, public evidence or not, his claims weren't unfounded. From CBSSports.com's Jeremy Fowler:
Bielema: "Obviously Gus is an educated man and he's got his own faith and belief, but what I said I didn't just throw that out there."

— Jeremy Fowler (@JFowlerCBS) July 17, 2013
Bielema: "They (Auburn) may not be concerned about the defensive players, but I'm concerned about all the players on the field."

— Jeremy Fowler (@JFowlerCBS) July 17, 2013
When told about Malzahn's "joke" remark at the media days podium, Bielema flatly stated, "I'm not a comedian" and vehemently defended his record as an advocate for his players' safety.
"The safety of my players is paramount," he said.
With Saban still to come on Thursday, this likely isn't the last that we've heard of this topic this week. And, given that Malzahn also promised to keep the pedal to the proverbial metal come the 2013 season -- "our goal is to play faster than anybody in college football," he said -- it's far, far from the last that we've heard of it this year.