K-State president knows NCAA must change with these crazy times
Kansas State president Kirk Schulz has some clout, and he figures now is the time to use it. He talks about his committee's role in shaping the cloudy future of the NCAA.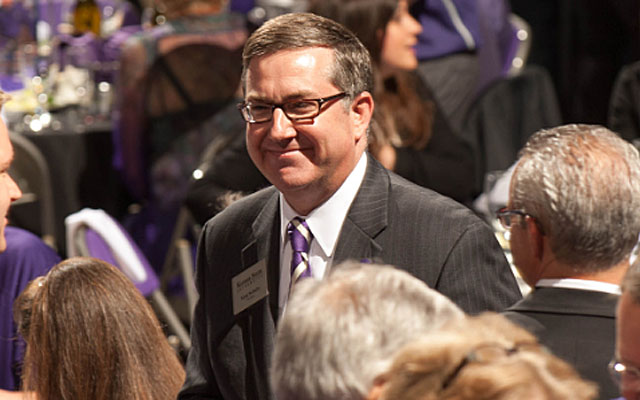 Dodd: After NLRB decision, player welfare can no longer be ignored
Kirk Schulz is a powerful man. Don't think of the Kansas State president as despotic, just wise.  He might as well be the new face of the NCAA.
Hey, any CEO who advocates open meetings has an immediate endorsement from this space.
Looking a youthful 50, Schulz embraces social media. He oversees perhaps the most efficient athletic department in the country. Certainly it is one of the most profitable. If Hall of Famer-in-waiting Bill Snyder has a boss, Schulz is it.
Schulz is also a member of an NCAA steering committee that is leading the association into its next iteration -- or else.
Change is a-comin' -- it's just a matter of how much.
"We'll see if we can do that," Schulz told CBSSports.com recently. "Then after two years, [when] we moved the chairs around and we've got the same problems, then start looking at more radical solutions.
"I feel like the Sword of Damocles is kind of hanging over us. We cannot spend three years arguing perpetually about this."
That steering committee on Tuesday moved those chairs around a bit. It proposed that faculty-athletic reps, the chair of the Student-Athlete Advisory Committee and an AD sit on the board. Previously, the board was made up of presidents only.
The steering is responsible for coming up with a new way the NCAA does business. The Big Five BCS power conferences (ACC, SEC, Big 12, Pac-12, Big Ten) want more control.
Those conferences got more voting power in the latest proposal, but not a majority.
The NCAA's governance future basically has put everything else on hold. Is the new voting power enough for the Big Five vote in higher scholarship limits, tougher FBS qualification standards?
Could they legislate the bottom of the Football Bowl Subdivision out of existence? Will they break away to form their own organization?
They say no. For now. But there's no doubt the NCAA is at a crossroads. Those five conferences (accounting for 65 schools) are essentially about to do to NCAA governance what they've done to college football's postseason -- take it over.
We are living in the middle of an athletic, legislative and collegiate revolution. Football is going to change. College sports as a whole are going to change. Schulz is saying they have to. The current model will not abide.
In the future it seems that players will be paid in some form. Those players' rights are almost certain to increase.
If not there are several major lawsuits out there that will do what the NCAA can't if the association doesn't move fast enough.
Maybe those five conferences someday will break away from the NCAA. Schulz is not saying that, but if the seven-member steering committee -- a subcommittee of the NCAA board -- doesn't so something quickly, that will happen sooner than later.  They oversaw -- basically listened -- during a two-day governance dialogue in January at the NCAA Convention.
Now is the time for action by the seven-member steering committee (See below). In this interview with CBSSports.com, Schulz discusses the issues of the day during these seminal moments in history. A new NCAA model is expected by August.
Q: What do you think of the concept of players having a spot at the table to decide some of these changes? That Student-Athlete Advisory Committee wants that seat, if not a vote.
Schulz: "I've got some mixed emotions. We ask so much of our student-athletes now. They are full-time students and then they have a second full-time job, which is their intercollegiate athletics stuff. My concern is not students don't offer great perspectives. I'm just trying to figure out what six hours per day that they're supposed to sleep? Are we going to have students able to show up and work with NCAA?
"Student voice is important but I want to make sure we manage it effectively."
Q: OK, but should they have a vote?
Schulz: "I'm happy to have an athletic director have a vote, I've served on some boards where I'm ex-officio where I'm sort of a member but not really ... If we're making a lot of decisions that are 8-7 we've got a problem. It may be 11-4, that kind of a deal. In that case they ought to have a vote."
Q: Your take on the narrative that has developed: College athletes are nothing more than indentured employees. They are free labor working for the university. (Note: a regional National Labor Relations ruled Wednesday that the Northwestern players could unionize.
Schulz: "Universities and the NCAA have done a poor job of putting out there and calculating the value of a scholarship.
"At Kansas State right now the average debt load of a graduating student is $25,000, say. When somebody says, 'I'm kind of getting screwed,' we have a whole lot of families who would love to have a son or daughter graduate debt free.
"Take a four-year scholarship with tutoring, meals, it's $175,000. And somebody says, 'I'm getting ripped off, I'm not getting paid.' I tend to say, let's look at what we're actually putting on the table."
Q: There are a lot of these issues on a parallel track. There is a general feeling that the athlete has to be compensated (cost of attendance, stipend, etc.), but there are major lawsuits out there that are seeking basically the same thing. How does the board, the NCAA deal with that?
Schulz: "I've very worried about that. We're like a slow-moving ship. We're moving but it's not going very fast and, boy, the off-court stuff is moving fairly quickly.
"Let's take the O'Bannon case. Let's just pretend that magically goes away. Thinking that that's the last one of those is really naïve. There will be another few out there in the lineup."
Q: After this governance thing is completed, you have some other thoughts about diving into other areas.
Schulz: "The whole area of compliance and penalties ... There's just a great deal of dissatisfaction with how that is done.
"If we can do the governance thing this summer, I would like to propose to Mark [Emmert, NCAA president], several presidents and ADs go off and kind of hear and listen and come back with sort of a much different model.
A lot of what we're dealing with now is being blamed on the presidential summit in August 2011. You were there.
Q: What went wrong?
Schulz: "I think Mark Emmert is taking a lot of heat for a lot of things. He was brought in and the board of directors said, 'We need you to make all these changes.'
"He pulled al the presidents in there, organized everybody and pushed through a bunch of changes. Then everybody comes back and says, 'I can't believe the presidents are not listening to us.'
"In some ways that 2011 summit, we did it to ourselves. It's been a little bit unfair in that if a board is going to say that, you can't just sort of throw the president to the wolves. The board has to be more active and engaged.
"We can re-shuffle the chairs on a new governance structure, but the presidents that are serving in key roles have to be better prepared, better informed and take it really, really seriously."
Other members of that steering committee: Gene Block, chancellor, UCLA; Rita Cheng, chancellor, SIU-Carbondale; Michael Drake, chancellor, Cal-Irvine; David Leebron, president, Rice; Harris Pastides, president, South Carolina; chair, Nathan Hatch, president, Wake Forest.
Many NFL-eligible juniors ignore advice provided by the league and risk going undrafted each...

Snyder died in Manhattan, Kansas, on Wednesday

Locksley joined Alabama's staff in 2016
Saban reportedly wants to hire Freeze, but there may be things keeping that from happening

Florida State-Miami will be on Oct. 6, and the Seminoles will play Clemson on Oct. 27

Weis Jr. was an offensive assistant for the Atlanta Falcons in 2017