Penn State athletic director Dave Joyner has retired
Penn State athletic director Dave Joyner will retire, effective June 1, the school has announced.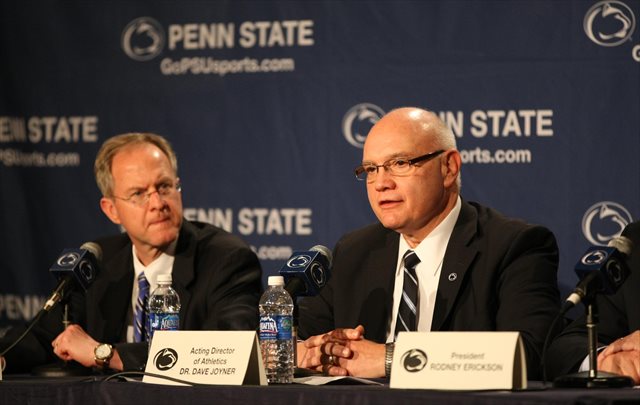 More college football: Jon Solomon | Dennis Dodd | Jeremy Fowler | Latest news
Penn State athletic director Dave Joyner has decided to retire, effective August 1, the school announced Tuesday.
"It has been an honor and privilege to serve Penn State," Joyner said in a statement. "The spirit of Penn State is strong, and the department's commitment to integrity, as well as academic and athletic excellence is stronger than ever."
Reporting what it termed a "resignation" earlier Tuesday, the Patriot-News cited "several university sources" claiming that Penn State president Eric Barron does not yet have a replacement for Joyner selected, but that "it's been decided that Joyner will not stay on."
Joyner was named acting Nittany Lion athletic director in Nov. 2011, replacing Tim Curley in the immediate wake of the Jerry Sandusky scandal. He had previously been a member of the Penn State board of trustees, and voted to remove Joe Paterno as coach earlier that month.
"Dave Joyner has provided steady leadership to Athletics for nearly three years," Barron said in a statement. "I want to thank him for his hard work in upholding Penn State's legacy of academic and athletic success."
Barron announced a committee will be formed to perform the usual "national search" for Joyner's replacement. Northwestern AD Jim Phillips has been floated as one possible successor.
Joyner oversaw the hiring of both Paterno replacement Bill O'Brien and new Nittany Lion coach James Franklin, hired after O'Brien left for the Houston Texans last December.
McElwain will coach receivers and help coordinate the offense for the Wolverines

Nathaniel Watson Jr. was involved in a car accident that injured a passenger in early Febr...

The honorable Tom Fornelli presides over the ASU vs. UM case
Arkansas State is seeking $650,000 for a canceled home game last September due to Hurricane...

Friday Five is tackling the big questions this week

Two unnamed players are being investigated for an incident at an off-campus apartment