Tweetbag: Which coaches may be in trouble entering 2015?
Every week the Eye On College Football's Tom Fornelli answers questions he receives from readers on Twitter.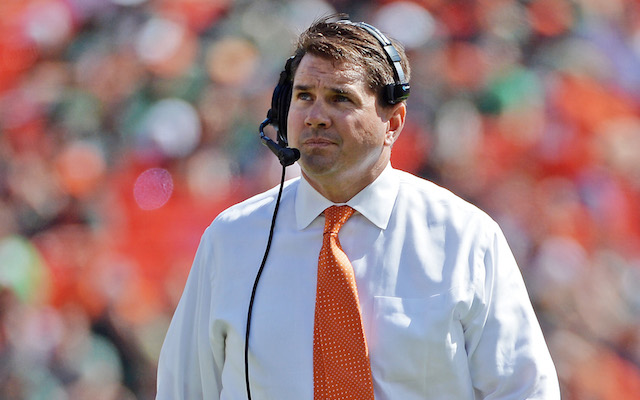 It's Wednesday, and that means it's time for the weekly Tweetbag. All week readers have been submitting questions to me on Twitter looking for answers, and now I am contractually obligated to answer them to the best of my abilities.
People will tell you that there is no such thing as a stupid question, but those people have never actively asked people to submit questions on the internet before. If they had, trust me, they would be well aware of the fact that there are plenty of stupid questions. I'm not complaining, though, because I know that I'm just as capable of providing stupid answers to smart questions as I am to dumb ones.
And while there aren't any stupid questions in this week's Tweetbag -- in fact, there are some pretty good ones -- I promise to do my best not to provide stupid answers. 
@TomFornelli @CBSSportsCFB who are some notable coaches on the hot seat entering 2015? #TweetTom

— Eric Jay (@RealEricJay) June 9, 2015
I actually did a Friday Five on this very topic back in late January. Why didn't you read that, Eric? You should read everything I write here on CBSSports.com. In fact, you should read everything on CBSSports.com, whether it was written by me or anybody else on this wonderful site. 
We will fill you with knowledge!
Anyway, as for the coaches on the hot seat, not much has changed since that Friday Five. I believe Miami's Al Golden is on the hottest seat of all, but the seats belonging to Virginia's Mike London, North Carolina's Larry Fedora, USF's Willie Taggart and Illinois' Tim Beckman aren't much cooler.
There's also Paul Rhoads at Iowa State, Kevin Wilson at Indiana, Darrell Hazell at Purdue, Mike Leach at Washington State, Scott Schafer at Syracuse and possibly even Iowa's Kirk Ferentz if Iowa is willing to bite that buyout bullet.
Every single one of those coaches could really use a successful season in 2015. Not necessarily "win the conference" success, but at least a visible step forward for their programs. Simply going to a bowl game probably isn't going to cut it for most of them, because in case you didn't see the bowl schedule for 2015 that was released on Tuesday, there will be 41 bowl games this season. That means 82 of the 127 FBS teams eligible for a bowl game this season (sorry, Charlotte), or 64.6 percent of FBS teams will go bowling. I'm not saying there are too many bowl games -- I will take as many college football games as they want to give me -- but I am saying that going to a bowl isn't much to brag about these days.
It's literally harder statistically to not qualify for a bowl, though I'm not sure any athletic directors would consider it an accomplishment while you're arguing for your job.
Back to the coaches I listed, I would say that it's a solid bet at least half of them are no longer employed by their current schools at this time next year, as well as some surprises elsewhere. That's the business they've chosen.
@TomFornelli #tweetTom what would be the best college football mascot to run FIFA?

— Karl (@jokastrength) June 8, 2015
I love this question.
If you aren't familiar with FIFA, it's the governing body of international soccer, and it's been in the news quite a bit lately because it's corrupt as all hell. And I don't mean your typical sports corruption, or even political. I'm talking Bond villain levels here.
As for Karl's question, I suppose it depends on what kind of leader you're looking for. Do we want somebody who could be just as corrupt, somebody who would clean up the entire operation, or somebody who could just storm these choppy waters? I spent a lot of time pondering all of the possibilities because I wanted to give a serious question the proper consideration.
The more I thought, the more I kept coming back to the same place. Puddles. Maybe it's just because I love Puddles, but I can't help but think that duck would do a fine job overseeing the operation, and he just has that trustworthy face.
I also gave serious consideration to both Uga and Reveille too. The main reason being that if FIFA is going to be corrupt, what better public face to have than that of an adorable dog? Who will ask those hard-hitting questions when all they want to do is rub a belly of the FIFA president and give them a treat?
@TomFornelli on paper, what CFB game are you looking forward to this season most? #tweettom

— Michael Dendor (@MichaelDendor) June 8, 2015
This is a difficult question for me to answer because it's June, and at this point I'm looking forward to any college football game. Give me Vanderbilt and Western Kentucky right now and I will devour it like a man who hasn't eaten in weeks.
To actually answer your question, though, it's all the usual suspects. I want to see Ohio State vs. Michigan, Alabama and Auburn, TCU going against Baylor, and Michigan State looking for revenge against Oregon. But, again, I am looking forward to any game at this point. Whether it has possible national title implications or it's meaningless.
I just want football. The sooner the better.
@TomFornelli Is it possible to moonwalk on turf in cleats? #TweetTom

— M.A.Haddox (@LoqueBSU) June 8, 2015
How long are the cleats? That's an important factor in answering this question. I think if they're short enough it's entirely possible, because have you seen the turf they play on these days? There's always those little rubber pellets flying all over the place, which leads me to believe there's a lot more give to it than there was back in the old days of the early 21st century. 
So, yes, I think it's possible, but I don't think you'll look very smooth while doing it.
@TomFornelli @CBSSportsCFB Meatball NIU question: Do you expect NIU to join a Power 5 conference in the next 5 years? #TweetTom

— Guy (@Guy__101) June 9, 2015
I'm glad you realize you're a meatball asking this question. I'm not entirely sure when it started, but for at least the last year I've heard people who believe the Big 12 is honestly interested in adding Northern Illinois. I feel confident that this is a rumor that started amongst Huskies fans who don't quite understand how conference realignment and expansion works.
Northern Illinois has been a powerhouse in the MAC for a while now, but that doesn't mean the Big 12 is going to want it. Now, you could counter with the argument that by adding Northern Illinois, the Big 12 would be adding the enticing Chicago market for a television deal. On the surface, that's true, it's just I don't think it makes as much of an impact as you'd believe.
First of all, the Big 12 doesn't have its own television network. Until it does, adding the Chicago market doesn't really mean a whole lot, because then the Big 12 would be negotiating with networks like CBS, ESPN, Fox and NBC for a television deal. Well, guess what? Those are all major networks that are already in Chicago. They're national, and they'll show games all over the country no matter what markets your teams are in. And Northern Illinois won't bring in enough extra viewers to really make much of a difference in the amount of money the Big 12 could get.
There's a reason most of NIU's national broadcasts are on Tuesday and Wednesday nights.
Also, if you look up and down the list of the 65 teams in Power Five conferences right now, you'll notice something. There's only one directional school in the bunch (Northwestern doesn't count!), and that school just happens to be the University of Southern California. And NIU isn't USC.
I just don't see that changing at any time soon. In fact, if there's any "directional" school that could one day join a Power Five conference, I'd say Central Florida is the most likely candidate, and central isn't really a direction as much as it's a location. So it's a "locational" school.
I also think that if a Power Five conference is going to expand, it'll look to the AAC or Mountain West before it dips into the MAC.
So, no, not only do I not expect Northern Illinois to be in a Power Five conference within the next five years, I'm comfortable saying I know it won't happen.
@TomFornelli AAC in a weird place of non-power five with teams that COULD be in a power five. What will they be this year? #TweetTom

— Chris Barnewall (@ChrisBarnewall) June 10, 2015
I don't know if the AAC is going to be stronger from top-to-bottom than the Mountain West this year, but it's got a chance to be a very interesting conference in the coming years. Just look at the coaches that are coming into the conference this season.
You have Tom Herman at Houston, Chad Morris at SMU and Philip Montgomery at Tulsa. All three of these coaches were offensive coordinators that ran some very exciting offenses at their previous jobs, and they'll be looking to bring that brand of entertainment to their new schools. So when you add those offenses to what's already been going on at Memphis, East Carolina, Cincinnati and UCF in recent years, and you have the makings of a very entertaining conference.
I don't know if The American will ever be as good as a Power Five, but it might be more fun to watch. Like a new WAC.
Over/under on wins for Georgia State this year? #TweetTom

— Jason Hanes (@jhaneshisway) June 9, 2015
Congratulations on being the first person to ever ask me a question about Georgia State, Jason, whether for this mailbag or just in general.
I'm sorry to tell you that I don't have a lot of faith in the Panthers this year, and fear they will once again be competing for a Bottom 25 title. If I were a Las Vegas casino I would be setting the over/under at 1.5 wins, with the most realistic possibilites being games against New Mexico State, Charlotte, Liberty and Troy. 
@TomFornelli @CBSSportsCFB Will the Pac 12 continue the push for the nations best conference? #TweetTom

— Will Reeseman (@WillReeseman) June 9, 2015
I actually expect the Pac-12 to take a slight step backward in 2015. Don't get me wrong, it'll still be a strong conference, and it may prove to be the second-best conference in the country, but it just loses a lot of its star power from last season. For instance, Oregon is still going to be really good, but will it be the kind of team that can reach the national title game without Marcus Mariota?
The Pac-12 South should still be very tough and competitive, though, and like I said, it's going to be a strong conference. I just don't know if it's going to be a realistic competitor for the SEC as far as "best" conference this year. A part of me thinks the Big 12 may prove to be the better conference, which is a nice seque into the next question.
@TomFornelli @CBSSportsCFB So, how many games does Texas win the Big 12 by? #tweettom

— Zone Left (@zone_left) June 9, 2015
You poor thing.
Ok, listen, I really don't think Texas has a shot at winning the Big 12 this year, but that doesn't mean I don't think the Longhorns are going to be better than they were in 2014. In fact, I think most people are overlooking the Big 12 a bit this season.
When it comes to the best teams in the conference it feels like the only two teams anybody wants to talk about are TCU and Baylor, and for good reason. But you know what? I'm not exactly willing to just write off Oklahoma, and I think there are a couple of teams behind the Sooners like Oklahoma State, Kansas State, West Virginia and, yes, Texas, that might catch some people by surprise.
I'm actually going into the season thinking the Big 12 might be the most exciting conference title race in the country. So while I don't think Texas is going to win the Big 12, I do think the Longhorns have a better shot at it than people want to give them credit for.
@TomFornelli Ohio State or the field in the Big Ten? #TweetTom

— Frank N. Beans Esq. (@FrankieBeans35) June 10, 2015
Ohio State.
I never like to assume anything when it comes to predicting what's going to happen in the world of college football, especially when something seems so obvious like Ohio State being the best team in the Big Ten. Time and time again it's been proven that we really don't know anything, particularly in June.
But I just don't see much of a realistic threat to Ohio State in the Big Ten besides Michigan State, and Michigan State lost a lot more important parts from last year's team than Ohio State did.
Other than the Spartans, realistically, who is taking the Big Ten title away from the Buckeyes? Sure, somebody might jump up and nab a win against them, but nobody is finishing with a better overall record.
I mean, not unless Ohio State has to resort to its fourth-string quarterback, anyway.
If you'd like to submit a question for next week's Tweetbag just send a tweet with the #TweetTom hashtag, and if it's good enough, I'll answer it. Or at least try to.
College football bowl games were all announced on Sunday, and you can check out the entire...

SportsLine simulated every bowl game 10,000 times for pick'em leagues and confidence pools

Everything you need to know to watch and pick the Las Vegas Bowl on Saturday
Everything you need to know to watch and pick the Camellia Bowl on Dec. 16

Everything you need to know to watch and pick the New Mexico Bowl on Dec. 16

Everything you need to know to watch and pick the Cure Bowl on Saturday