UNC whistleblower Willingham: Academic sins not isolated
How can the NCAA tout academics when some of its athletes can't read? Mary Willingham has attracted enemies for asking, but the ex-UNC academic advisor isn't giving up her fight.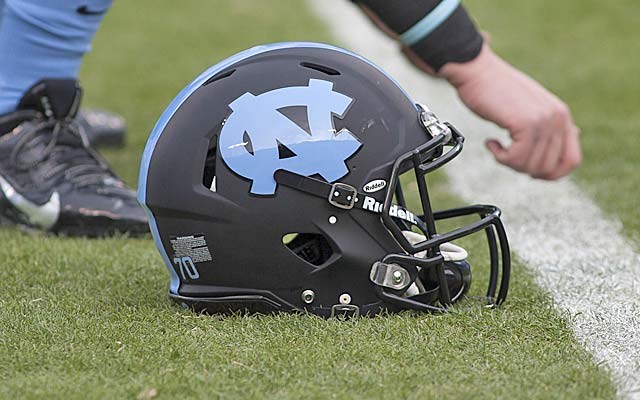 That even one illiterate player was ever admitted to a university anywhere in big-time college athletics is a scandal. Mary Willingham says she has helped teach several at North Carolina.
"We may as well go right up the street to Glenwood Elementary," Willingham, a former academic advisor at the school, told CNN last month, "and let all the fourth graders in here."
Willingham, a 52-year-old mother of three, is known first as a whistleblower these days. The current clinical instructor in North Carolina's school of education said her research showed that between 8-10 percent of athletes screened between 2005-2012 were "functionally illiterate."
The school attacked her research. There were others who wanted to attack her in a different way.
"The first 12 hours after the story, it was brutal," Willingham told CBSSports.com recently. "Every email, my phone, a couple of my colleagues got messages."
This is the way it usually goes for whistleblowers. There's the message, then the inevitable push back against the messenger. We've become almost numb to academic scandal, but when the word "illiterate" creeps into the conversation, hasn't something changed?
"It was getting hard for me, before I left athletics, to look these guys in the face and not feel horrible about the system and I was a part of it," said Willingham, who worked as a learning specialist with athletes from 2003-2010.
"Now, I don't care what people say. I'm going to keep pushing this."
And so you're going to find out more about North Carolina players who purportedly read at a fourth-grade level. You're going to keep reading about "paper classes" where attendance wasn't required. Just a hunch here, but such a scandal probably doesn't end at North Carolina.
It seems we haven't come too far from the days of Kevin Ross and Dexter Manley. That's sad for everyone in an age when the NCAA is trying to remake itself, its enforcement department is under fire and lawyers are ready to pounce from every angle.
It's more sad for the moment because apparently the NCAA has chosen to take a pass on investigating North Carolina on these issues.
"No, they [NCAA] have never contacted me," Willingham said.
It doesn't mean the NCAA won't at some point. It does mean that North Carolina's academic reputation should be hanging in the balance. If the NCAA takes this case and finds the alleged improprieties, we should be talking USC-like penalties.
For starters.
Willingham's story is not new, just overlooked nationally at the moment. Her plight resembles that of Linda Bensel-Meyers at Tennessee more than a decade ago. Bensel-Meyers suffered outrageous criticism when she bravely outed academic impropriety at the school.
Academic fraud isn't a sexy issue. It's not Nevin Shapiro and bottle service at Miami nightclubs or the horrific findings at Penn State. But it is significant.
Academic credibility is a cornerstone of NCAA credibility. The issue is going to have to be solved before a new NCAA is born through a remodeled governance structure. In the future they're talking about paying players, more interaction with agents. How do the words "functionally illiterate" fit in there?
They don't. We either believe it's worth it to pursue a legitimate degree, or we don't. That's what Mary Willingham stands for.
In November 2012, she first spoke out. Numerous North Carolina football and basketball players were not prepared to do college work, she said. Some told her they had never written a paragraph or read a book. She began to see a pattern. At about the sixth-grade level, dominant athletes began to be passed through because they were dominant athletes.
"I had students tell me that, 'My teacher told me I wasn't going to learn anyway so what's the point?' " Willingham said.
"It would make me cry."
She is particularly disturbed by "special admits," basketball and football players she said were brought in but couldn't handle college work.
But special admits are one thing, bringing in the functionally illiterate athlete-students is another. Willingham tells the story of a player who came to her wanting to learn so he could read about himself online.
"That's when I wrote my thesis paper," she said.
"Academics & Athletics -- A Clash of Cultures" took on the special admit issue in 2009. While graduation rates and admission standards have risen, she wrote, "there are no NCAA limits on special admits ...
"... ultimately, admitting under-prepared students constitutes deceit and is immoral."
For those who question Willingham's motivation, she's not doing this to make her life easier. She's had her resolve and credibility questioned. She has filed an 80-page employment grievance against the university.
Among her three children is an officer in the Navy. She doesn't have to put a comfortable academic and family life on the line, but she has. Willingham recently was added as an expert witness in the Ed O'Bannon lawsuit against the NCAA.
Lead O'Bannon attorney Michael Hausfeld told CBSSports.com that if the NCAA's assertion is that the current system promotes "the integration of academics and athletics, Mary is a perfect example that that representation is false and untrue."
"To me this is Pandora's Box," Willingham said. "Once you open it and admit these kids aren't getting a real education, that's [what's] happening all over the country."
When Willingham began realizing she was working with academically unequipped athletes, she said she immediately brought old Wilson Reading System books from home. The Wilson website describes the system as helping those in Grades 2 through 12 who may require intense instruction "due to a language-based learning disability."
"You can go pretty quickly if they [athletes] know three-letter words," Willingham said.
Remember, we are talking about one of the most august academic institutions in the country. One whose reputation as an august institution is under scrutiny.
The mistaken release of former star Julius Peppers' transcript wasn't exactly flattering. Another former player said he was steered toward no-show classes. Former football player Michael McAdoo called the athletic environment for athletes around North Carolina "a sham."
Still, the attacks on Willingham didn't stop with anonymous death threats. There was criticism from a provost as well as Roy Williams.
Maybe the first course of action for North Carolina should have been a sit-down with Willingham and those like her. You'd think an influential state politician would have stepped in. Where is the U.S. Department of Education in all this?
The Minnesota academic scandal under Clem Haskins 15 years ago is considered by some to be the worst in history.
"It pales in comparison to this," said David Ridpath, NCAA reformer and Ohio University associate professor.
North Carolina's image was soiled enough in the John Blake agent scandal. Since then, there have been widespread reports of academic fraud going back years. The Raleigh News and Observer's Dan Kane is doing Pulitzer-worthy work. The paper reported there were more than 200 classes -- confirmed or suspected -- that never met.
But it seems that one of the biggest academic scandals in history, officially, isn't. Will the NCAA investigate? Academic fraud might be the No. 1 sin on the list of NCAA infractions, but the association historically has treated cases selectively.
• Florida State was penalized in 2009 when it was found tutors were improperly assisting athletes. Bobby Bowden's legacy was affected when he had 12 wins vacated from his record.
• The New York Times seemingly had Auburn nailed to the wall in a case that looked similar to North Carolina's. But the NCAA took a pass.
The association has a hard time telling schools what courses they can offer. And if suspect classes are available to the general student body, that complicates things further.
Hey, we all knew of easy electives in our day. But in an age when Jim Tressel suppressed information at Ohio State and Miami enabled Nevin Shapiro, this case is seemingly set up on a tee for the NCAA. But does enforcement have the stones and the will to take down another program the way it did Ohio State, Miami and USC?
Because, whatever happens, the scandal isn't going away anytime soon. Neither is a certain zealous former academic advisor.
Remember her words: functionally illiterate. "How many other Mary Willinghams step forward," she wondered, "and what do you do with that?"
CBS Sports HQ Daily Newsletter
Get the best highlights and stories - yeah, just the good stuff handpicked by our team to start your day.
Please check the opt-in box to acknowledge that you would like to subscribe.
Thanks for signing up!
Keep an eye on your inbox for the latest sports news.
Sorry!
There was an error processing your subscription.
Robinson threw three touchdowns in 2017 as a backup to Kenny Hill

Taking a close, detailed and opinionated look at the AAC as the college football season ap...

When you ask their peers, these are the coaches that either get too much -- or not enough --...
Outside linebacker Chris Allen will miss the season after sustaining a knee injury

Quintez Cephus is instead focusing on a legal case for "unspecified" charges from an April...

This is the second ACL injury for White in as many years