Watkins: 'Everyone should see that old Sammy' against LSU
"Practicing his week, I feel myself really getting back that explosion," Clemson wide receiver Sammy Watkins said. "I feel very comfortable coming into the LSU game."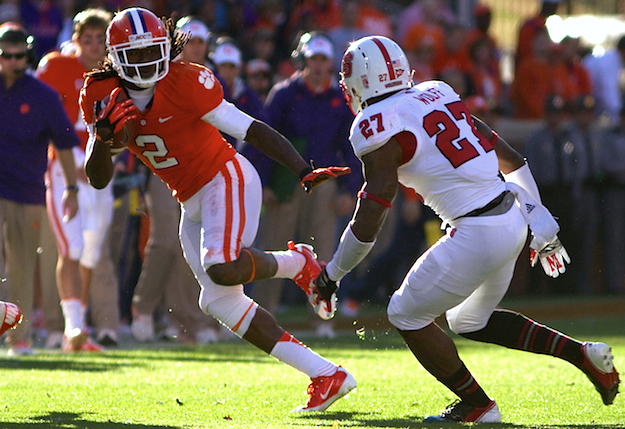 For almost any other sophomore, Sammy Watkins' production this season -- 1,076 all-purpose yards in just nine games, for a team that finished 10-2 and led the ACC in both total and scoring offense -- would qualify as a banner year. For Watkins, on the heels of a breakthrough freshman season in 2011, it was a sobering decline that threatened to rob him of his status as one of the most exciting players in college football.
Now, Watkins has one more chance to salvage that rep before the calendar turns to 2013, in Clemson's Dec. 31 date with LSU in the Chick-Fil-A Bowl, and he plans to take full advantage of it.
Speaking to local reporters on Sunday night, Watkins said he was continuing to round back into form after missing the better part of a month to a suspension and an illness, which robbed him of practice time and his usual burst. After a week of bowl practices, he reported feeling much more comfortable than at any point in the regular season and predicted "everyone should see that old Sammy" on New Year's Eve.
"[Earlier in the season] I was never in the groove," he told the Charleston Post and Courier. "I wasn't really with the offense. I was with the scout team, pushing those guys. I would say around the ninth, 10th game, that's when I started actually playing and getting passes. But I wasn't fully the old Sammy Watkins where I could, after I got the touch, I could move quickly. I didn't have that initial reaction. …
"Practicing this week, I feel myself really getting back that explosion," Watkins said. "I feel very comfortable coming into the LSU game."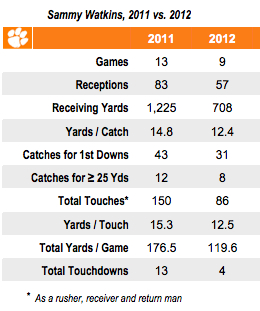 In 2011, Watkins emerged almost instantly as an elite deep threat and return man -- and not a bad running back, either, in a pinch -- eventually finishing first in the ACC and third nationally with 2,294 all-purpose yards. He broke 11 school records for freshmen and followed Herschel Walker, Marshall Faulk and Adrian Peterson as only the fourth true freshman ever named a first-team All-America by the Associated Press.
But 2012 was defined by a series of setbacks, beginning with an on-campus arrest in May on a charge of possession of marijuana and pills without a prescription. That incident cost Watkins the first two games of the season due to suspension, and he was forced to sit out a third in late September after contracting a virus. Watkins lost 10 pounds, ceded the spotlight to junior DeAndre Hopkins, and aside from a record-breaking night at Wake Forest on Oct. 25, never really regained his explosive freshman form. In the Tigers' last game, a 27-17 loss against South Carolina, he touched the ball a grand total of four times for 37 yards.
Still, Watkins flashed enough of his enormous potential to salvage his reputation among pro scouts, some of whom contributed to making him a Pro Football Weekly first-team All-American for the second year in a row. If he is at full speed against one of the most blue-chip secondaries in the country, he may not get a better opportunity to prove those scouts right.
The movie will zero in on former Penn State coach Joe Paterno during the Jerry Sandusky sc...

Bidding for Salaam's trophy, which the auction house says was obtained legally, ends Satur...

Locksley has been the offensive coordinator at Illinois and Maryland during his coaching c...
Many NFL-eligible juniors ignore advice provided by the league and risk going undrafted each...

Snyder died in Manhattan, Kansas, on Wednesday

Locksley joined Alabama's staff in 2016