With Frost, Oregon doesn't miss an offensive beat, routs Washington
Former Nebraska quarterback, Oregon receivers coach looks just as ruthless as his old play-calling boss, Chip Kelly.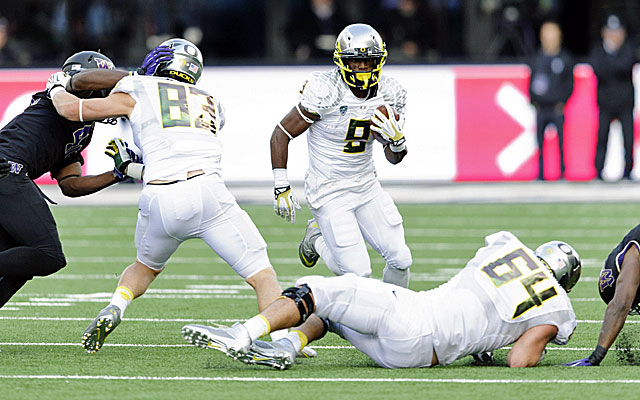 SEATTLE -- We should all want to be Scott Frost.
The dude has that Val Kilmer "Iceman" look in Top Gun. Turns out, he's just as ruthless. At the tender coaching age of 38, Frost has replaced Chip Kelly as the play caller for Oregon. That makes him the boy king of college football. Talk about sitting on a fortune.
"It would be like you taking over for Shakespeare," Ducks head coach Mark Helfrich said.
Duly, uh, noted.
The worst thing that can be said about Frost after Saturday's 45-24 win over Washington is that he hasn't screwed things up. The Ducks' six touchdowns was a season low. That would be ignoring the obvious: It's hard to say what comes first for Oregon's offensive coordinator -- a Heisman for his quarterback, a national championship for his team or a head coaching job for himself.
It's that good again for No. 2 Oregon and the Ducks and Frost at the moment. The Ducks were pushed for the first time this season and still won by 21 in a Pac-12 road game. Quarterback Marcus Mariota may have thrust himself to the top of the Heisman race. All that while the Ducks missed their best home-run hitter (De'Anthony Thomas) for the second full game. All that while beating Washington for the 10th consecutive time.
All that while admitting Oregon is, really, in some sort of transition. Kelly was the master of this offense, this program. He called the plays as head coach from the sideline. When he left, Kelly tossed the keys to his offensive coordinator, Helfrich, who tossed the keys to Frost -- formerly the receivers coach. You can joke all you want about Frost being born on third base in terms of getting that coordinator's gig, but he earned it.
Success finds him. As far as anyone knows, Frost also dated the hottest cheerleader in high school and drove the hottest car. We know he drove a powerhouse offense as Nebraska's quarterback in the 90s. Before age 40, his coaching life is just beginning. Having steadily moved up the coaching latter, this is Frost's fifth year with Oregon. During that run, the Ducks have played for a national championship (2010) and seem destined to play for another soon.
The Ducks were humming Saturday with 631 yards against a top 10 defense. They got four touchdowns from Mariota (three passing) and 106 yards from sophomore tailback Byron Marshall. When it comes to  fast-car analogies for Frost, feel free to weigh in with the obvious Maserati references.
"I know this," defensive coordinator Nick Aliotti said. "Scott is driving that car real fast and it looks real pretty. Scott Frost, I'm tickled for him, a young rising star."
Aliotti, having about a 20-year head start in the profession, didn't forget to state the obvious about Frost's success: It helps when you have Mariota, Thomas and Marshall.
"Just blind luck, I think," Frost concluded. "Most people, when they get an opportunity to be a coordinator, kind of have to build the thing from the ground up. I'm taking over with Mark right next to me helping me and the good product that Chip left."
The easy evaluation is that maybe this offense, this team, this program sustains itself. Maybe Kelly has left something so permanent that it will stay this Teflon for a while. For all the gushing over the offense, the defense could be proud, too -- forcing two turnovers and getting four sacks.
After a season of playing the Nicholls States and rebuilding Tennessees and weakling Colorados, the Ducks walked into the belly of the beast that is the newly remodeled Husky Stadium and gave us a true indicator. They not only can play for a second national championship in four years, they can win one.  
Frost, Helfrich and Co., did it Saturday for a while without leading receiver Josh Huff who had to be carried off in the first half, only to return to catch a perfectly thrown 65-yard Mariota touchdown pass 2½ minutes into the third quarter.
"I told him [Huff] already, he looked a little bit like a soccer player," faking an injury, Frost said. "He looked dead … When he ran by the linebacker for the long touchdown that was a real turning point in the game."
They did it without Thomas, who dressed and warmed up but continues to be bothered by a sprained ankle. They did it with an offensive look that is marginally differently with Frost calling the plays only to the discerning eye. If possible -- with Frost calling plays -- these Ducks are more ruthless.
"Marcus is actually throwing the ball down the field better," Aliotti said. "Before, we would do a lot of bubble screens and quicks and hitters like that. Our deep passing game with Marcus has really improved. How about that 'S' run that he made?"
Yeah, how about that? On the last play of the third quarter, Mariota bolted from the pocket, eluding defenders so deftly that the 35-yard run sort of did resemble the letter "S." One play later Mariota found receiver Bralon Addison with a 30-yard pass that set up the QB's 5-yard TD run to make the score 38-24.
The quarterback's game has to be seen in person to be fully appreciated. His speed for 6-foot-4, 215-pounder is blinding. Being a big target, he knows how to get down before being smashed. He's also fearless when throwing into traffic and has the touch to burn safeties over the top.
Mariota extended the Oregon record having now thrown 233 passes without a pick. He's thrown a touchdown pass in all 19 games of his career.
"I don't have a Heisman vote, but I'd be hard-pressed to say we'll see a better quarterback this year," Washington coach Steve Sarkisian gushed. "That guy is special. I don't know when he is planning on going to the NFL, but when he does, I think he'll be a top-five draft pick."
For now, these Ducks are famous for what they aren't. They aren't playing with their fastest player and best all-purpose weapon, Thomas. They aren't old. Mariota is a sophomore, as is Marshall. There's one senior started listed on the offense.
The big-play defense has proved these aren't one-trick Ducks either. Sure, it is overshadowed by the offense's scorched-earth policy, but after Oregon's first legitimate test this season, it's time to start the debate.
These Ducks might have more depth, more balance, more speed than that the 2010 Ducks who essentially played Cam Newton and Auburn to an even game three years ago in that BCS title game.
At the halftime point of this season, it looks like these Ducks can break through and win that championship with a rookie head coach relying on a rookie offensive coordinator. Yeah, we should all want to be Scott Frost. 
Trust the Process as Tom Fornelli leads you toward his best bets for Week 13 of the season

This edition of the sport's greatest rivalry will go down in history as one of the most im...

Dennis Dodd makes his prognostications for the last and most important week of the regular...
Kelly is presently deciding whether to start anew with the Gators or Bruins

There are a handful of conference championship games still to be determined

SportsLine's top college football expert, on a 30-18 run, locks in his top picks for a loaded...