MMSC: Matt Kuchar's breakthrough win at Sawgrass and the case of the Naggles
Monday Morning Swing Coach looks at Matt Kuchar's career win and what the heck was going on with Kevin Na and those waggles.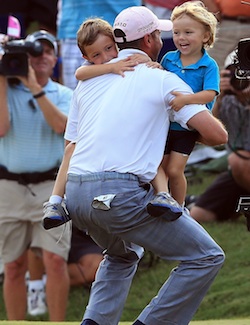 Matt Kuchar celebrates his Players Championship win with his kids and wife. (Getty Images)
Golf is probably the hardest sport in the world to play, and play well, so it makes total sense that everyone is a critic, and that's what we're going to do here at Monday Morning Swing Coach. Cover just the PGA Tour? Nope. We're going to try to expand this Monday feature to anything and everything that happened the past weekend.
One of the coolest things about covering golf is seeing guys win that basically everyone on tour likes. When Bubba Watson won the Masters, it was great to see some of his closest friends on tour head out and watch his playoff and congratulate him afterwards. No matter the influx of corporate jets and entourages, the PGA Tour is still a group of guys that share a common bond, and a lot of them get each other.
So when guys like Matt Kuchar can walk away with a Players Championship and you see the outpouring from other tour players, you can really see just how respected the guy is. 
Kuchar has been in that weird professional golfer state where he always seems to be in contention but rarely seems to win. This Players Championship was just his fourth PGA Tour title ever, but it was his fifth top-10 this season and 25th top-10 over the last three seasons. His golf swing might look a little strange and his putting stroke not what you''d consider traditional as he balances the putter on his forearm, but look past that smiling face and you can see a true competition with a ton of game. 
His play at Sawgrass was solid all week, but it was the birdie putt on No. 16 on Sunday that really showed how fired up he gets and how much he can rise to the occasion. 
Kuchar had played good enough on Sunday to give himself a small cushion, something that never seems to sit well with the island green floating in your future, but moments after Rickie Fowler had rolled in an incredible birdie putt on No. 17 to get within two shots of Kuchar, he did the same on the par-5 right behind Fowler. 
A three-shot lead on that golf course is a completely different feeling than two shots. It allows you a water ball over the last two holes, and means you can do something stupid and still walk away with the trophy. Plenty of guys have struggled to close out this golf tournament on that final two hole stretch, so the birdie on 16 really helps out your cause.
When he did that, it seemed like the game was over, and eventually it was. Yes, Fowler hit an impressive second shot into the final hole and if that putt drops definitely would have caused Kuchar more concern over that two-putt from the front of the last green, but that birdie on 16 allows him to push all those demons out of his head, and enjoy the walk.
There might not be a more deserving guy out there that has earned that walk more than Kuchar.
What is going on with Kevin Na?
You're going to read just as much from the Players Championship about the Kevin Na waggles (or "Naggles" as I started calling them) than Kuchar's win, and you should, because we rarely get to see professional athletes visually battle the demons. 
Scott Hoch did this over a putt to win the 1989 Masters, when he continued to back away from a short putt in the playoff and eventually missed it, giving the tournament to Nick Faldo. Sergio Garcia had a case of the waggles and famously got heckled religiously at the 2002 U.S. Open at Bethpage Black. But nothing looked like what Na was battling over the weekend at Sawgrass.
The craziest part? It seemed the most frustrated guy about the naggles was Kevin Na himself. He continued to yell at himself and apologize to playing partners when he just couldn't pull the trigger, and if there was ever a meltdown that you could have predicted, it seemed Na would be over the course of the final 18 holes, where he shot 76 to drop to a T-7.
It was difficult to watch, and a lot of golf fans were left shaking their head, but the guy you have to feel the worst for is the guy with the mental hiccup right now. 
For all the times he backed off shots and still was able to stripe it down the fairway, Sunday came crashing down because of how unsure he is over the golf ball. It started with his drives, got into his iron play and finally crept into that putting stroke that had been incredibly solid all week long.
My advice for Na? Don't listen to all the people that will flood to your side in the coming weeks and just try to figure it out with your close team and the people that already know you. Something is up in that head of his, and it's a real shame because the guy is extremely talented, but hopefully he can eventually push these to the side the same way Sergio was with his waggle problem.
Tweet of the weekend
He might have struggled to keep it together on the golf course, but give it up to Na for being able to make an extremely funny joke in his congratulatory tweet to Kuchar.
You can read it below, but well played, Kevin. That's a good way to get people to stop thinking about your bloody Sunday. 
Congrats to Matt Kuchar this week. He played awesome. Btw I had him on my fantasy pick this week. lol

— Kevin Na (@TheKevinNa) May 14, 2012
Big Cat gets paired with an American hero for the first few rounds at Torrey Pines

SportsLine's Mike McClure, a DFS pro with more than $1M in winnings, gives optimal lineup...

Faldo breaks down important notes for the return of Tiger at Torrey Pines this week
From The Golfboard to TopTracer, the stuff you may not know about about rocked Day 1 in Or...

Stick with CBS Sports throughout the week for the latest from the PGA Merchandise Show

There will be over 1,000 companies showing off their stuff in Orlando, Florida, this week