Tiger Woods: 'Health-wise, I continue to improve,' no timetable for return
Tiger Woods' latest health update has him as improving, hitting full shots indoors, but there's still no timetable for his return.
• 2 min read
Tiger Woods still has no timetable for his return to the PGA Tour, but in the latest update on his website on Friday, he says his health is improving. 
Woods wrote about his experience at Jack Nicklaus' Ryder Cup dinner last month, where he got to impart some wisdom as a vice captain to the younger guys, hopeful to make the team. 
"What I tried to explain is that a lot of times you don't have the same rhythm of playing like you do in a PGA Tour event," said Tiger. "You don't know how much you're going to play, and that uncertainty requires an adjustment. In the Presidents Cup, you play in every match."
He also detailed the ways he's staying busy despite not being able to play golf -- going to charity and sponsor events, mostly -- and even congratulated Peyton Manning again, noting that he'll now get some strokes against Manning on the course. 
But his last note is what the golf world is most concerned with, as Woods' health and future remains the biggest question looming over the PGA Tour. Woods says he's improving, hitting full shots indoors on a simulator and working on his short game at his outdoor facility, but he still isn't putting a timetable on a return. 
"Health-wise, I continue to improve," said Woods. "I'm working hard on my short game at my outdoor practice facility and on my indoor Full Swing golf simulator. Still no timetable on my return, but I'm excited to get back out there with the guys."
This is about the same information as we've heard from reports and sources, but this one comes from the Big Cat himself.
He's still not hitting full shots on his outdoor range, which doesn't seem like a good sign for a Masters return in less than a month -- that always seemed like an unrealistic expectation, but some still hold onto that slight hope that we'll see Tiger on the prowl at Augusta.
A patient approach from Woods on his return this time might yield better results in the long term. Tiger has often pushed the envelope with his return to the course, usually before his body or his game were ready for the rigors of the PGA Tour.
We all want to see Tiger back in action, but we want Tiger, not an ailing 40-year-old limping his way around a golf course, struggling to make cuts. Hopefully that golfer still exists, because golf misses him.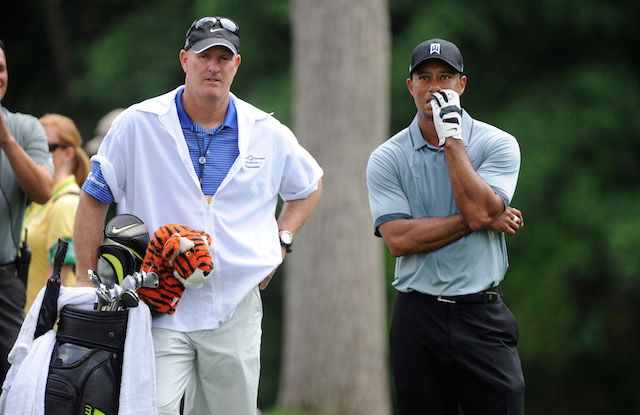 Our advanced computer model simulated this week's 2018 WGC-HSBC Champions 10,000 times

You may have missed it on Sunday morning, but Koepka took over the top spot in the golf wo...

The three-time major winner is closing out 2018 in style
Koepka is inching closer toward earning the No. 1 in the world moniker

This is an interesting development on one of the tours leading into the big boy PGA Tour

Can Koepka win a non-major this week?