2014 Padres preview: Likes, dislikes
Here are some things we like and dislike about the Padres heading into the 2014 season.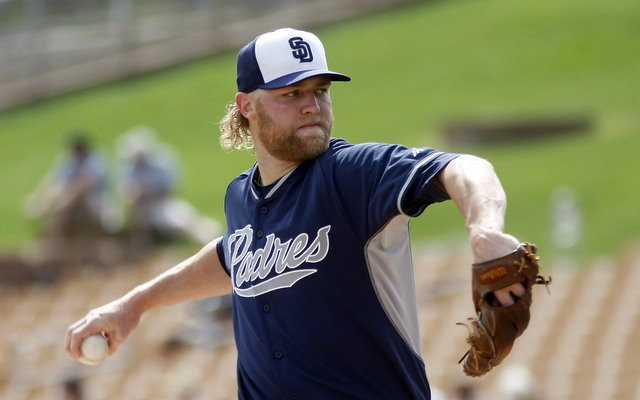 More Padres: Team preview | Over/unders
As part of our preview series, Eye on Baseball will be picking and choosing some "likes" and "dislikes" for all 30 MLB teams heading into the 2014 season. For this installment, we'll run down what we like and don't like about the San Diego Padres, who have steadily climbed the NL West standings in recent years and appear poised to challenge for a postsason berth this summer.
LIKES
Contract year Chase Headley: Two years ago, Headley swatted 31 home runs and led the league with 115 RBI en route to finishing fifth in the NL MVP voting. He was unable to repeat that performance last season, in part due to a spring training thumb injury that kept him out early in the season. Now that he's healthy -- or at least his hands are healthy, he has been dealing with a nagging calf problem -- and due to become a free agent next winter, Headley could have a huge season in 2014. Let me be clear: I'm not saying this only because he's in his contract year. Headley is right smack in the prime of his career at age 29 and he's been a +3.5 WAR player in three of the last four years. He's consistently above-average and I think something along the lines of his 2012 effort is in the cards.
Top four starters: Thanks to some really shrewd moves over the last 18 months or so, the Padres have an impressive collection of high ceiling starters at the top of the rotation. Andrew Cashner broke out with a 111 ERA+ in 175 innings in 2014, as did Tyson Ross with a 108 ERA+ in 125 innings. Ian Kennedy, who came over at the trade deadline, is not as good as he was in 2011 (137 ERA+) nor as bad as he was in 2013 (75 ERA+). The real Kennedy is somewhere in the middle (101 ERA+ in 2012) and San Diego now has him for a full season. Josh Johnson was signed to a low risk one-year contract over the winter and now has a healthy elbow following offseason surgery, something he never had in 2013. This is a risky foursome -- they're counting on continued improvement from Cashner and Ross, and rebounds from Kennedy and Johnson -- but they're all reasonably young and will benefit from a favorable home ballpark.
Outfield depth: Unfortunately, the team's outfield depth will be tested early in the season with Cameron Maybin heading to the DL with a biceps problem. Even with Maybin out, the Padres still have Carlos Quentin, Will Venable, Seth Smith, Chris Denorfia, and part-timers Kyle Blanks and Alexi Amarista. The club also claimed Alex Castellanos (career .907 OPS in Triple-A) off waivers earlier this week. Quentin, Venable and Blanks offer power while Denorfia (righty bat) and Smith (lefty bat) are excellent platoon players. This is like an Island of Misfit Outfielders -- they all have flaws but are all useful in their own way, and they all help give the club some very nice depth even with Maybin on the mend.
DISLIKES
Injury risks: The Padres have an inordinate number of players who are major injury risks. That includes Johnson (elbow), Cashner (shoulder), Maybin (already hurt) and Quentin (knees), all of whom has missed extensive time in recent years. Nothing can sink a team's contention hopes as quickly as injuries, and San Diego is in a position where they are counting on less than durable players to play major roles. This is a really risky roster.
Jedd Gyorko's sophomore season: Gyorko was awesome last season, hitting 23 homers with a 113 OPS+. I'm bearish on his sophomore campaign because of his batted ball tendencies, however. A whopping 15.9 percent of Gyorko's fly balls went for home runs last season, far more than the 10.5 percent league average. That came from a guy who plays in a huge ballpark (even after the walls were moved in) and is mostly a line drive, gap to gap hitter. Gyorko is likely to see his fly balls leave the yard at a rate closer to the league average going forward, meaning fewer homers. I'm not saying he'll be bad, just that those 23 homers might turn into 15-18 in 2014.
Infield depth: Headley, Gyorko and stolen base machine Everth Cabrera are all above-average players, but their backup is ... Amarista? Alberto Gonzalez? Ryan Jackson? I would have liked to see the Padres grab a better utility infielder this winter, someone like Kelly Johnson or Nick Punto, both of whom signed low cost one-year deals. Depth is very important and the Padres have little of it on the infield (other than Blanks backing up Yonder Alonso at first). An injury to one of their starting infielders will send GM Josh Byrnes to the trade market almost immediately.
The lefty starter is coming off a terrible season

After acquiring Ian Kinsler and Zack Cozart in recent days, the Angels are trending upward

Cozart's coming off a big season as the Reds' shortstop
The veteran slugger spent the last eight seasons with Cleveland

The Padres may be poised for an active winter

Yes, Bryce Harper is going to make a lot of money next winter