2023 MLB playoffs: Six things we learned from wild-card openers as Brewers blow chances, Twins snap skid
Day 1 of the 2023 MLB postseason is in the books, here's what stood out
Getty Images
The 2023 MLB postseason got underway Tuesday with the Diamondbacks, Phillies, Twins and Rangers notching victories in Game 1 of their respective Wild Card Series. History was made in Minnesota, while the Diamondbacks and Rangers pulled off road upsets to put themselves on the verge of the League Division Series.
The best-of-three Wild Card Series continue Wednesday with the Rays, Blue Jays, Brewers and Marlins fighting to stay alive. Here is the postseason bracket and here is the postseason schedule.
Now let's recap the first day of the 2023 MLB postseason with six things we learned.
Wild Card Series scores
1. The Rays' defense looks shaky
The big story on the losing side in Tampa was the complete and utter collapse of the Rays' normally reliable team defense. In all, the Rays committed four errors in Game 1, three of which were on throwing miscues. With error No. 3, the Rays became the first team to commit three errors in a postseason game since the Yankees in the 2019 ALCS. They reached their nadir with error No. 4, which was committed by the usually slick-fielding Jose Siri and which allowed the Rangers to double their lead from 2-0 to 4-0. During the regular season, the Rays ranked a quite respectable 10th in MLB in defensive efficiency, which is the percentage of balls in play that a defense converts into outs. Those team-wide skills, however, fully eluded them on Tuesday. 
For the winning side, the story was starting pitcher and deadline addition Jordan Montgomery. At the front of a somewhat uncertain Texas playoff rotation, Montgomery delivered in a big way against one of the best offenses in baseball. In the end, he twirled seven scoreless innings against Tampa Bay with five strikeouts and no walks. Getting that kind of depth from Monty – who's been excellent this season both before and after the trade out of St. Louis – was huge.
2. Royce Lewis is just what the Twins needed
It was not certain Royce Lewis would even be on the postseason roster. He did not play after Sept. 19 because of a hamstring injury, but he's healthy enough to DH in the Wild Card Series, and Lewis put the H in DH in Game 1. He swatted home runs in his first at-bats -- a two-run homer in the first and a solo shot in the third -- and he joined Evan Longoria and Gary Gaetti as the only players to go deep in their first two postseason at-bats. Lewis, the No. 1 pick in the 2017 draft, has never been short on talent. He's just had trouble staying healthy. When he is on the field, he's a difference-making player, and we saw it in Game 1.
No longer do the Twins have to hear about their record 18-game postseason losing streak. Tuesday's Game 1 win was Minnesota's first postseason win since Game 1 of the 2004 ALDS. The 18-game postseason losing streak was not only the longest in baseball history, it was the longest in the history of the four major North American sports league. It's over now, and the Twins will look to begin a new streak -- a winning streak -- in Game 2 on Wednesday.
3. Gausman was missing a key pitch
When it's on, Kevin Gausman's splitter is one of the most lethal pitches in the game. Hitters missed with 43% of their swings against it during the regular season, an astronomical rate, and when they did put it in play, the average exit velocity was 84 mph. It's difficult to hit, and when you do hit it, you don't hit it hard. In Game 1, the Twins did an excellent job laying off the split. Look at their results against the pitch: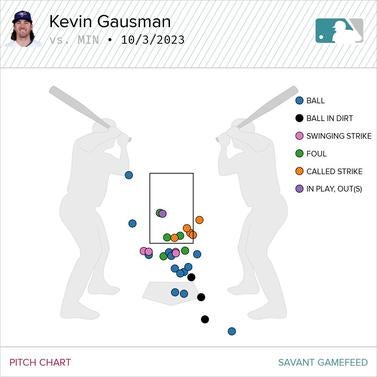 That's a lot of takes on splitters below the zone, the ones that are supposed to get whiffs. During the regular season Gausman's splitter had close to a 50% swing rate. In Game 1, it was only 32%. Minnesota did well laying off the pitch and it forced Gausman into some bad counts, including on the second Lewis homer. He allowed three runs in only four innings.
4. Corbin Burnes got burned
On paper, the Brewers had a massive pitching advantage in Game 1: Corbin Burnes vs. Brandon Pfaadt. The D-backs could not get their rotation lined up for the Wild Card Series because they needed Zac Gallen and Merrill Kelly to start last week just to get to the postseason, so Pfaadt got the ball in Game 1. Milwaukee took advantage with three early runs and a 3-0 lead. 
The Diamondbacks stormed back, however. Corbin Carroll (two-run) and Ketel Marte (solo) hit back-to-back home runs in the third, then Gabriel Moreno hit a solo homer in the fourth to give Arizona a 4-3 lead.
Burnes allowed four runs in four innings plus two batters in Game 1. It was the third time in 2023 he allowed at least three homers in a game. He did it zero times in 2020, 2021, and 2022. I am certain the D-backs would have signed up for a 4-3 lead in the fifth inning prior to Game 1. That's probably the best case scenario for a Burnes vs. Pfaadt matchup.
5. The Brewers blew so many chances
Because of Pfaadt's short start -- three runs in 2 2/3 innings -- the D-backs and manager Torey Lovullo had to dip deep into their bullpen in Game 1. Six relievers combined for 6 1/3 shutout innings, but they certainly weren't clean innings. The Brewers had plenty of traffic. Look at these blown opportunities by Milwaukee:
1st inning: First and second, one out, no runs.
3rd inning: Bases loaded, two outs, no runs.
5th inning: Bases loaded, no outs, no runs.
6th inning: Would have runners at first and second with no outs, but Christian Yelich overran second base.
Evan Longoria saved the D-backs with a brilliant lunging play in that fifth inning, turning a would-be double into the corner into an inning-ending line drive double play. He also prevented a double down the line in the seventh inning, holding the hitter to an infield single and keeping the double play in order. The next batter went 6-4-3. This is vintage Longoria:
The Brewers had 12 hits and four walks (and a hit batter) in nine innings, and they did go 3 for 10 with runners in scoring position, but it wasn't enough. Only two of those 12 hits went for extra bases and it's hard to win with singles. Milwaukee ranked 25th in home runs during the regular season and the inability to hit the ball out of the park was evident in Game 1.
Not only do the D-backs have a 1-0 lead in a best-of-three series, but they have Gallen and Kelly lined up for Games 2 and 3. The Brewers, on the other hand, can't give the ball to Brandon Woodruff in Game 2. He's out with a shoulder issue, so it'll be Wade Miley or Freddy Peralta. Good pitchers, both of them, but Arizona has to feel pretty good handing a 1-0 series lead over to Gallen on Wednesday.
6. The Phillies' lineup looks deep
How's this for symmetry: the Phillies notched 10 hits on the night in their win over the Marlins, with everyone contributing at least one. (Trea Turner, ever the overachiever, picked up the slack by recording two.) Alec Bohm, Bryson Stott, Cristian Pache, and Nick Castellanos each drove in runs, with Bohm's third-inning double opening scoring and Castellanos' eighth-inning double closing it.
Amusingly, Bryce Harper was the last Phillie to enter the hit column. If his postseason history is any indication -- heck, if his regular season is any indication -- he could be in for another big month. Harper batted .349/.414/.746 with six home runs and 13 RBI in 17 games last October.
See New Posts
D-Backs 6, Brewers 3
Christian Walker doubled in two insurance runs in the top of the ninth and Arizona escapes Game 1 with a win despite the lopsided Brandon Pfaadt vs. Corbin Burnes starting pitching matchup. They now have Zac Gallen and Merrill Kelly lined up for Games 2 and 3. Milwaukee had 12 hits and four walks (and a hit batter) in the game, but only two extra-base hits, and it's hard to put a crooked number on the board with singles.
The Brewers haven't announced their Game 2 starter yet. It was supposed to be Brandon Woodruff, but he has a shoulder issue. It's expected to be Wade Miley, though they could pivot to Freddy Peralta. Either way, Milwaukee's back is up against the wall and the D-Backs have their ace going Wednesday. A huge, huge Game 1 for Arizona.
See More
1:48

Brian Cashman: "The Best Players Should Play For NYY"


2:35

Why The Yankees Needed Juan Soto


1:09

How The Yankees Will Get A Long-Term Deal With Soto


1:37

Yankees Now Turn To Yamamoto


2:09

How The Padres Fared In The A.J. Preller Deal


1:18

Diamondbacks Agree With Eduardo Rodriguez On 4-Year, $80M Deal


1:18

Report: Bryce Harper Seeking An Extension With Phillies


2:56

Yankees Looking To Rebound In 2024


1:22

Time To Buy For The Orioles


1:53

Cubs Are Swinging For The Fences


1:07

How The Giants Approach The Winter Meetings


2:53

Dave Roberts On Ohtani: Yeah We Met


5:17

Yankees Acquire Alex Verdugo From Red Sox


5:37

Jim Bowden: Ohtani Decision 'A Week To 10 Days' Away


2:21

Chances Juan Soto Gets Dealt This Week


1:25

Chances White Sox Trade Dylan Cease


1:27

Other Notable MLB Players To Keep An Eye On


2:53

Jim Leyland Elected To Baseball Hall Of Fame


1:52

Likely Landing Spot For Shohei Ohtani


1:29

Bold Prediction For MLB Offseason Moves