Chase Headley underwent knee surgery Tuesday
Padres third baseman Chase Headley has surgery to repair the meniscus in his left knee. His recovery period is four to six weeks.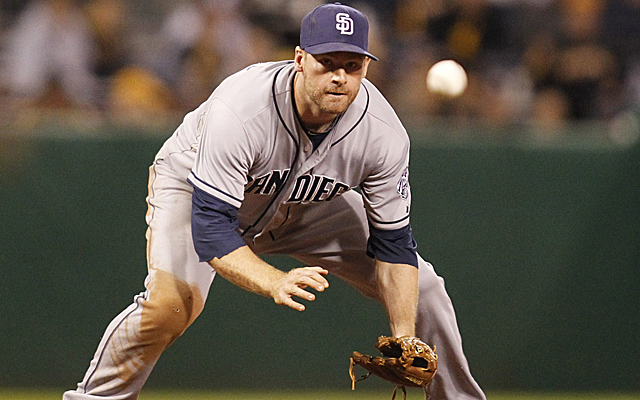 As expected, Padres third baseman Chase Headley went under the knife Tuesday, having arthroscopic surgery to repair a medial meniscus tear in his left knee. The surgery was successful and Headley is expected to be ready for activity in four to six weeks, the club announced. Thus, Headley should be just fine by the beginning of spring training.
What makes this situation interesting is the timing and circumstances.
The 29-year-old Headley had a monster 2012 season, hitting .286/.376/.498 (145 OPS+) with 31 homers and an NL best 115 RBI. He also won a Gold Glove and finished fifth in MVP voting. His trade value was through the roof and his name did bounce around the rumor mill quite a bit.
The Padres, however, have reportedly tried to gain traction in contract extension talks at a few different points in time, but to no avail.
Meantime, Headley took a huge step backward this season -- despite the dimensions of Petco Field getting a bit more hitter-friendly with an offseason makeover -- hitting .250/.347/.400 with 13 homers and 50 RBI. Considering he's set to be a free agent after next season and coming off this knee surgery, his trade value has been severely diminshed in just 12 months.