Eric Gagne 100 percent wrong with '80 percent' claim in book
Former closer Eric Gagne didn't help himself or anyone else by claiming a large majority of his Dodgers teammates cheated, too.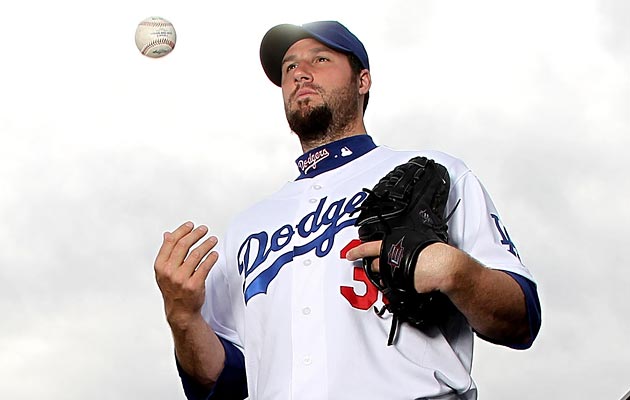 Eric Gagne's career ended with a failed spring training tryout for the Dodgers in 2010. (Getty Images)
Sure, that's right. Eric Gagne says in his book that he used HGH toward the end of his career. Right, he used performance-enhancing drugs when he stunk, not when he saved 84 straight games, not when he won a Cy Young Award and allowed 37 hits and struck out 137 batters in 82 2/3 innings in 2003.
Gagne also asserts in his new book that 80 percent of the Dodgers he played with took HGH. Of course, the Dodgers part of his career was the early part, not the late part. The Dodgers part was the part when he was a superstar.
Gagne laments that his name was hurt by his inclusion in baseball's Mitchell Report as a PED user. But Gagne's own book, Game Over, isn't helping his cause, either.
Beyond the obvious issue of his lack of credibility, it's patently unfair to besmirch the entire Dodgers clubhouse during the Gagne years. Folks are going to look at the old rosters, and some will believe that four out of fve players on those teams cheated. But they won't know which ones, so they'll suspect them all.
"He should have mentioned names," Texas star Adrian Beltre told Rangers writers Wednesday. "I know for sure I'm not one of them. I haven't read the book. I'm not interested in it. He should have come up with names instead of a percentage."
Maybe Gagne, who didn't cooperate with Mitchell, felt he had to top David Wells, who claimed in own his book Perfect I'm Not that 50 percent of players cheated (Wells didn't claim to be one of them, but at least he had the good sense not to tie his percentage to a team).
Maybe Gagne wanted to make himself look better by comparison. He didn't achieve that.
Maybe Gagne thought he needed an attention grabber. Maybe the next baseball player "author" will claim 90 percent, I don't know.
There's no question a lot of players used PEDs, that we know. But Beltre is right. Rather than throwing out a number, Gagne should have named names.
Better yet, he should not have "written" a book.
Rasmus essentially walked away from baseball during last season

Forrest Whitley is the Astros' top pitching prospect and set to work in Double-A this year

Jonah Keri talks to Orioles manager Buck Showalter
Contreras said on Tuesday that he's willing to pay the price

And their offseason decisions prove it

Hosmer recently signed an eight-year contract with San Diego, and his usual No. 35 was spoken...